NuviaGo is a high quality protein bar which will appeal to people training, watching their weight, and those looking for dietetic and healthy alternatives to regular sweets. This delicious snack is distinguished by its excellent recipe, which contains a large portion of muscle-essential protein and hunger-suppressing fibre. NuviaGo will prove useful whenever you need a large dose of energy and have a craving for something sweet, but don't want to reach for calorie bombs dangerous to your figure. NuviaGo will also appeal to busy people who don't always have time to prepare a valuable meal.
NuviaGo is a valuable addition to the diet of active and slimming people
We all have a craving for sweets. At the same time, for many people, especially those who are careful about their weight, the word "sweets" is unambiguously associated with evil incarnate, hundreds of excess calories and folds and curves growing at an alarming rate. NuviaGo proves that we don't have to avoid sweets like the plague and that they can have a dietetic and even body-shaping effect.
NuviaGo is a bar based on high-quality milk protein, soya protein and vegetable fibre, with an extraordinary taste and palate-pleasing texture. Its important advantage is that it is fully dietetic, because:
it is low in calories;
It contains few fats and those that are inside are good quality, certified and safe for health;
is low in carbohydrates;
does not contain added artificial sugars, glucose, glucose-fructose syrup, contains only small amounts of sugars and only such that naturally occur in the raw materials used to produce bars;
does not contain harmful fillers, dyes, preservatives that poison the body and slow down the metabolism; it has a natural, good composition.
Due to its nutritional values and low sugar content, the NuviaGo bar is a perfect addition to the diet of people who
train regularly and strive to build a perfect body shape;
are confectionery lovers, but want to eat wisely and with low calories;
are in the period of losing weight, looking for substitutes for fattening snacks;
care about healthy, balanced nutrition, but do not always have time to prepare a valuable meal;
are in a period of high physical or mental exertion and are looking for effective ways to instantly provide themselves with a large dose of energy;
are looking to build muscle and are looking for variety or a replacement for standard protein supplements.
Are you active, losing weight, building muscles? Find out which diet will help you achieve your goals!
NuviaGo will satisfy our appetite for sweets, provide valuable nutrients and support the metabolism. However, each of us is aware that in order to achieve specific figure goals we need to adjust our diet appropriately, not only eat protein bars. They are a valuable addition to our daily menu, thanks to which we will nourish our muscles, accelerate the effects of our figure, control our appetite better and ensure more efficient regeneration after exercise. But it's worth adding to your menu other products known for their contribution to shaping muscles and reducing fat.
Therefore include in your menu such products as:
Sea fish (e.g. salmon, tuna, mackerel, herring, cod, sardines, sprat) – they contain omega 3 acids, which are important for proper brain function and efficient muscle regeneration after exercise. They are also a very rich source of complete protein, which not only contributes to faster development and sculpting of the musculature, but also speeds up metabolism and makes us burn calories faster, so we lose weight faster.
Lean dairy products (cottage cheese, buttermilk, kefir, natural yoghurt) and eggs – another valuable source of protein, supporting muscle shaping, stimulating metabolism, supporting fat tissue reduction. Both eggs and dairy products are very filling, which allows us to better control our hunger and the habit of reaching for fattening snacks between meals. What is important, eggs also contain a large pool of essential vitamins and minerals, including vitamin A, B vitamins, vitamin D, zinc, potassium, iron. Dairy products, on the other hand, are an excellent source of calcium.
Cereals, bran, coarse groats, brown rice, grains – are important for proper muscle regeneration. They are an excellent source of dietary fibre, invaluable for the figure. They regulate metabolism and support digestion, prevent fluctuations in blood sugar levels, eliminate the phenomenon of ravenous hunger attacks, promote the feeling of satiety, and protect against snacking. Grains and cereal products are also rich in B vitamins, vitamin E, iron, magnesium, zinc.
Almonds and nuts – contain antioxidants in the form of vitamin E preventing muscle damage after exercise. They are also an excellent source of vegetable protein, valuable unsaturated fatty acids and B vitamins which are important for efficient metabolism and good performance of the nervous system. They suppress hunger, provide good satiety, improve intestinal motility, are a good source of energy, and have a beneficial effect on brain function.
Vegetables and fruits – contain a lot of dietary fibre, suppress hunger, are an irreplaceable source of vitamins, antioxidants and minerals. They add energy and vitality, support the digestive processes, stimulate peristaltic movements of the intestines, regulate the defecation cycle, improve metabolism, promote faster reduction of fat tissue, and stimulate the cleansing of the body of toxins.
Other components of the diet helpful in modeling the ideal figure are:
legumes,
lean meat,
spices (including thermogenics such as cayenne pepper, black pepper, ginger, curry, turmeric, cinnamon)
seafood and algae such as chlorella and spirulina,
oil and vegetable oils.
Protein bars – are they all the same?
Protein bars are growing in popularity. More and more people want to enjoy healthy alternatives to sweets, which are additionally a guarantee of supplying the body with valuable nutrients and the resulting benefits such as increased energy, reduced fatigue, satisfaction of hunger etc. However, it is worth taking into account that the quality of individual protein bars is not the same. There are a lot of poor quality products on the market which unfortunately are neither very healthy nor very dietetic.
In the composition of many protein bars we can find a wide range of substances that are not conducive to health and slim figure, including: large amounts of sugars, and the worse varieties, trans fats, harmful sweeteners such as acesulfame K, preservatives, artificial colouring, bulking agents.
Can a bar crammed with such substances be considered valuable? Therefore, if we want to use this kind of products, we should pay attention to their quality. In terms of quality, the NuviaGo bar in question is one of the leaders, impressing with its healthy, natural composition and perfect proportions of individual ingredients, as well as taste.
NuviaGo protein bar – key ingredients and effects
Optimized proportions of protein and fiber, natural additives, low fat, no value-free fillers and synthetic flavor enhancers – NuviaGo is a natural, dietetic and healthy product, which in addition to high quality is characterized by high taste. It is a real delicacy which intrigues with its light crunchiness and creamy velvetiness. Each bar is covered with delicious milk chocolate and inside there is delicious cream cookie filling.
The main ingredient of the product, as befits a protein bar, is of course protein. There is as much as 20 g of protein in one piece. It benefits our muscles, metabolism and slim figure.
Thanks to a large portion of protein contained in NuviaGo bars we can improve muscle performance and accelerate their building, improve regeneration processes in the whole body after exercise, increase the rate of changes taking place in our figure – from fat to slim, muscular and athletic.
Vegetable fibre is another critical component of NuviaGo bars. It is responsible for nourishing, energizing (dietary fiber is a source of long-term energy at a balanced level for the body), balancing insulin balance, suppressing hunger and limiting appetite. Fiber contained in NuviaGo also contributes to improved digestion, improved intestinal peristalsis, and more efficient removal of toxins from the body.
Other ingredients include: cocoa mass, milk chocolate, natural vanilla flavouring, biscuit crumbs with cookie and cream flavour, cocoa powder and skimmed cocoa powder, chicory root extract, sunflower lecithin.
NuviaGo – one snack, a mix of benefits
If you are looking for the best protein bars on the market, if you want a sweet and tasty snack which is completely safe for your health and figure, if you are looking for an effective way to increase energy and psychophysical potential, you should consider buying NuviaGo. The bar will provide us with a whole range of benefits, the most important of which are:
muscle support,
satisfying hunger after training, or providing energy before training,
energy boost before important tasks requiring good mental or physical condition,
support during weight loss (improvement of metabolism, suppression of cravings for food, suppression of hunger, improvement of digestion),
the possibility of enjoying an excellent sweet snack without worrying about the waistline,
providing ourselves with a portion of important nutrients at a time when we cannot eat a normal meal,
the possibility of fast and easy consumption regardless of circumstances in which we find ourselves – you eat where you want.
NuviaGo – product opinions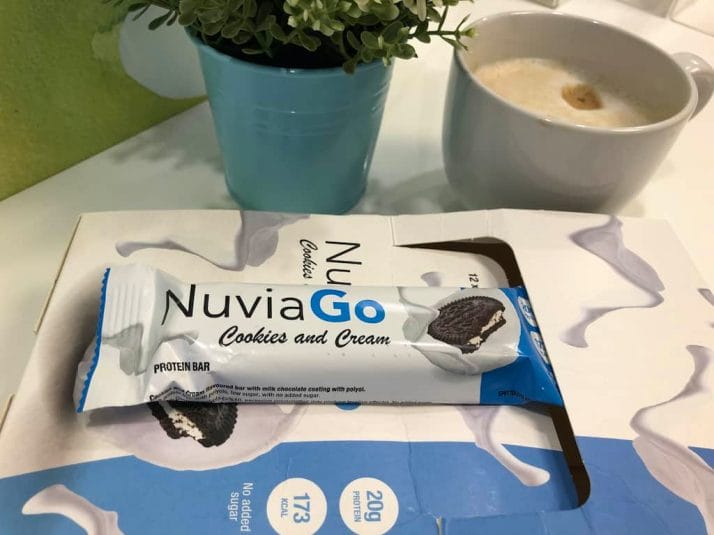 The NuviaGoprotein bar tastes fantastic and works equally well – such opinions can be heard about this unusual product. It is most often recommended by people on weight-loss diets and those training, both amateur and professional. However also people from outside these groups appreciate NuviaGo bars. They appeal to people who work in a white-collar job, students and all those who follow a healthy way of eating, but do not always cook themselves, often resorting to ready-made diet meals and snacks.
NuviaGo protein bars can be purchased through the official website of the product. You can get there by clicking here!
Sources: