GOAT Stamina is both an energizer and a mind booster designed for gamers and e-sports players. It provides the power of energy for a long time and allows you to maintain high intellectual performance without the effect of fatigue and tiredness even during hours of gaming. Thanks to a set of ingredients specially composed to meet the needs of the gamer, we will improve all important functions of the mind such as alertness, perceptiveness, concentration, memory, response to stimuli and much more. GOAT Stamina comes in the form of a powder, which when mixed with water becomes a tasty, refreshing drink. Just one scoop of the specialty is enough to provide you with a large dose of energy and mental power needed to efficiently overcome the next stages of the game. What distinguishes GOAT Stamina and why is it worth swapping the drinks we have been drinking so far while playing for this unusual cocktail?
GOAT Stamina – a tasty drink with many benefits
GOAT Stamina is a drink loaded with valuable substances aimed mainly at computer gamers. It supports cognitive functions, improves concentration and reflexes, energizes the body and makes it immune to fatigue, thus influencing the extension of playing time at the highest level.
Intense and multifaceted action goes hand in hand with the taste qualities of the drink. Due to both the properties and the taste, many players give up other drinks they have previously consumed before and during playing, making GOAT Stamina their main energy fuel.
Every gamer knows from autopsy the phenomenon of a sudden surge of fatigue, intellectual exhaustion and drowsiness during the conduct of games. Long hours of gaming sessions are a great challenge for our minds, so it is not surprising that at some point its performance declines.
However, if we take care to properly "feed" the brain, its productivity will increase, and this will translate into better gaming quality and faster recovery processes. This is what the line of nutritional supplements for gamers, including the GOAT Stamina in question, was created for. The supplement improves the functioning of the nervous system, increases energy levels in the brain and throughout the body, and reduces susceptibility to mental and physical fatigue, which is very useful for people for whom long hours of gaming marathons are a daily occurrence.
GOAT Stamina is one of the richest formulations for gamers in terms of composition. Thanks to high-quality ingredients in optimized doses, it improves the functioning of brain cells. There is no shortage of natural stimulants that give a long-lasting effect of stimulation, plant extracts that increase blood supply to the brain and vitamins needed for the proper work of the nervous system. Thanks to this rich blend of active substances, GOAT Stamina improves brain nutrition and reduces symptoms of fatigue.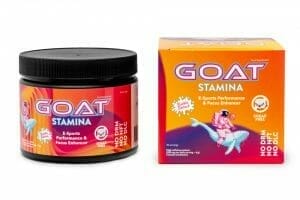 GOAT Stamina combats such symptoms associated with prolonged gaming as:
sluggishness, fatigue,
problems maintaining a high level of focus, easier distraction,
slower reactions,
lower perceptiveness,
impaired vision,
slower, less effective thinking,
irritability,
decrease in mood,
trouble remembering and reproducing information,
problems with decision-making.
By improving the work of the nervous system, GOAT Stamina helps to quickly return to perfect mental disposition. Thanks to a properly selected composition of ingredients, it makes our brain better trained, allowing us to perform tasks more efficiently. What ingredients are responsible for the effectiveness of GOAT Stamina?
GOAT Stamina – composition
GOAT Stamina is a complex of 16 powerful ingredients working in full synergy. It is definitely more than coffee or energy drinks. Being a mind booster at the same time, it improves performance in games and e-sports.
GOAT Stamina's active ingredients are:
Cognivia™ [sage leaf extract and microencapsulated lavender sage oil]. – regulates cognitive processes in the mind, thus helping to maintain high concentration for a long time. It improves memory, mood and intellectual productivity. Thanks to its antioxidant content, it also protects the brain from free radicals and neurotoxins.
EnXtra™ [wild cardamom extract] – gives long-lasting stimulation without negative side effects such as increased blood pressure, anxiety, palpitations. It blends perfectly with caffeine, enhancing its stimulating effect and reducing its possible side effects (irritation, malaise, accelerated heart rate). EnXtra™ adds energy and positively influences cognitive functions, thus giving us a number of benefits, such as: ability to play longer without fatigue, better, deeper focus, increased alertness, reduced sleepiness, more efficient thinking.
Taurine – stimulates the central nervous system, supports the regeneration of brain cells. Beneficially affects thought processes, facilitates memorization, improves concentration, combats fatigue and drowsiness.
Citrulline malate – supports the synthesis of brain proteins, has a positive effect on concentration and memory, accelerates regeneration after a major effort, both mental and physical.
Caffeine anhydrous – adds energy, improves mental clarity, increases alertness and perceptiveness, allows you to play at full concentration for a long time.
L-theanine from green tea leaf extract – regulates the release of neurotransmitters, thereby improving cognitive processes. It improves mental productivity, alertness, concentration and memory, while having a positive effect on mood, alleviating stress and excessive nervous tension.
Blueberry fruit extract – a rich source of valuable antioxidants, thanks to which it protects the brain from the negative effects of free radicalsand also has a beneficial effect on the visual apparatus (prevents damage to eye cells, strengthens eye blood vessels, improves microcirculation and improves the quality of vision).
Choline – participating in the synthesis of the important neurotransmitter acetylcholine, supports cognitive functions. It ensures a high level of attention, improves the ability to remember and reproduce information, stimulates the brain to work, accelerates reflexes, takes care of a good, balanced mood.
Vitamin A and vitamin E – are powerful antioxidants that protect cells from damage and inhibit the aging process. They support the organ of vision, take care of correct vision, have a beneficial effect on neurons, support mental functions.
B vitamins (thiamine, riboflavin, vitamin B6, vitamin B12, pantothenic acid) – affect the proper functioning of the brain and well-being, improve cognitive abilitiescognitive abilities, counteract fatigue and irritability, increase resistance to mental effort, prevent declines in concentration during a given task.
Effects of GOAT Stamina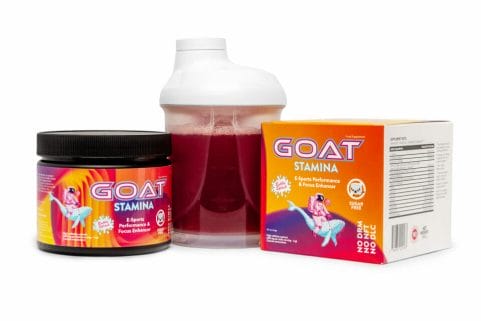 GOAT Stamina is an excellent option for gamers and e-sportsmen who want to replace ordinary vitamin or energy supplements of limited composition with a real bomb of valuable substances for the brain. Due to its extensive composition, GOAT Stamina is both a reliable brain booster and a provider of energy and vitality. It helps maintain a high level of stimulation for up to 6 hours without the "caffeine crash" effect.
How GOAT Stamina works:
regulates neurotransmitter secretion and neuronal function,
stimulates the brain to activity, improving cognitive function,
stimulates the body and mind, keeps energy levels high and balanced for a long time,
supports vision, counteracts vision disorders,
counteracts fatigue, fatigue,
accelerates reactions to stimuli,
eliminates the so-called brain fog,
enhances concentration, improves memory,
increases intellectual productivity,
helps to develop the qualities and skills needed during playing such as speed, alertness, agility, reflexes, logical thinking, decision-making, perceptiveness,
protects neurons and counteracts the processes of cognitive degeneration (resulting in a decline in intellectual abilities, loss of memory, deterioration of concentration),
improves strategic abilities, facilitates task completion.
GOAT Stamina – reviews
People who have taken GOAT Stamina are generally very satisfied with their purchase. They are of the opinion that the product works intensively and for a long time, and, most importantly, not only improves brain function and gives energy, but also has an excellent effect on the body's mood and vitality, and improves the quality of vision.
According to many reviews, GOAT Stamina momentarily puts you on your feet, reduces fatigue and speeds up the recovery of the mind. Since it is much more than coffee or energy drinks, it fits the needs of gamers perfectly. On top of that, it has an excellent taste. It is a real energy bomb, but, importantly, it does not give negative side effects like palpitations, irritability, etc., and does not cause annoying "downs" like some preparations.
According to statements from gamers, GOAT Stamina is a supplement they have been waiting a long time for. They emphasize that finally there is a full-fledged product designed typically for gamers, and that there is no other product on the market with such a rich composition and wide-ranging effects than GOAT Stamina. Reviews of this supplement also focus on the price. For many, it is commensurate with the quality. There are also comments that with GOAT Stamin one can save a little. After all, you don't need to spend money on energy drinks every day and support yourself with additional preparations. All you need is GOAT Stamina.
Where to buy GOAT Stamina?
GOATStamina can be purchased through the product's official website . The pluses of buying directly from the site are: full security of the transaction, lightning-fast shipping, guarantee of originality and the highest quality of the product, the possibility of taking advantage of attractive discounts.