Last updated: 02.06.2022
Homemade cosmetics are increasingly appearing in our bathrooms, replacing ready-made. Such preparations based on natural ingredients, hand-made have a number of advantages: they are inexpensive, quick to prepare, free from strong, irritating substances, hypoallergenic and filled with valuable substances. How to start creating homemade cosmetics? What ingredients and accessories will we need? What effect do particular concoctions have? Here is everything you need to know about home-made cosmetics.
Why use home-made cosmetics?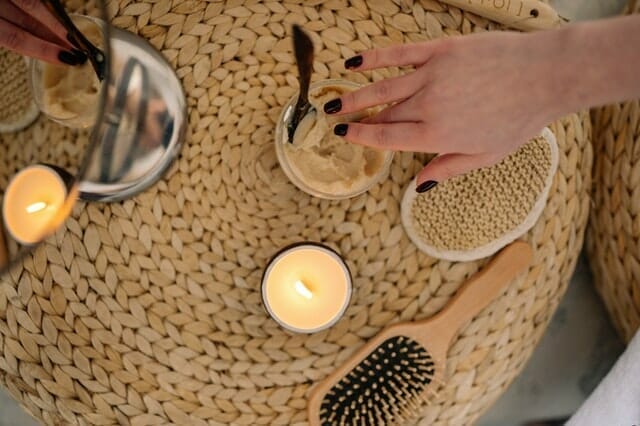 Homemade cosmetics continue to gain in popularity. Either they are used interchangeably with ready-made preparations, or they are becoming their permanent substitute. They are a frequent companion of followers of ecological solutions, people who value naturalness and avoid chemicals in their lives, allergy sufferers and those who have allergies as well as those who have a problem with the environment.tion, allergy sufferers and owners of problematic skin, skin prone to irritation and weak, thin and delicate hair.
Homemade cosmetics are usually based on vegetable oils, herbs, glycerin, hydrolats and simple culinary products that can be found in almost every kitchen. Homemade cosmetics have many advantages, the most important being the absence of synthetic substances such as dyes, parabens, alcohol, SLS, glycol, preservatives, emulsifiers, silicones, etc.
Many people, especially those with sensitive and delicate skin and hair, frequent contact with chemicals present in cosmetics, definitely does not serve. As a result of their adverse effects, hair is overburdened and weakened, the skin becomes prone to redness, rashes and irritation. It may also lead to skin dryness and increased susceptibility to damage. If we replace drugstore cosmetics with home-made ones, the problem of excessive load and notorious irritation of skin and hair by synthetics will disappear.
Advantages of Home-Made Cosmetics
Homemade cosmetics are a cost-effective and efficient solution – both the plant ingredients and raw materials used as the basis of cosmetics do not cost much and are enough to prepare many concoctions in large quantities.
Homemade cosmetics can be freely personalized, adding to the preparation exactly the ingredients that our skin or hair needs and obtaining the desired results. The same applies to the smell – we can compose an aromatic composition perfectly suited to ourselves. In the case of store-bought cosmetics we are always condemned to ready-made solutions and the choice of active ingredients, fragrance or consistency of the product is not always 100% suitable for us.
Homemade cosmetics, if properly made and stored, show high effectiveness due to the high concentration of active substances and natural composition. On the other hand, ready-made cosmetics, especially those of lower quality, contain a large percentage of fixing substances, ensuring proper consistency, and various types of fillers with a smaller share of active ingredients. Therefore, many of them do not work as intensively as home-made cosmetics.
Homemade cosmetics are versatile and universal. One hand-prepared preparation can be used for several different purposes. Admittedly, we generally use many different types of cosmetics on a daily basis, both for the skin, hair and body. Each is aimed at different effects and has different properties. However, it is also worth having in the cosmetic assortment universal cosmetics, which can be used for different parts of the body and for different purposes. It is great for this very cosmetics produced at home. For example, such a homemade lotion based on coconut oil and shea butter is a multifunctional specification, which can be used as a hair mask, and as a conditioner for eyebrows, and as a protective preparation for the lips, and as a body lotion, etc.
Homemade, natural cosmetics are ecological and environmentally friendly. They do not contain substances dangerous to the earth, nor are they tested on animals.
Check out: Serum For Eyebrows – Ranking
Homemade cosmetics – how to create them and what ingredients and accessories are worth equipping yourself with?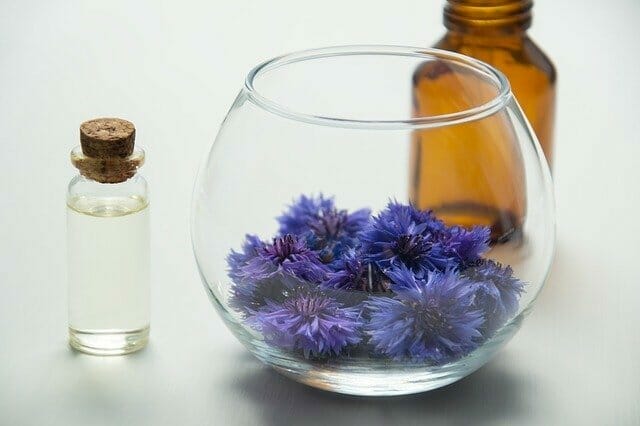 Homemade cosmetics can be more and less laborious. To make an express body scrub, which improves blood circulation, removes dead skin cells, firms and improves skin tone, you just need some coffee grounds, oil and sea salt. But already the preparation of a face cream is a bit more complex procedure.
Admittedly, to create homemade cosmetics is not needed any specialized equipment, but if we are going to enter into their manufacture in full swing, we will need a few simple, available for example in cosmetic warehouses, stores, shops. A few simple accessories, available e.g. in cosmetic wholesale stores, chemical stores, pharmacies, online drugstores and a few raw materials that will serve us as a basis for future concoctions.
Dishes and utensils that are worth buying
glass bottles,
atomizer bottles,
bottles with a dispenser (if you intend to make e.g. liquid soaps, face or body washes, etc.)
empty containers for creams, lotions, conditioners,
glass or porcelain bowls,
mortar (if we are going to grind our own herbal materials)
large jars (if we are going to make our own herbal macerates, which will later be used as an ingredient of creams, lotions),
pipette, measuring spoons,
syringe,
a censer, a container with a measuring cup,
scale.
Raw materials useful in making homemade cosmetics
Glycerin,
cosmetic clay (e.g. white or green – eliminates excess sebum, tones and evens out the color, which makes it especially recommended for cosmetics for couperose skin, oily skin, acne and combination skin),
panthenol,
coenzyme Q10 in liquid or powder,
activated charcoal,
vitamins in drops or tablets – vitamin C, vitamin A, vitamin E,
cosmetic oil,
sea or Himalayan salt,
organic emulsifier or beeswax (useful for creating cosmetics with emulsion consistency),
base organic gel e.g. aloe vera (for making cosmetics of gel consistency),
flower and herbal hydrolats (e.g. rose, lavender, chamomile, lime, green tea),
essential oils (e.g. lemon, menthol, tea tree, orange),
olive oil and oils such as: argan oil, coconut oil, apricot oil, macadamia oil, sweet almond oil, rosehip seed oil
butters: shea, cocoa, coffee, mango, avocado,
macerates and herbal extracts (e.g. from arnica, calendula, cotton, carrot, field horsetail, goji berries, red clover, hedgehock, Centella Asiatica, aloe)
other plant-based resources (e.g. ginger, turmeric, green barley, flaxseed, chlorella and spirulina, plantain seed).
Check: Serum For Face – Ranking
Shampoo, facial tonic, or maybe cream – what cosmetics can you make at home?
In principle, all kinds of care cosmetics can be made at home. From standard everyday creams and lotions, through cleansers and bath salts, to concentrated conditioners and masks.
Here are simple to prepare and effective in action home cosmetics, which are worth the effort:
Homemade shampoos
When we wash our hair with regular shampoo, we are often not satisfied with the results. Our hair often looks dull, static, tangled, loses its quality, starts to get greasy faster or conversely becomes dry. Store bought shampoos often do not serve us well because most of them contain a large variety of chemical substances – silicones, parabens, glycols, foaming agents, preservatives and aggressive detergents.
When present in cosmetics in excess, synthetic substances may weaken the hair and have a negative effect on its texture. What is more, they may irritate the scalp. If you want to strengthen your hair at every stage of its care, start with a homemade cleanser!
Homemade shampoos are made on the basis of distilled water. The composition of such homemade shampoo should also include ingredients with antibacterial and anti-inflammatory properties (eg. Such homemade shampoo should also contain ingredients with antibacterial and anti-inflammatory properties (e.g. tea oil, apple cider vinegar) as well as cleansing and refreshing properties of hair and scalp, e.g. mild plant detergents, flower hydrolates, honey, coconut oil, nettle, eucalyptus oil. It is also a good idea to add protective, softening and shining substances to your shampoo, e.g. panthenol, jojoba oil, argan oil, lemon juice.
Homemade Hair Conditioners and Face and Hair Masks
Since both a hair conditioner and a face or hair mask should have the consistency of mush, we should take care of the right proportions of loose, thick and liquid ingredients.
Banana, melon and avocado, among others, are perfect for the base of conditioners and masks because of their thick, creamy texture and richness in valuable ingredients. Other thick, noteworthy ingredients include yeast, honey, yogurt, oils, aloe vera gel, shea butter, cocoa butter.
Powdered ingredients ideal for conditioners and masks are: spirulina, ginger, turmeric, wheatgrass, ground oatmeal, ground flaxseed. Distilled water will work well as a liquid base.
Homemade facial tonics
Tonics are one of the simplest home cosmetics. They are usually prepared by combining herbal infusions (e.g. chamomile, burdock, green tea, marigold) or juice (e.g. cucumber, lemon). It is recommended to apply the lotion on the face and neck of the face and neck of the head.
Home-made face balms and creams
Lotions and creams must have the consistency of an emulsion, so they should combine the water and fat phase. For the water phase, floral and herbal hydrolates are used, and for the fat phase – vegetable oils. They are combined into a coherent whole with an emulsifier (in this case an organic emulsifier).
The water and fat components have nourishing, protective, revitalizing, greasing and moisturizing properties. It is also worth adding to creams and lotions selected essential oil, which will serve as a fragrance.
Recipes for homemade cosmetics
Homemade shampoo for hair
Ingredients:
a handful of grated natural soap
half a glass of nettle infusion
2 tablespoons of aloe vera juice or 2 tablespoons of liquid honey
2 tablespoons of lemon juice
1 egg
Preparation:
Pour the soap into the nettle infusion. Heat over low heat to dissolve the soap. After cooling, add aloe vera juice or honey, lemon juice and egg. Mix the whole thing thoroughly and you are done. Prepare homemade shampoo directly before shampooing.
Homemade conditioner for hair growth
Ingredients:
1 banana or avocado
2 tablespoons natural yogurt
2 Tbs. lemon juice
1-2 Tbsp olive oil
100 ml green tea infusion
Preparation:
Grind a ripe avocado or banana. Add natural yogurt, lemon juice, olive oil and green tea. Mix the whole into a smooth mass, adding or removing individual ingredients. The mixture should be quite thick so that it holds well on your hair.
This home-made conditioner for hair loss is a good way to strengthen and regenerate your hair. The conditioner should be applied after shampooing and rinsed out after several minutes.
Homemade Hair Serum
Homemade hair serum, based on a rich composition of herbs, shows multiple beneficial effects: strengthens, stimulates hair growth, nourishes, shines, smoothens, eliminates bacteria and fungi, acts anti-inflammatory, normalizes the scalp, helps remove dead skin, reduces dandruff and excessive oiliness.
Ingredients:
2 tbsp rosemary herb
2 Tbs. of field horsetail
2 Tbs. nettle
2 Tbs fenugreek seeds
3 Tbs. linseed oil
3 Tbsp aloe vera juice
Preparation:
We make an infusion from the herbs. Cool down, add oil and aloe vera juice, mix. So prepared cosmetic rub into the scalp, wait an hour and rinse with warm water.
Homemade face cream
Ingredients:
1 tablespoon of coconut oil (preferably unrefined)
2 Tbsp argan oil
2 Tbsp almond oil
2 Tbs rose hydrolate
0.5 teaspoon glycerine
100 ml of herbal infusion (e.g. calendula, chamomile)
1 tsp beeswax (acts as an emulsifier)
Preparation:
We combine oils and wax and dissolve over a water bath. Cool down. Hydrolate and infusion combine with glycerin. Then combine both mixtures with each other using a blender. Transfer to a jar, put in the fridge. Store for about 2 weeks.
This is a universal home cream for improving the condition of the skin suitable for all skin types. The active ingredients contained in it nourish, smooth, make the skin elastic, soothe irritation, tone and moisturize the skin.
Read also: How to rejuvenate your face?