Acne-prone skin is one of the most problematic skin types. It is hypersensitive, prone to irritation and inflammation, difficult to care for, and to top it all, it is constantly covered with unsightly pimples and blackheads. Fortunately, with the help of appropriate daily care products, acne-prone skin can be calmed down, normalized and inhibited from the formation of unwanted lesions. One of the most interesting creams for acne-prone skin on the market is Revamin Acne Cream. It fights pimples and blackheads, soothes, moisturizes, supports the regeneration process and visibly improves the appearance of the skin. It is distinguished by its highly concentrated formula, thanks to which the active substances have a chance to penetrate deep into the skin and perform their repairing tasks accordingly.
Problematic acne skin – how to take care of it?
Acne is a very common skin problem, the main cause of which is rapid hormonal changes occurring in the body. Sometimes, however, other factors also contribute to the appearance of acne, and these include: skin infections(bacterial or fungal), excess toxins in the body, inadequate care (insufficient facial cleansing, use of improper cosmetics), metabolic disorders, poor diet, fast, stressful lifestyle, environmental pollution.
Acne is an ailment that is difficult to cure completely, problematic and tends to recur. Therefore, a very important issue for acne skin owners is proper daily care. Systematic, in-depth pore cleansing, toning, exfoliation, as well as moisturizing and nourishing the skin with properly selected cosmetics can give us much more than a temporary acne ointment.
Acne-prone skin is characterized by abnormal functioning of the sebaceous glands, abnormalities in the process of exfoliation of the epidermis and increased sebum secretion, and thus dilated pores and often appearing blackheads and pimples. Acne-prone skin is mainly faced by people during and just after puberty, but it can it also develops at an older age, around 30-40, in people who have not previously had an acne problem.
The characteristic symptoms of acne-prone skin are:
excessive sebum secretion (seborrhea),
shiny, sticky skin,
dilated pores,
redness,
skin lacking smoothness and uniform color,
hypersensitivity and burning of the skin,
formation of blackheads (whiteheads),
formation of papules, pustules, thickenings and purulent cysts,
difficult, long-term healing of skin lesions,
formation of eczema scars.
Revamin Acne Cream – a lifeline for acne-prone skin and a way to stimulate regeneration
Revamin Acne Cream is a cream created for daily acne skin care. It prevents the proliferation of microorganisms, fights pimples and blackheads, while helping to restore the skin's proper pH and accelerate its recovery. Thanks to its special texture and rich composition, it meets all the needs of demanding and sensitive acne-prone skin.
Revamin Acne Cream works both deep within the skin, cleansing it and stimulating its regenerative abilities, and superficially, performing protective and beautifying functions. The product provides us with:
hydration,
nourishment,
cleansing,
normalization,
sebum reduction,
renewal,
reduction of inflammation,
inhibition of microbial growth,
equalization of color,
strengthening the defense barrier.
Revamin Acne Cream – unique composition of the cream, enhanced action
Want to inhibit the process of the notorious formation of pimples and blackheads, it is worth helping with the rich Revamin Acne Cream cream. Thanks to the content of salicylic acid, it effectively deals with pimples, and thanks to hyaluronic acid it provides professional support in regenerating and improving the structure of the skin. It also contains proven mattifying substances that reduce the effect of excessive skin shine. However, this is only the beginning of the long list of active ingredients of Revamin Acne Cream.
What can we find in the composition of Revamin Acne Cream and what are the properties of the individual active substances?
Grape seed oil – has a balancing effect on the skin, giving it the right degree of hydration and lubrication. Thus, it normalizes the structure of the skin and eliminates both excessive oiliness and excessive dryness. It nourishes and softens the skin. It soothes irritations. It also has excellent anti-inflammatory and antibacterial properties, thus supporting the fight against acne lesions.
Tea tree hydrolate – deeply and thoroughly cleanses pores, preventing their blockage and accumulation of excess sebum. It exhibits antiseptic, antibacterial and anti-inflammatory properties, while soothing and promoting skin renewal. It effectively fights acne, refreshes, tones and mattifies the complexion without causing astringency.
Castor oil – a long-cherished ingredient with a wide range of beneficial effects on the skin. It works well both to stimulate skin regeneration processes and to remove impurities. It is also readily used to restore damaged hair. It is sometimes used in home care treatments, and is often added to ready-made cosmetics. Among other things, it is an important part of the Revamin Acne Cream formula. It performs 6 key tasks: intensively cleanses the skin, improves the level of hydration, inhibits the growth of bacteria, accelerates the healing of acne lesions, protects and cares for the skin from the outside.
Zinc oxide – a good acne cream could not lack zinc oxide, one of the most effective compounds for reducing sebum production. By restoring the proper pH of the skin and normalizing the sebaceous glands, the ingredient takes excellent care of acne-prone skin. It prevents unsightly shine, blemishes and excessive skin oiliness. In return, it provides it with a nice matte appearance. It also exhibits antibacterial, anti-inflammatory, exfoliating, cleansing and protective effects.
Hyaluronic acid – a natural component of the skin, which is responsible for a high level of hydration, and thus for its healthy, vital, young appearance. Thanks to the hyaluronic acid in Revamin Acne Cream, our skin gets an extra boost of hydration, making it more resilient, firmer, smoother, tighter and more youthful. What's more, this ingredient soothes the skin, makes it more resistant to the influence of harmful factors, refreshes it, stimulates the production of collagen and elastin, and supports regeneration processes.
Salicylic acid – a very valuable ingredient in acne skin care. It shows high activity in fighting harmful pathogens (bacteria, fungi) responsible for the formation of acne lesions. Reduces skin inflammation and reduces sebum secretion. Deeply cleanses pores and prevents the formation of blackheads. Reduces the frequency of pimples, stimulates the exfoliation of dead skin, balances the skin.
Niacinamide – well absorbed by the skin ingredient with strong regenerative properties. Stimulating the repair processes in the skin, it accelerates the disappearance of scars after acne outbreaks, while reducing the frequency of the formation of new pimples. It normalizes the skin and prevents the production of excessive amounts of sebum. It also exhibits antioxidant, anti-inflammatory, antibacterial, strengthening and protective effects.
Panthenol – conditions the skin and improves its appearance. It smooths and softens the skin, soothes irritation, restores an even, healthy complexion. Stimulates the production of new skin cells, thereby accelerating the healing of acne lesions and promoting comprehensive skin renewal.
Vitamin E – a powerful antioxidant that fights skin-damaging free radicals and inhibits the aging process. Hydrates and nourishes the skin and fights inflammation. Improves skin elasticity and firmness, supports regeneration processes.
Revamin Acne Cream – how to apply?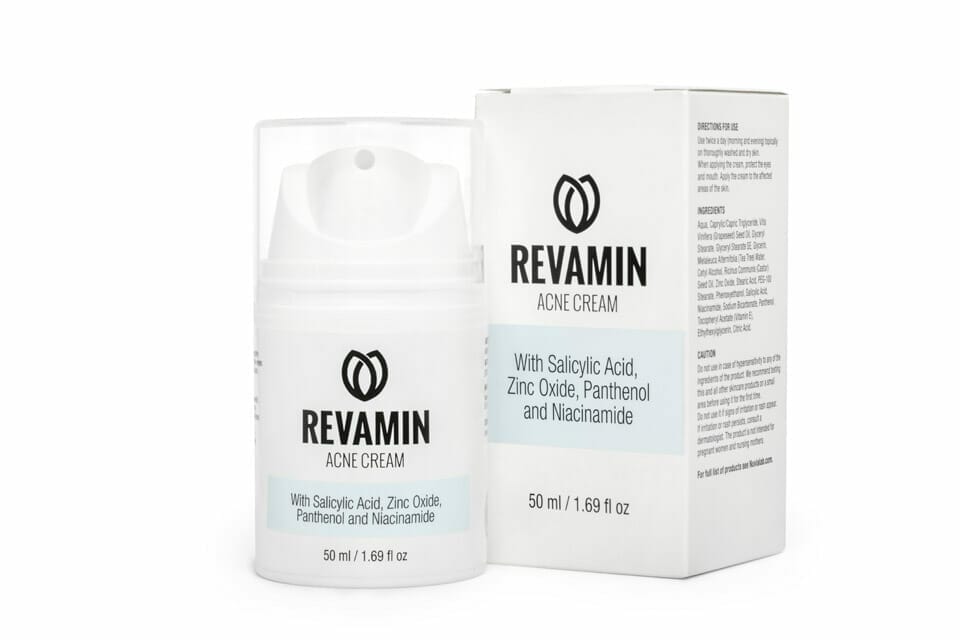 An effective, efficient, easy-to-apply, comprehensively improving skin condition and time-saving remedy for acne-prone skin? If one is looking for such a product, Revamin Acne Cream is a good option of choice. How to apply it?
Just squeeze a small amount of the cream out of the package in the morning and evening, then apply it to cleansed and dried skin and gently spread it all over the face.
Revamin Acne Cream can be treated as an alternative to a regular face cream or as an additional cosmetic. If you want to enhance the effects, it is worth applying it directly after washing your face with a good cleanser designed for acne-prone skin. It is also worth using scrubs (preferably enzymatic) 2-3 times a week.
Revamin Acne Cream is completely safe for the skin, spreads very well and starts working immediately after application.
Revamin Acne Cream – effects of action
The secret of Revamin Acne Cream 's effectiveness is the selection of ingredients that work well together. Thanks to a wide spectrum of active substances in properly selected doses, Revamin Acne Cream works in multiple ways and effectively. Importantly, although this cream is highly active, it is not at the same time aggressive and irritating, like some acne skin preparations. Since it is based on natural substances, it is skin-friendly and does not cause irritation; on the contrary, it soothes the skin, calms and softens it.
Why is Revamin Acne Cream excellent for acne-prone skin?
It does not dry or irritate the skin, and is gentle on hypersensitive acne-prone skin.
It regulates sebum production and promotes the reduction of the horny layer.
Cleanses pores and fights blackheads.
Promotes exfoliation of dead skin.
Combats inflammation, calms the skin,
Counteracts the formation of pimples, papules, purulent lesions.
Simultaneously cleanses, moisturizes, tones and stimulates repair processes.
Comprehensively improves the appearance of acne-prone skin (mattifies, smoothens, makes it more flexible, prevents shine, evens out skin tone).
Revamin Acne Cream – reviews
Revamin Acne Cream, according to many reviews, is a cosmetic very well suited for acne skin care. It works effectively and quickly and is friendly even to very sensitive skin. What's more, it performs multiple tasks simultaneously, making it significantly easier to care for demanding skinskin prone to pimples, blackheads, irritation, redness, inflammation.
Customers stress that Revamin Acne Cream is one of the few cosmetics friendly to acne-prone skin. Many preparations irritate it and cause the skin to produce even more sebum as a defensive reaction, and the acne problem only intensifies. Revamin Acne Cream is different.
Where can you buy Revamin Acne Cream?
Revamin Acne Cream can be bought Directly on the website of the manufacturer of the product . This is the safest and fastest way of transaction. The site also has interesting promotional offers (cheaper product when you buy more packages).