SmooSkin is a serum for scars and stretch marks that helps reduce the appearance of embarrassing, unsightly skin changes. It works in a deep and intensive manner. It stimulates the proliferation of new cells, rebuilds scarred skin fragments and makes the skin gain a balanced, smooth structure again. The high activity of the product and the good results in reducing scars are due to the special formula combining hydroxyproline and rich plant oils and extracts.
Although scars and stretch marks are one of the most difficult dermatological problems to eradicate, products such as SmooSkin serum can be used to deeply correct them and dramatically reduce their appearance.
Scars and stretch marks – an unpopular skin condition that is difficult to treat
Ascar is a healed area of skin where there was a wound. Scars occur as a result of a break in skin continuity. They are usually caused by mechanical injuries (e.g. cuts, abrasions, burns) or after surgeries. Scars are also stretch marks, which are the result of rapid stretching of the skin (e.g. during pregnancy or rapid weight gain).
Everyone has small or large scars. Some are visible, others less so, some disturb us, others do not. The problem arises when the scar is quite extensive, strongly noticeable or located on the part of the body that is constantly exposed (eg on the face, hand) or quite often exposed (eg on the legs).
When a wound occurs, the collagen fibers that make up the structure of the skin are disrupted. Immediately after injury, a clot forms, then a scab, and after a few days the healing process is initiated. Then, intensive synthesis of collagen occurs, which becomes a binder for the tissue and the multiplication of new cells. As a result, new fibrous connective tissue develops to replace the original one.
Unfortunately, usually the balance between the production and breakdown of collagen in the healing process is disturbed, hence the structure of the overlying tissue is no longer so ideal. Overgrowth of connective tissue occurs, which directly results in scars.
What do scars look like and how do they differ from normal skin?
Color – the skin of a scar is reddish, pinkish, purple or white.
Hardness – the tissue on a scar is harder than normal skin tissue.
Level of smoothness – unlike normal skin, the scar is not smooth, but is rough and tightened in places.
Structure – in general, scars are more convex than normal skin and are also less elastic than normal skin, less regular and uneven, with characteristic thickening and adhesions.
Can a scar disappear? How to get rid of scars?
It depends mainly on how we take care of it, but also on the depth and extent of the injury, whether the scar will be strongly or slightly visible. It is best to start taking care of a scar as early as possible, if possible shortly after the start of the healing process, when there is an intensive process of tissue regeneration and growth of new cells. On the other hand, older scars can also be reduced.
By using the right preparations regularly and over a long period of time, each scar is able to partially or almost completely disappear. SmooSkin is an innovative serum for scars and stretch marks, with the help of which we will intensify the processes of regeneration of connective tissue, improve the condition of scarred skin and prevent the formation of large, raised scars on wounded areas. The product is particularly helpful in case of more recent scars, but it also eliminates older ones.
SmooSkin is a valuable support for such skin flaws as:
acne scars,
scars after cuts, burns, falls and other mechanical skin injuries,
scars after surgeries and treatments,
discoloration,
stretch marks.
SmooSkin – powerful reconstruction and professional care
SmooSkin is a rebuilding and smoothing serum suitable for the correction of scars and stretch marks, regardless of their severity. It has a powerful composition based on hydroxyproline, which strengthens and renews connective tissue. It is also enriched with an array of multifunctional skin conditioning ingredients.
SmooSkin helps renew the collagen fiber network, which promotes the gradual transformation of scar tissue into normal skin. Thanks to the complex of active substances, bumps, thickening, unevenness begin to blur, both the structure of the skin and its color begins to unify. In daily use, SmooSkin also makes the skin feel moisturized, nourished, supple, soft and velvety.
SmooSkin serum composition
SmooSkin is distinguished by its pleasant texture for the skin, convenient use and effective, deep absorption. The following active ingredients can be found in the formulation:
Hydroxyproline
Hydroxyproline is a key amino acid that is part of collagen. Collagen in turn is the basic building block of our skin, responsible for its firmness, elasticity and proper level of tension. Hydroxyproline contained in the SmooSkin serum supplements losses of the basic building material of the skin, restores its proper densityIt restores the skin's proper density, firmness, elasticity, smoothness – in general, it improves its structure. It stimulates skin cell renewal processes and also shows strengthening properties. It takes care of the good condition of collagen fibres and improves the resistance of connective tissue to adverse external factors and protects it from damage.
Avocado oil
Avocado oil is one of the best remedies for our skin. It is distinguished by a very valuable composition for the skin, led by unsaturated fatty acids omega 3, 6 and 9. It also contains vitamin A, vitamin E, vitamin C, silicon, zinc, phytosterols, B vitamins. In case of damaged and very demanding skin, including the skin covered by scars and stretch marks, it works perfectly, regenerating, deeply nourishing and reducing the visibility of unaesthetic changes. It activates epidermal renewal processes and accelerates healing. It provides the skin with an appropriate level of oiliness and hydration, soothes irritation, firms and smoothes the skin.
Coconut oil
Another valuable ingredient for skin requiring special care. It contains unsaturated and saturated fatty acids in optimal doses, large amounts of vitamin E, iron, zinc, calcium, vitamin C, B vitamins and the power of antioxidants, making it a real rebuilding, protective and nourishing bomb for the skin. It lubricates, moisturizes, regenerates, soothes, reduces inflammation and fights bacteria. It leaves the skin smooth and vital, supports the healing process and the formation of new, healthy, uniform tissue.
Shea butter
Shea butter is abundant in unsaturated fatty acids, proteins, amino acids, polyphenols, phytosterols, vitamins and minerals. These valuable building blocks and nutrients penetrate deep into the skin, bonding and renewing its structure and restoring its healthy, beautiful appearance. By stimulating wound healing, protecting skin cells from damage, and making skin supple, smooth and soft, shea butter also reduces the appearance of scars.
Centella Asiatica
Centella Asiatica is a valuable adaptogen which restores balance in our system, guards the proper functioning of organs and takes care of the good condition of cells, including skin cells. It stimulates production of collagen, hyaluronic acid and elastin, stimulates regeneration processes of damaged skin, improves its hydration and tension level. It also provides the skin with valuable nutrients, shows anti-aging properties, protects against harmful external factors. It also soothes irritations and exhibits anti-inflammatory and antibacterial properties.
Onion extract
Onion extract is one of the most effective ways to speed up the scar healing process. It stimulates the regeneration of damaged cells and at the same time stimulates the process of new cell proliferation. It is helpful with both older and fresher scars. It improves the condition of connective tissue, makes the skin covered by a scar more homogeneous, more flexible and smoother. It evens out skin tone, fights discoloration, leads to a gradual fading and shrinking of scars.
SmooSkin – remedy for scars and stretch marks. What effects and how quickly can we expect when using the product?
Reconstruction of skin in which the continuity and collagen fibres have been broken does not take 2-3 days but requires a longer period of time, usually several months. However, with the use of SmooSkin serum we will accelerate this process so that within 8-10 weeks we will be able to enjoy smooth, even, disfigurement-free skin.
In the case of older scars, SmooSkin also improves the appearance of the skin, balancing the skin structure, making scars more even and reducing their size.The specific duration of treatment, however, depends on the extent of the scar or stretch mark. In each case, you must also take into account individual predispositions of the body – some people's skin reacts faster to the preparation, while others a little slower.
The effects of treatment with SmooSkin over several weeks of daily use are usually very satisfactory. How does SmooSkin work?
It ensures proper and even distribution of newly formed connective tissue, prevents thickening, adhesions, and thus prevents the formation of raised, highly visible scars.
Gradually reduces the visibility of scars.
Reduces stretch marks (both older and fresher) regardless of location (e.g. on thighs, buttocks, breasts, arms, abdomen) and cause (e.g. those caused by rapid weight gain). The cause (e.g. caused by rapid weight gain, pregnancy, hormonal imbalance, rapid increase in muscle mass).
By increasing skin elasticity and resistance, it protects against future stretch marks.
Accelerates wound healing, stimulates collagen and elastin synthesis, stimulates the multiplication of new connective tissue cells.
It evens out skin tone, reduces discoloration on wounded areas, blurs the differences between a scar and the skin in the immediate vicinity.
Deeply nourishes the skin and improves its condition – makes it firm, elastic and smooth.
Provides the skin with the right level of hydration and tension.
Efficiently reduces acne lesions.
It strengthens the skin, improves its resistance and protects it from harmful factors (e.g. UV radiation).
It improves skin quality, beautifies and revitalizes the skin.
SmooSkin – opinions
People who have used SmooSkin generally speak about the very good effects of the cosmetic. Accelerated healing of scars, strong repair effect, reduction of stretch marks, gradual decrease in the visibility of scars, improvement in skin texture, lighteningThese are the most frequent opinions about SmooSkin. Customers also praise the cosmetic for its pleasant, skin-friendly consistency and high efficiency.
Serum for scars and stretch marks SmooSkin – how to use and where to buy?
Serum X 1X should be applied 2 times a day, in the morning and in the evening. Apply a small amount of the product on dry skin. Rub in gently with fingertips in a circular motion.
To order SmooSkin safely and quickly, the best place to go is to the official website of the product . There are available attractive discounts (buying more at once, you pay less).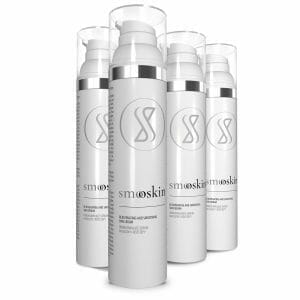 Sources:
https://www.healthline.com/health/beauty-skin-care/avocado-oil-for-skin
https://www.healthline.com/health/beauty-skin-care/what-is-shea-butter
https://www.medicalnewstoday.com/articles/centella-asiatica-for-skin#benefits
https://www.medicalnewstoday.com/articles/262881
https://www.healthline.com/health/beauty-skin-care/how-onions-can-benefit-your-skin