Failing to persevere on strict weight loss diets? Don't waste your time on them. Instead, implement a well-balanced eating plan with reduced calories. Diet slimming soups, the recipes of which you will find in this article, will help you to lose weight regularly.
Diet soups are the key to a slim figure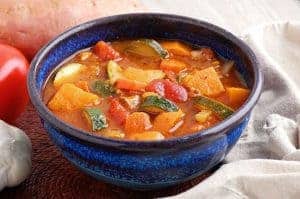 Vegetable soups, consumed with great frequency, can work wonders in the process of weight reduction. You just need to learn how to prepare them, so that they follow all the rules of low-calorie, healthy eating, and so that they are simply good. For nothing can be more discouraging to a given diet than sterile food devoid of taste, clarity and aroma.
Slimming soups should be prepared with a large proportion of fresh greens, dried herbs, spices, or other expressive (but not fattening) additives. The second important issue is the proper selection of ingredients. Diet soups are best composed of different vegetables, using them interchangeably and in various combinations. This will help you avoid culinary monotony and eat your soups with a big appetite.
Want to lose 5 kg in a week? Go here and learn more about the soup diet.
Why do you lose weight eating soups?
Wondering why soups help you lose weight so much? There are several reasons. First of all, soups prepared from only vegetables (or possibly on the leanest parts of meat), without additives such as cream, roux, greaves, etc., are low in calories. Even if you give yourself an extra plate of soup, you will provide the body with very few calories, while getting the effect of satiety.
In addition, liquid vegetable broths are conducive to cleansing the body of excess water and toxins. High content of dietary fiber in vegetables, from which diet soups are prepared, is also very important for weight loss. Thanks to this component, metabolism and the process of burning fat gain speed. Spices and herbs added to soups also have a beneficial effect on metabolism.
Slimming soups – recipes
1. cabbage soup
There is a reason why cabbage soup (white or Italian) is the hero of one of the most popular weight loss diets – cabbage diet. This soup is great for losing weight, improves metabolism, allows you to easily get rid of excess subcutaneous water, stimulates digestion and provides a sense of satiety. To prepare it you will need:
– a head of white or savoy cabbage
– 2 peppers
– 4 fresh tomatoes or canned tomatoes in brine
– 1 leek
– celery (bunch)
– 2-3 carrots
– 3 onions
– bunch of parsley
– spices: bay leaf, allspice, garlic, curry, marjoram, thyme, basil, chilli
– soy sauce or salt
Peel parboiled tomatoes. Shred the cabbage, dice all the other vegetables and chop the parsley. Pour about 3 l of water into the pot, add allspice and bay leaf, vegetables and some of the parsley. Boil the soup for about 30 minutes until the vegetables are tender. At the end of cooking add the rest of the parsley and other spices. Add salt to taste.
2. beetroot soup
Dietary beetroot soup is a light alternative to traditional Ukrainian borscht. Here are its ingredients:
– 4-5 large beets
– bunch of greens
– half a can of red beans
– parsley and dill
– poultry fillet (approx. 300-400 g)
– seasonings: allspice, bay leaf, herbes de Provence, pepper, sweet paprika, smoked paprika, garlic, lemon juice.
Peel the vegetables. Dice the beetroot and cut the greens into slices. Pour 2-3 litres of water into the pot. Put rinsed meat into the pot and boil for 10 minutes. Add allspice, bay leaf and vegetables. Boil the soup for about half an hour, add chopped dill, parsley and other spices. Season with lemon juice and an optional spoonful of skim yogurt.
3 – Zucchini, tomato and pepper soup
This soup is sure to appeal to every Mediterranean lover. It is delicious, light, satisfies hunger well and contains almost no calories. Prepare such products as:
– 5 tomatoes
– 2 large courgettes
– 2 peppers
– 2 carrots
– 2 onions
– fresh or dried herbs: basil, oregano, thyme, coriander
– garlic, chilli pepper, salt
Dice the onions, peppers and tomatoes, slice the carrots and zucchini into thicker slices or cubes. In a spoon of olive oil fry onions, peppers, carrots and zucchini. Put the fried vegetables into about 2 l of water. Add tomatoes, mix, cook soup for about 30 minutes on low heat. Add spices, cook the soup for a while.