Oatmeal can be prepared in countless ways, which is one of its key advantages. It goes well with all fruits, dairy, grains, nuts, and aromatic spices. The other main advantage of oatmeal is its high nutritional value resulting in a number of health-promoting benefits. Check out oatmeal in 4 interesting ways.
Why eat oatmeal?

Power of dietary fibre, rich arsenal of minerals, vitamins and unsaturated fatty acids – it is hard to imagine a healthier breakfast or snack between main meals than oatmeal. It is perfectly filling, limits excessive appetite, increases the rate of metabolism, supports digestive processes and intestinal function. It is "fuel" for the brain, has a positive effect on memory and concentration, supports the nervous system, supports body regeneration, is a great way to replenish missing minerals and vitamins. The list of advantages of oatmeal is impressive, so it is worth introducing it to the daily menu as often as possible.
Water oatmeal – a recipe for those counting every calorie

If you are on a weight-loss diet and trying to cut unnecessary calories in each meal, a good solution for you will be oatmeal on water. The recipe is very simple, just instead of milk boil a glass of water, add 5 tablespoons of oatmeal, cook for 2-3 minutes, add a few sliced dried apricots and a handful of dried cranberries or raisins.
When the flakes and dried fruit have softened, add a few tablespoons of orange juice to the oatmeal and sweeten with xylitol or honey to taste. You can also add a handful of fresh cut fruit, such as strawberries, kiwi, pineapple, tangerines, peaches, blackberries, grapefruit, blueberries acai.
Traditional porridge on milk with some additives
The classic oatmeal on milk will gain a unique flavour if you add a few distinctive additions to it.
Boil 1.5 cups of milk and add half a cup of oatmeal. Cook on low heat until the oatmeal thickens. At the end add your favourite toppings, for example: blueberries, raisins, chopped prunes, a handful of nuts or almonds, a handful of sunflower seeds.
Delicious oatmeal with peanut butter

Oatmeal with peanut butter is distinguished by an unusual, velvety taste and is sure to satisfy even the most demanding palates.
Prepare: 1.5 cups of skim milk, 6-7 tablespoons of oatmeal, 2 tablespoons of peanut butter, 2 handfuls of berries (optional raspberries, blackberries, strawberries), a handful of pumpkin seeds and chia nuts or seeds of your choice.
Add oatmeal to hot milk, cook it on low heat for a few minutes. Set the mixture from the heat, add peanut butter and mix thoroughly. Finally, sprinkle oatmeal with fruit, grains and nuts.
Yoghurt oatmeal with banana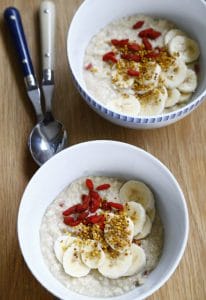 Oatmealwith bananas" width="206″ height="300″ />This recipe for oatmeal with banana and yoghurt will probably be of interest to those looking for ways to prepare cold dishes which are instant, nutritious, give energy and a sense of satiety.
Pour boiling water over 3-4 tablespoons of oatmeal, wait until it swells and cools down. Add about 200 ml of natural yogurt and grated or sliced small banana, mix, season oatmeal with cinnamon.
Oatmeal will never get boring if you prepare it in different ways. Try also the equally nutritious, versatile and tasty dish – millet.