A low-calorie dinner can be a real culinary challenge for people who want to lose extra kilograms. How to prepare a meal that has high nutritional value, gives us energy for the rest of the day, ensures a long-lasting feeling of satiety, is tasty, and at the same time remains dietetic and does not destroy our efforts to slim down? Read our article and find out 7 ways to have a low-calorie dinner – see for yourself that a dietetic main meal doesn't have to consist of a few lettuce leaves and a spoonful of groats!
Low calorie dinner – calories
A low-calorie dinner doesn't have to be a meagre meal of less than 200 calories. Since lunch, next to breakfast, is the most important meal of the day, we can easily spend about 500 cal ories on it – probably they will be burned anyway during daily activities. For the main meal of the day, 500 calories is relatively few, but the calorie value alone is not the only important consideration. The content of the meal matters just as much. A low-calorie dinner should be built from healthy products, free of trans fats and excess simple carbohydrates. This will minimize the risk of further fat accumulation.
How to compose a low-calorie dinner?
A low-calorie dinner should first of all be free of highly processed food, which includes ready-made sauces, fixes and soups, seasoning mixes, stock cubes and liquid seasonings, margarines, instant dishes. Food of this kind is a storehouse of empty calories and chemical, unhealthy additives. Secondly, a low-calorie dinner, although characterised by its dietary value, should be nutritionally rich and contain the following nutrients: complex carbohydrates, proteins, healthy fats and vitamins and minerals.
Large amounts of complex carbohydrates can be found in coarse cereals, brown rice, whole grain pasta. Sources of protein include lean meat, fish, seafood, legumes. Vitamins and minerals are abundant in vegetables, fruits, cereal products such as bran. Healthy fats include grains and nuts, olive oil, vegetable oils.
When preparing dietetic dinners, it is also worth reaching for large amounts of herbs and spices. They have a very beneficial effect on the work of the digestive system, and some of them have additional properties that support weight loss – they speed up metabolism, counteract spikes in blood sugar, improve the process of cleansing the body of toxins.
Read also: Cinnamon for weight loss
The last thing worth mentioning is the way of preparing dishes. Breading in breadcrumbs, deep frying, thickening dishes with white flour, fatty cream or roux are practices that definitely do not serve the purpose of a dietetic meal. If our dinners are to remain low-calorie and not cause accumulation of fat tissue, we should opt for cooked (standard or steamed), stewed, grilled and baked dishes without fat or with a minimum of oil.
Low calorie dinner – recipes
1 Low calorie one-pot dinner of vegetables, chicken and brown rice
Ingredients:
chicken breast fillet
100 g brown rice
tin of green peas
7 large mushrooms
tin of sliced tomatoes
1 medium zucchini
1 red pepper
2 onions
3 cloves of garlic
spices: sweet paprika, chilli, oregano, basil, thyme, salt
oil for frying
Preparation:
Cut the chicken into cubes, fry, remove from the pan. Fry the sliced onion for about 2 minutes. Add the bell pepper cut into strips, after 2-3 minutes add the diced courgettes, then the mushrooms cut into smaller pieces. Simmer for a few minutes, add the chicken, which has been removed from the pan, and mix. Add tomatoes, peas and garlic squeezed through a press. Pour some water, add rice and mix. Cook the dish over low heat for a dozen or so minutes (rice must be properly soft). At the end of cooking add spices.
Check: Fibre Select vital fiber for weight loss
2. diet dinner with roast turkey breast in the main role
Ingredients:
a single turkey breast
approx. 100 g dried prunes
1 large apple
seasonings for marinade: 0.5 teaspoon ground allspice, 3 cloves of garlic, 0.5 teaspoon ginger, 1 teaspoon marjoram, 1 teaspoon thyme, 1 teaspoon each of sweet and hot pepper, 0.5 teaspoon pepper, 1 teaspoon salt
oil
Preparation:
Combine 3 tablespoons of oil with the spices, mix thoroughly. Rub the turkey breast with marinade, put in the refrigerator for some time (preferably overnight). Next grease a roasting tin with oil, put in the turkey and on the sides of the meat put alternately prunes and apple pieces. Add water (approx. 150 ml). Place the dish in an oven preheated to 190 degrees for approx. 60 minutes. In the meantime pour the meat with the sauce which precipitated during roasting. If necessary, add some water. Serve the dish with wild rice or buckwheat and lettuce with vinaigrette sauce.
3. fit omelette with oatmeal, spinach and mozzarella
Ingredients:
3 eggs
2 tbsp milk
50 g mozzarella balls (e.g. Galbani)
2 tbsp rolled oats
150 g spinach
1 clove of garlic
1-2 tbsp lemon juice
oil
salt
Preparation:
Put the fresh spinach in a dry frying pan. Wait until the leaves soften and reduce in volume. Add the garlic squeezed through a press, the salt and the lemon juice. Stir. Season to taste, if necessary. Crack the eggs into a bowl, add a pinch of salt and whisk until smooth. Add milk and cereal, mix. Heat up about a tablespoon of olive oil in a frying pan. Pour the egg mixture, wait about 2 minutes. When the bottom is browned, put spinach on one half of the omelette, then a few slices of mozzarella. Cover it with the other half of the omelette. Fry for another minute and remove the pan from the heat. Serve the dish with a light salad of lettuce, cherry tomatoes and cucumber.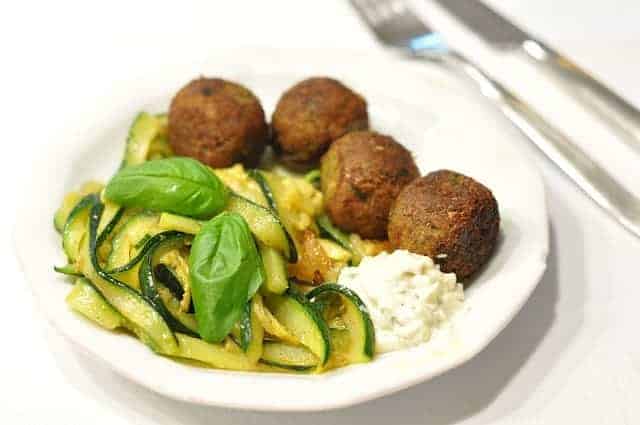 4. dietary pullets made from millet groats and lentils
Ingredients:
100 g millet groats
150 g red lentils
1 large onion
2 cloves of garlic
1 egg
2 tbsp ground linseed
spices: curry, cumin, nutmeg, pepper, hot pepper, chopped parsley, salt
oil
Preparation:
Cut the onion into small cubes, fry in a little oil. Boil the semolina and lentils and cool them down. Blend them for a while or mash with a fork or a spoon. Add fried onion, egg, flaxseed, chopped parsley, pressed garlic to the mixture. Mix. Add a teaspoon of curry, half a teaspoon each of cumin, nutmeg, pepper and hot pepper and salt to taste. Mix again.
Form small balls from the mixture, brush them lightly with oil and place on a baking tray lined with baking paper. Bake the balls for about 25 minutes in an oven preheated to 180 degrees. Lentil and buckwheat balls are served with tomato, garlic or other sauce and roasted vegetables of your choice. We can also serve them accompanied by vegetable ragout.
Check: Ranking of fat burners
5. low calorie quick dinner: whole wheat pasta with smoked salmon
Ingredients:
100 g of whole-wheat pasta ribbons or tubes
approx. 80 g smoked salmon
half a leek
2 cloves of garlic
3 spoonfuls of thick natural yoghurt or natural cheese (e.g. Bieluch)
half a bunch of dill
spices: salt, pepper, nutmeg
Preparation:
Cut the leek into slices and fry in a small amount of oil. Add the garlic, the salmon pieces and the chopped dill. Add the yoghurt or cheese and mix. Season with salt, pepper and nutmeg. Simmer for a while on low heat. In the meantime cook pasta. Drain it, throw into the pan with the sauce and mix thoroughly. 6.
6. lean stew
Ingredients:
chicken breast fillet
2 large or 3 small onions
1 yellow bell pepper and 1 red bell pepper
2 medium carrots
2 tomatoes
3 cloves of garlic
spices: bay leaf, allspice, smoked paprika, sweet and hot paprika, pepper, marjoram, ground cumin
oil
Preparation:
Cut the chicken meat into cubes and fry in a little oil, remove from the pan. Fry the onion, add the sliced garlic, the bell pepper and the sliced carrot. Add 2 bay leaves, a few rounds of allspice, half a teaspoon of smoked paprika and a teaspoon of sweet and hot paprika each. Fry the vegetables with the spices for about 10 minutes, stirring from time to time.
When carrots and peppers soften, add previously scalded, peeled and cut tomatoes. Stew the vegetables for a while. Add fried chicken and mix. After a few minutes add half a teaspoon of cumin, a teaspoon of marjoram, salt and pepper. You can also add a pinch of sweet and hot paprika. Stew the dish for another 15-20 minutes. Our diet chicken stew can be served with any porridge, rice or wholemeal bread.
7. Fit oven dinner: diet casserole with buckwheat groats and vegetables
Ingredients:
150 g buckwheat groats
Vegetables
1 large courgette
1 bunch parsley
1 egg
mozzarella cheese light in brine
spices: salt, pepper, curry, turmeric, oregano, basil, pepper cayenne, sweet paprika
oil
Preparation:
Boil the semolina and cool it. Cut the leek into slices. Grate the carrot, parsley, celery and courgette on a large grater. Chop the parsley. Heat up a spoon of olive oil in a frying pan. Fry the leek, then add the vegetables previously grated. Add a pinch of salt, pepper cayenne and sweet paprika. Fry for 5-7 minutes.
Mix the vegetables with semolina, add chopped parsley. Break an egg, add half a teaspoon each of salt and cayenne, a big pinch of oregano and basil and a teaspoon each of sweet paprika, curry powder and turmeric. Thoroughly mix all the ingredients and put the mixture into the mold. On top arrange the slices of mozzarella. Bake at 180 degrees for 15-20 minutes.
Read also:
How to lose weight without exercise?
Boxed diet – rules and opinions