Aloe vera is an easy-to-grow potted plant with an interesting, somewhat cactus-like appearance that is definitely worth having on your windowsill. It grows quickly and the juice extracted from its leaves is a source of valuable substances for the skin and hair. Please note that if you want to start extracting aloe vera juice, it is advisable to wait until the plant is large enough or get a two year old one. Learn more about the healing and care properties of aloe vera.
Properties, composition and uses of aloe vera
Aloe is one of the richest plants in terms of the content of active substances, which have a beneficial effect on the human body. It contains, among others: B vitamins, vitamins A, C and E, zinc, magnesium, calcium, iron, copper, potassium, phosphorus, many valuable amino acids and enzymes, unsaturated fatty acids, sterols, saponins, organic acids, natural sugars. Here are the most important properties of aloe vera: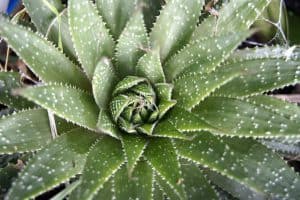 Aloe vera soothes and heals wounds, ulcers, burns, bites.
Aloe helps to regenerate the skin, nourishes, moisturizes and protects it. Aloe vera juice is used for scars, as well as a natural cosmetic care and prevention of wrinkles.
Aloe helps in all kinds of digestive problems, including constipation, diarrhea, reflux, intestinal disorders, also speeds up metabolism.
Aloe improves immunity, helps to fight viruses, parasites, bacteria and fungi living in human body.
Aloe Vera for natural detox – drinking aloe vera juice is a way to improve self-cleaning of the body from toxins.
Aloe vera for hair growth – thanks to its rich composition, this plant has an excellent effect on weak, thin and thinning hair. It promotes their faster growth and rebuilds their entire length from roots to ends.
How do I use aloe vera for my hair?
Aloe vera is an effective and, most importantly, natural remedy for hair loss. If you grow aloe vera in a pot, cut off the large leaves and extract the thick pulp inside. How to use aloe vera juice for hair? The easiest way to use aloe vera juice is to make a medicated hair rub. Massage the aloe vera juice into your scalp, wrap it in foil and a towel and keep it for 40 minutes, then rinse it off. You can also use the aloe vera gel extracted from the leaves as a rinse. Dilute it with water, pour the liquid into a bowl and rinse your hair in it while massaging your scalp gently for a few minutes. An aloe vera mask is also very effective in strengthening and growing hair. Blend the leaves with the pulp, add a bit of linseed oil or olive oil to the paste, mix, massage the mask into your scalp, cover, wait 45 minutes and rinse.
Natural hair loss treatment will be more effective if you include a proven dietary supplement to your aloe vera treatment. If you are looking for effective treatments for androgenetic alopecia, click here.