The cabbage diet is undoubtedly one of the best known slimming diets. It is recognized by many people because it is not too restrictive, does not require special preparation and financial outlays, and the effects are noticeable in a short time. Much less enthusiastic, however, are doctors and nutritionists, who emphasize that we are dealing with the so-called deficiency diet, which does not meet the needs of the body for proteins, fats, carbohydrates and minerals.
The cabbage diet and the Kwasniewski diet
The treatment based on the consumption of cabbage originates from Norway, where it was originally intended to help patients with cardiovascular problems. In Poland, it was popularized by President Aleksander Kwasniewski, who reportedly significantly lost weight due to its use. Hence the synonymous use of the terms "cabbage diet" and "Kwasniewski diet". However, the presidential diet, i.e. the cabbage diet, has nothing to do with the extremely different, high-fat treatment of Dr Jan Kwaśniewski.
Cabbage diet – the rules

cabbageIt is a mono-ingredient treatment based on cabbage soup, eaten practically without any limits. It can be followed for a maximum of 7 days.
The basis of the menu, i.e. presidential soup, is made from white, sauerkraut or savoy cabbage, with the addition of such vegetables as peppers, celery, onions, tomatoes, carrots and herbs. You can add up to two tablespoons of olive oil a day to the soup, or 100 g of lean poultry meat.
What else can and cannot be eaten and drunk? Well, in addition to soup, for the first three days you can eat fruits with low sugar content and vegetables, except for legumes.
On the fourth day there are lean dairy products, small amounts of rice, potatoes or bananas. Preparation of the soup is very simple, what's more, you can prepare it for stock and store in the fridge for the next day or two. In order not to get bored with a monotonous meal, you can vary it by changing the type of cabbage, or adding different vegetables and spices.
Mineralwater poured into a glass" width="179″ height="179″ />It is necessary to drink a lot of fluids, at least 2 liters a day, preferably mineral water or herbal teas, or green tea and fresh juices. This way the body is detoxified faster, which is a necessary condition for an effective weight loss diet.
However, absolutely do not consume alcohol, fatty foods, sweets, various snacks.
Cabbage diet – the effects

Despite the fact that it is a one-ingredient diet, it does not cause the feeling of hunger, because the cabbage soup that is its basis provides enough fiber to contribute to the formation of a state of satiety, in addition, we do not have to limit ourselves when it comes to the amount of food consumed. Since the treatment lasts a short time, the body should not feel any deficiency of nutrients, and at the same time within a week we should see measurable effects in the form of losing a few kilograms.
It is worth noting, however, that if you do not take care to introduce a new, healthy diet and an active lifestyle after the end of the slimming treatment, the effects may turn out to be short-lived.
Thanks to its valuable properties, cabbage not only accelerates weight loss, but also has medicinal properties recognized since ancient times:

It effectively removes all toxins absorbed by the body and residues of metabolism.
Thanks to the presence of fibre, it facilitates and speeds up digestion while giving a feeling of satiety. It is also low in calories.
It nourishes the body because it contains vitamins C, A, E, K and B group and important minerals: calcium, magnesium and potassium, iron and folic acid.
It helps joints and anaemia.
Increases immunity.
Improves the condition of skin, hair and nails.
If you decide to carry out a cabbage slimming treatment and will be consistent in the application of the diet, you will certainly manage to lose 3 to 7 kg of weight. And if, after the end of the treatment, you switch to a lower calorie diet and start exercising actively, not only are you safe from the yo-yo effect, but you will continue losing weight.
Cabbage diet – recipe for slimming cabbage soup

Ingredients:
a head of savoy cabbage,
4 onions with chives,
paprika,
celery,
a few fresh tomatoes or 2 cans of tomatoes,
any spices, but no salt.
Preparation:

Cut the washed vegetables into cubes, shred the cabbage. Peel the tomatoes. Pour everything into a pot with about 3 litres of water and cook for about 40 minutes, stirring from time to time. Season with herbs of your choice. The soup can be eaten warm, blended or eaten as a cooler.

Cabbage soup in a slightly different version: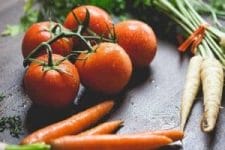 In addition to cabbage add: 3 carrots, 3 parsley, 2 peppers, a few tomatoes or canned tomatoes, 4 onions, leek, herbs and spices, for example pepper, bay leaf, allspice, marjoram, savory, dried paprika, smoked paprika. The method of preparation is the same as in the previous version.
It is best to add spices which speed up metabolism: black pepper, cayenne pepper, turmeric, cumin, coriander, marjoram, allspice, fennel, garlic, or herbs of Provence.
First day:

breakfast – cabbage soup
second breakfast – salad of vegetables such as rocket, kale, tomato, pepper
dinner – cabbage soup, green tea
dinner – fruit with low sugar content
Second day:

breakfast – vegetables (carrots, cauliflower, green cucumber, radishes)
second breakfast – fruit
dinner – cabbage soup
dinner – steamed vegetables
Third day:

breakfast – cabbage soup
second breakfast – fruit in the form of salad or cocktail
dinner – roasted vegetables
dinner – small portion of cabbage soup
Fourth day:

breakfast – cabbage soup
second breakfast – 2 bananas
dinner – 2 jacket potatoes with butter, without salt
dinner – 2 glasses of skimmed milk
Fifth day:

breakfast – tomato salad
second breakfast: fruit
dinner – 300g of lean fish baked in foil or steamed
dinner – small portion of cabbage soup
Sixth day:

breakfast – fruit cocktail with skim milk
second breakfast – cabbage soup
dinner – 200 g of lean chicken meat
dinner – vegetables
Seventh day:

breakfast – cabbage soup
second breakfast – fruit and vegetable juice
dinner – brown rice / groats with vegetables
dinner – fruit salad
The cabbage diet – opinions

According to some opinions, the cabbage diet is worth recommending. It is not particularly burdensome, lasts a short time, does not cause a feeling of ravenous hunger, allows you to cleanse your body of excess water and harmful substances and get rid of several kilograms within a week.
It is therefore effective, but its effects may not last if after a week of sacrifice we return to old eating habits and lack of exercise. It turns out to be satisfying on condition that we treat it as a good beginning of a longer process of normalizing weight. On the other hand, if we start indulging ourselves with calorific food and give up physical activity, it is very likely that we will quickly see the yoyo effect.
However, some people who follow the cabbage diet would not recommend it because of the adverse effects on health and well-being. It is low in calories and monotonous, which may result in weakness, fatigue, drowsiness, heart disorders, short-term anemia. In addition, cabbage is diuretic and bloating, and finally, not everyone likes its taste, especially in the daily edition. Nevertheless, the cabbage diet is a relatively easy and not very restrictive way to lose weight.
Check: Ranking of the most effective weight loss pills