The vascular skin is a problematic skin type which requires special care. The skin is extremely thin, delicate and prone to irritation. Its characteristic feature is the occurrence of erythema and visible dilated blood vessels, especially on the cheeks. Vascular skin is usually a natural predisposition determined by genetics, however, there are many factors that have an impact on exacerbating such features as redness or vascular spider veins. Sometimes, vascular skin is also the initial stage of rosacea. How do you recognize vascular skin? How to take care of the vascular skin and improve its appearance?
The symptoms of couperose skin
Theskin is characterized by shallow vascularization, delicate structure, high sensitivity to injury and lower elasticity and strength of blood vessels than in case of normal skin.
In case of vascular skin, as a result of the blood flow process, blood vessels instead of contracting and relaxing freely, lose their tightness, become deformed and expand excessively. Initially, facial erythema is aggravated only under certain unfavorable conditions (e.g. during physical exertion or due to rapid temperature changes), but over time the phenomenon intensifies.
This is why it is so important to take proper care of the vascular skin, aimed at strengthening blood vessels, soothing irritations and brightening skin changes.
What does the capillary complexion look like? Main symptoms
thin, delicate, sensitive skin, prone to damage and irritation,
Individual vascular spider veins or a network of tiny capillaries shining through the skin (mainly around the nose, on the cheeks, chin, neck and cleavage),
Frequent or even persistent facial erythema,
a tendency to transient facial redness (e.g. in stressful situations, in places with polluted air),
susceptibility to skin allergies (e.g. to certain cosmetics),
Frequent inflammation of the skin, localised red spots on the face (e.g. in the centre of the cheeks),
a feeling of skin tightness, itching, a burning sensation.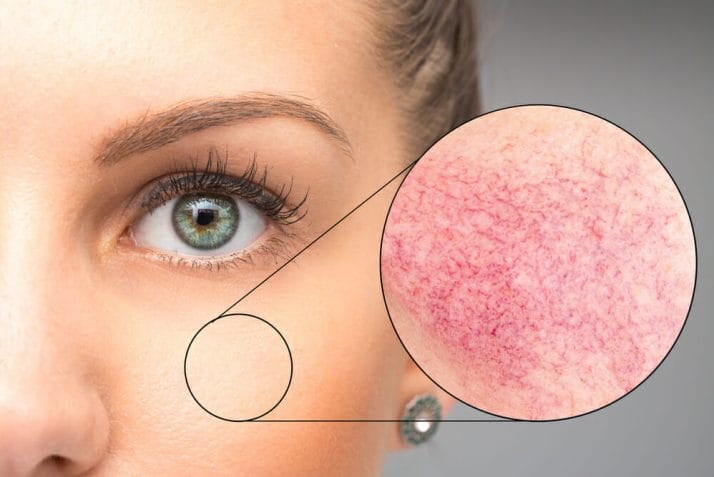 What is worth emphasizing is that improper care of the capillary skin may be one of the factors influencing the development of a chronic, inflammatory skin disease, which is acne rosacea. So if you notice symptoms of couperose skin, you should immediately take proper care of it. How should proper care for couperose skin look like? We will tell you in the following part of this article.
The phenomenon of couperose skin – its causes. Who is most often affected by vascular skin?
Thin skin, shallow blood vessels and their fragility and permeability are the reasons for frequent or persistent erythemaThe skin is characterised by frequent or permanent facial erythema (or smaller, local redness) and more or less noticeable vascular spider veins (telangiectasias).
In fact, the tendency to the appearance of red eruptions on the face is a very common phenomenon, affecting both young and mature women. Usually the first symptoms of vascular complexion in the form of temporary blushing and first poorly visible blood vessels appear between 20 and 30 years of age. However, after the age of 40 the red spots and spider veins become more and more visible and occupy larger areas of the face.
The main cause of vascular skin is genetic predisposition (we inherit a shallow system of blood vessels from our parents, grandparents). What is more, people with a light complexion more often have a vascular complexion than those with a dark complexion.
This phenomenon also affects women more often than men, which is related to the high level of female sex hormones (estrogen). They have a relaxing effect on the muscular blood vessels, which promotes their expansion.
However, not only genetics or hormones are important here. Redness and dilated blood vessels are aggravated by the influence of certain external and internal factors.
Factors aggravating symptoms of couperose skin
Sudden changes in temperature,
visits to a solarium, exposure to strong sun radiation,
using day creams without UV filters,
Washing the face in too warm water, hot baths, visits to the sauna,
Washing your face in hard and heavily chlorinated water,
blow-drying your hair (your skin is then exposed to very high temperatures),
frosty, harsh air,
strong wind,
Use of aggressive, irritating cosmetics,
Use of cosmetics containing alcohol,
excessive physical effort,
staying in places with dry air,
staying in smoky rooms, in dust, in smog,
using large amounts of hot spices,
alcohol abuse, smoking, drinking large amounts of strong coffee,
hormonal fluctuations (menstruation, pregnancy, menopause),
stress,
strong emotions,
hypertension, circulatory problems.
Care for capillary skin – how to take care of capillary skin, which cosmetics to use and which to avoid?
In caring for couperose skin the choice of cosmetics is important – face cleansers, creams, scrubs and toners. As we all know, the vascular skin is extremely delicate, and in addition is characterized by high reactivity. It is very easy to aggravate it and increase the visibility of vascular spider veins and red bumps.
If you have a vascular skin you should avoid using cosmetics with aggressive, strong substances that can cause irritation. Instead, it is worth reaching for mild cosmetics, based on ingredients with a soothing effect, reducing inflammation and restoring skin balance. A desirable component of cosmetics (especially creams) for couperose skin are also substances that seal and strengthen blood vessels.
When choosing care preparations, it is worth betting on cosmetics designed for sensitive and delicate skin or directly for the vascular skin. We should abandon mechanical scrubs, because the particles contained in them may irritate the skin. It is better to use enzymatic peels.
Strong, antiseptic facial cleansers and gels that dry the skin are not suitable for us either. Use delicate milk or micellar liquid for make-up removal and light, moisturising, soothing preparations with gel-cream formula for face washing. Rose water or other floral water or hydrolate of witch hazel, chamomile or lime tree can be used as a tonic.
People with couperose skin should also pay attention to the way they clean their face and eliminate activities that could further irritate the skin and increase redness. What exactly is involved?
First of all, you should use lukewarm water to wash your face and not warm or, even worse, hot water. We should also give up sponges, scrubs and brushes that can damage the delicate structure of the skin. It is better to clean your face only with your hands. Be careful when drying your skin. Instead of rubbing your skin with a towel, just put it to your face and get rid of the water.
Remember to remove makeup thoroughly before going to bed, do not use low-quality, outdated or old cosmetics.
For daytime use a moisturizer with a UV filter, and for nighttime use a cream equipped with ingredients that nourish, soothe and reduce permeability of blood vessels.
Once in a while you should also apply a homemade mask that smooths, strengthens blood vessels and brightens the complexion. A face serum, for example with vitamin C, can also be very helpful, thanks to which we can even out skin tone and reduce the visibility of any skin defects.
Check out rejuvenating, beautifying, imperfection-correcting face serums: EleveRenew
Active ingredients in cosmetics, which are popular with couperose skin
Panthenol – soothes irritation, stimulates skin regeneration processes, softens and smoothes the skin, moisturises, reduces redness, improves skin pigmentation.
Vitamin C – makes blood vessels more flexible and seals them, reduces the tendency to the formation of vascular spider veins, brightens the complexion, unifies its color and reduces discoloration. What is more, it shows anti-aging properties. It protects skin cells from damage, stimulates collagen production and prevents the formation of wrinkles. Reduces signs of fatigue, brightens the complexion and makes it look healthier and more vital.
Vitamin K – reduces the intensity of redness on the face, evens out skin tone, reduces the appearance of vascular spider veins. Positively influences the condition of blood vessels. By strengthening their walls it prevents subcutaneous effusions.
Horse-chestnut extract – strengthens blood vessels, improves their elasticity and reduces permeability, thus reducing the appearance of spider veins and erythema.
Arnica extract – improves capillary vessels elasticity, prevents microbleeds, reduces discoloration, improves skin tone. It soothes sensitive skin, supports skin regeneration in case of irritation and damage. It reduces skin inflammation, fights microorganisms.
Ginkgo biloba (ginkgo biloba) – makes blood vessels stronger, more stretchable, less fragile and less permeable. It improves blood circulation and oxygenation of the skin. It positively influences the quality of complexion, stimulates renewal processes.
Oats – supports skin renewal, has a soothing, softening and hydrating effect. Brightens and evens out skin tone. Thanks to the presence of many valuable vitamins (e.g. vitamin E, B vitamins) and minerals (e.g. copper, zinc) it nourishes the skin, adds firmness and elasticity. It also improves the level of skin tension.
Chamomile – soothes irritation, nourishes, smoothes, fights free radicals, improves skin appearance, reduces inflammation and helps reduce discoloration.
Witch hazel – brightens and revitalizes the complexion, at the same time cleansing, antibacterial and refreshing. Thanks to its positive influence on the condition of blood vessels it supports the care of couperose complexion. Reduces redness and vascular spider veins, balances skin tone.
Liquorice root extract – protects skin from harmful factors, has antioxidant and antibacterial properties. Stimulates regeneration and improves skin quality. Brightens the complexion, strengthens blood vessels, prevents the formation of vascular spider veins, reduces redness.
Elderberry Extract – is a rich source of vitamin C, balances skin tone and reduces the appearance of capillaries and redness, has an anti-inflammatory effect, adds vitality and radiance to the complexion.
Meet the brightening, anti-ageing, reduction of discolouration cream with vitamin C: EleverSkin Glow
The following ingredients will also work well in caring for your vascular skin (we can use them for homemade face masks):
raspberry seed oil,
flaxseed,
parsley,
calendula,
clay,
white mulberry,
rose oil,
lemon juice,
turmeric,
evening primrose oil,
macadamia oil,
apple cider vinegar,
cucumber.
Ingredients in cosmetics which are not liked by couperose skin and should be avoided
Alcohol – irritates, leads to excessive dilatation of blood vessels, causes skin inflammation and redness, increases the visibility of vascular spider veins, may cause itching and burning.
Menthol, peppermint, peppermint oil, eucalyptus oil – abound in intense aromatic substances, cause cool and tingling effect on the skin. With normal skin they usually do not cause any adverse reactions, but with very delicate and sensitive skin, such as vascular skin, they can increase redness, irritate, cause allergies and burning sensations.
Camphor, acetone – may strongly irritate delicate vascular skin and result in blushing, local red spots on the skin, making more vessels visible, as well as burning sensation and pain.
Urea – is not recommended for shallowly vascularised skin, as it may cause increased absorption of active substances by vessels and strong hyperreactivity of the skin. As a result, it may lead to an increase in redness and vascular spider veins.
Soap – contains skin-drying ingredients, may cause erythema, itching and burning.
Additional skin care tips for couperose skin
How to take care of couperose skin in the summer?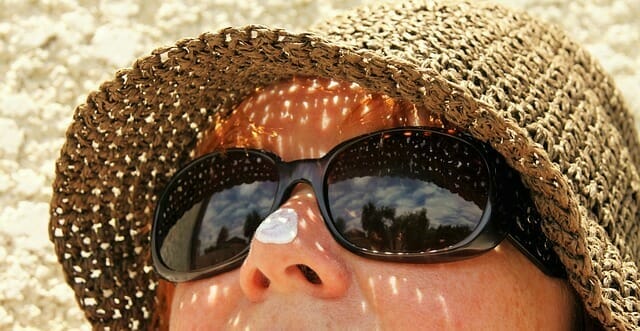 When caring for couperose skin in the summer, the priority is to use creams with an SPF filter (i.e. a UV filter). In spring, a cream with a SPF 20 filter is sufficient, while in summer, when UV radiation is particularly strong, creams with a SPF 30 or even SPF 50 filter are recommended. Proper sun protection in the form of a cream with a filter is very important. Such a preparation not only prevents redness and increased visibility of vascular spider veins, but also protects against skin drying and premature aging.
If you suffer from vascular skin you should limit your stay in air-conditioned rooms.
We should avoid prolonged sunbathing and sudden temperature changes (e.g. coming from hot weather to a very cool, strongly air-conditioned car).
Take care of proper hydration of the body (drink at least 2 liters of water a day).
During the holidays, let's avoid swimming in pools, instead, let's choose swimming in lakes or the sea (in swimming pools we have to deal with chlorinated water, which is bad for the skin of capillaries).
Take care of intensive skin hydration.
How to take care of capillary skin in winter?
Use air humidifiers during the heating season (dry air is harmful for the skin).
Try not to stay too long in the cold and strong wind.
Avoid sauna and solarium.
Avoid eating very hot food and drinks.
Avoid sitting in the immediate area of radiators and heaters.
Sources:
https://www.healthline.com/health/broken-blood-vessels-on-face
https://www.healthline.com/health/skin-disorders/sensitive-skin
https://www.medicalnewstoday.com/articles/321387
https://www.medicalnewstoday.com/articles/312845