Coupeliac will not escape the attention of people struggling with visible capillaries, discolouration and frequent skin irritations. In the composition of preparations from this series we can find compositions of plant substances which have a favourable influence on sensitive skin and help it regain even, nice colour. How does Coupeliac cope with skin defects and how do users rate it?
Coupeliac for capillaries – what does the manufacturer of a new series of cosmetics for problematic skin offer us?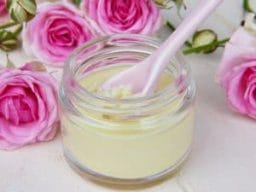 Visible blood vessels, a tendency to redness and severe irritation, uneven skin tone resulting in an unsightly appearance – to combat these defects, we must start with a change in the way of daily skin care. It is worth replacing standard cosmetics with dermocosmetics specially designed for couperose and hypersensitive skin.
Dermocosmetics are preparations that combine features of cosmetics and pharmaceutical products. They are gentle for the skin and contain substances with a therapeutic effect thanks to which we can count on the improvement of the facial skin condition. One of such products is Coupeliac. Actually it is not one, but a whole series of products:
Coupeliac day cream,
Copueliac night cream,
Coupeliac dermatological gel.
The Coupeliac face creams can be used in place of previously used day and night creams, while the Coupeliac gel can be rubbed in several times a day, applying it directly to the irritated areas or those where discoloration or dilated capillaries are observed. What are the different components of the Coupeliac series?
Coupeliac day cream
Skin In Balance Coupeliac is a day cream, which is designed to simultaneously soothe skin prone to irritation, protect it from harmful UV radiation, reduce redness and dilated capillaries and restore skin smoothness and uniform color. The cosmetic was devoid of aggressive ingredients that could cause an allergic reaction or otherwise harm our skin, including: dyes, silicones, paraffin and fragrances.
Coupeliac Day Cream is formulated with thermal spring water. It also contains panthenol to soothe irritation, glycerin to hydrate the skin, chamomile extract to soothe, regenerate and brighten and chlorella extractto nourish and fight inflammation.
Coupeliac night cream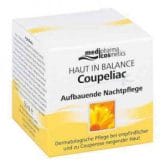 The Coupeliac night cream is a multi-tasking cosmetic that moisturizes, nourishes and stimulates the skin's repair processes while you sleep. In addition to these typical night cream actions, Coupeliac helps to treat the deficiencies of sensitive and vascular skin – it soothes irritation, reduces skin inflammation, strengthens the protective barrier against harmful agents, reduces redness and reduces the appearance of broken blood vessels.
A complex of plant oils and extracts, including avocado and calendula, is responsible for all these valuable properties.
Coupeliac dermatological gel
In the line of Skin In Balance Coupeliac there is also a place for a specialized dermatological gel, which is designed to reduce the appearance of broken capillaries, reduce redness and soothe irritation.
In the composition of the gel we can find a set of valuable extracts and plant oils. Here they are and their properties:
Calendula flower extract – Calendula is one of the most versatile medicinal plants in terms of its beneficial effects. It is used both internally, e.g. to improve digestive processes, and externally to help the skin requiring special care. Calendula has anti-inflammatory, protective, regenerating and soothing properties which make it perfect for hypersensitive skin prone to irritation and redness.
Peach seed oil – is a source of many vitamins and valuable unsaturated fatty acids. It has a beneficial effect on the delicate skin, softens it, smoothes and improves its condition. It soothes irritations and strengthens the natural protective barrier of the skin.
Sunflower seed oil – just like its predecessor, equips the skin with valuable vitamins – E, A and B vitamins and unsaturated fatty acids. Sunflower seed oil shows regenerative, smoothing and protective properties. It moisturizes and soothes irritated skin and helps it regain balance.
Cardiospermum extract – helps to fight skin imperfections, including redness and rashes, moisturizes, soothes irritation and the accompanying unpleasant feelings such as burning or itching.
Coupeliac gel should be applied in spots – not all over the face, but on the irritated or reddened areas, or directly on the areas where we observe accentuated blood vessels. The preparation has a light, creamy consistency, which makes it friendly for hypersensitive skin. In addition to soothing irritation, reducing redness and decreasing the appearance of capillaries, Coupeliac gel also has the advantage of eliminating the hot sensation that often occurs with skin erythema.
Coupeliac – opinions
Preparations from line Coupeliac Skin In Balance meet with increasing interest from people with vascular, sensitive, and allergic skin, prone to the occurrence of redness and various types of discoloration. Opinions on the Coupeliac gel and cream are varied – you can find both negative, moderate and positive.
Discrepancies in opinions probably result from the scale of the "skin" problem (whether we have light skin problems or maybe very advanced) and individual susceptibility to given active ingredients. Also important may be the fact whether we use several products from this series at the same time or only one and how often we apply these preparations.
Nevertheless, most opinions about Coupeliac dermocosmetics are average or good. Users emphasize that these products improve skin condition, reduce redness and make it appear less frequently. Moreover, they soothe and strengthen the skin, reduce the feeling of heat, burning, itching. They are also able to seal capillaries and reduce their appearance.
However, according to some people, the tasks are done "incompletely". You can not count on completely getting rid of the problem of hypersensitivity of the skin, the cracking of blood vessels and the formation of discoloration.
Therefore, it can be concluded from the comments that during treatment with Coupeliac preparations, skin problems are reduced in scale, but unfortunately they are still not fully resolved. The often quoted disadvantage of this line of dermocosmetics is also the recurrence of skin problems after the end of the treatment and quite a high price in relation to the efficiency (the product lasts for a short time). Another drawback is the need to use all the products in the line in order to achieve satisfactory results.
Is Coupeliac what our skin needs?
Coupeliac gel and creams are interestingly composed and worth trying dermocosmetics. Undoubtedly, they will improve the condition of our skin to some extent, strengthen its protective barrier and reduce negative reactions to adverse factors. They will also reduce the visibility of capillaries and help to unify the skin tone. But will they do it fully satisfactorily and will they help us achieve the effect of a perfect complexion? To find out, we have to try them out ourselves.
We can also immediately reach for a proven agent with a great reputation – Mulberry's Secret serum. This is a specialist preparation intended for couperose, sensitive skin, prone to discolouration and affected by pigmentation changes. It does not contain artificial dyes, parabens, silicones or other aggressive substances, so it can be used even for very delicate skin.
NOTE: Mulberry's Secret is temporarily unavailable. Instead, we recommend Collagen5000 – manufacturer's website.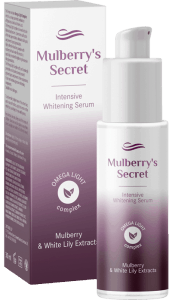 Mulberry's Secret isdistinguished by a unique, rich composition and high concentration of active substances, which determines its high effectiveness. It is based on molecular technology, thanks to which it deals with visible capillaries, redness and any discoloration better than standard preparations.
The special Mulberry's Secret formula helps to deal with even seemingly impossible to remove pigmentation changes, such as freckles. Restores normal skin tone, leaving it evenly bright and smooth. It works very well in reducing the appearance of capillaries and redness and in all complaints related to skin sensitivity. We recommend Mulberry's Secret to all people who care for a healthy and vital-looking complexion.
Mulberry's Secret – treatment effects
Mulberry's Secretis a preparation which simultaneously corrects imperfections and enriches the skin with a whole range of necessary nutrients. The effect of this serum is smooth, vital, perfectly moisturized, healthy-looking skin with a uniform and bright colour.
In Mulberry's Secret serum we can find a unique set of ingredients, which allow to eliminate many different flaws, such as:
visible capillaries,
discoloration of various causes,
freckles,
dry skin,
tired, dull, unhealthy looking skin,
redness,
hypersensitive skin prone to irritation.
NOTE: Mulberry's Secret is temporarily unavailable instead we recommend Collagen5000 – manufacturer's website.
Mulberry's Secret is a compilation of 4 complexes: whitening, rebuilding, healing and protective, the core of which are the following ingredients:
mulberry extract,
white lily extract,
Omega Light – an ingredient based on molecular technology with a powerful brightening and illuminating effect,
betaines,
licorice extract,
lactic acid,
vitamin E,
kaolin,
rosemary oil,
allantoin,
panthenol.
Thanks to the rich composition and advanced technology of preparation production, with only one cosmetic we obtain a whole range of benefits for the skin. We do not have to use several preparations separately – each in order to get rid of a different flaw.
Mulberry's Secret ingredients penetrate deep into the skin, stimulating it to intensive regeneration. They nourish, protect, brighten, moisturise and repair at the same time, giving a lasting result of a perfect complexion.