People struggling with the problem of hair loss have at their disposal a whole range of liquid preparations available in pharmacies, drugstores and on the Internet. The question is, however, whether it is worth investing in this type of measures, and if so, in which ones.
Vitamin and herbal liquids for hair growth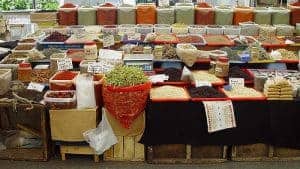 Vitamin complexes are a sizable part of hair loss lotions. One of them is Spectral.RS, which is additionally enriched with aminexil (an organic compound that strengthens hair follicles), copper peptides, nanosomes and herbal extracts. Apart from biotin and B group vitamins the hair loss remedy Ducray contains keratin – a type of protein which is the main building block of hair and tetrapeptide, which positively influences the process of new hair formation.
There is also a number of herbal preparations on the market, such as: Pokrzepol, Active Serum for Hair Growth Apteczka Agafii, Bioxsine. They are based on specially selected extracts from medicinal plants known for their positive effects on hair growth and strength, such as: horsetail, nettle, birch, ginseng, burdock. Although vitamin, vitamin-protein and herbal remedies may have a positive effect on hair growth and inhibit hair loss, they are unlikely to work in case of androgenic alopecia because they will not hit its cause. Such preparations are recommended when other factors are responsible for hair loss e.g. poor diet, weakening of hair after diseases and treatments etc.
Do caffeine preparations help in male pattern baldness?

Another group of preparations for hair loss comprises caffeine and caffeine-vitamin remedies. Their main ingredient is active caffeine, which stimulates blood circulation within hair bulbs, stimulates hair growth and extends hair growth phase. On the basis of caffeine formula is based, among others, preparation for hair growth Aplecin, as well as Revitax and Nioxin enriched with vitamins and panthenol. Caffeine and caffeine-vitamin liquids may be an effective method of fighting excessive hair loss in case of its temporary weakening. However, in the case of androgenetic alopecia, they may prove to be too weak.
Liquid for baldness Minoxidil – opinions
Minoksydyl is a chemical compound increasingly used in preparations for baldness. The essence of its action is to increase blood supply to the scalp and stimulate hair follicles, resulting in more active hair growth and blocking the process of hair loss. Minoksydyl (minoxidil) is a component of such preparations as: Loxon, Piloxidil, Minovivax, Regaine. According to the opinion of people suffering from male pattern baldness, the use of agents with minoxidil gives some results, but it is not the way to fully inhibit the process of hair loss. Certainly, for a better result it is better to use them simultaneously with oral anti-alopecia preparations, for example, with Profolan.
If you want to learn more about male pattern baldness and its treatment methods, go here.