More and more people are struggling with weak immunity. Most often, it is the body's response to nutritional deficiencies and an unhealthy lifestyle. In order to effectively increase immunity, apart from changing the diet, limiting stimulants and increasing the amount of physical activity, it is worth reaching for ready-made dietary supplements and medicines for immunity which, thanks to the appropriate selection of ingredients, strengthen the body's defensive mechanisms against pathogens. Here are some preparations which may prove to be a valuable support for the impaired immune system.
Vitamin and mineral preparations for immunity
A large group of preparations strengthening the immune system consists of drugs and supplements based on vitamins and minerals. The core of their composition is usually strongly immunity-supporting vitamin C in duet with rutin. Examples of products from this category are: Rutinacea Max, AscorutiCal, Acerola Plus, Olimp Rutinovit C.
Formulations with vitamin C and rutin often contain also immunity-supporting bioelements: zinc and selenium, calcium, plant extracts (e.g. from wild rose or aloe vera) and bioflavonoids, which provide additional support in sweeping pathogens from the body. Other components which can be found in vitamin-mineral immunity preparations include iron and vitamin Dwhich are important for proper functioning of the immune system.
Capsules and tablets with garlic for immunity
One of the strongest natural antibiotics, garlic, is the main ingredient of many supplements and medicines for immunity. Its high value on the grounds of activating the immune system is proven by its rich composition, in which we can find sulphur compounds fighting harmful bacteria, viruses and fungi, as well as antioxidants, vitamin C, A, B group vitamins and a pool of mineral components.
Despite the undeniable advantages, many times we avoid eating garlic, mainly because of its strong, long-lasting smell. Here comes to help garlic in tablets or capsules, which in the case of some preparations is also enriched with other ingredients that strengthen immunity, such as: vitamins, parsley extract, rosehip extract. Examples of preparations with garlic for immunity are: Garlic Tablets Labofarm, Garlic Forte Unscented Naturell, Ecomer Forte, Rutimal C, Garlic Parsley Swanson, Garlic with Parsley Herbapol.
Probiotics for immunity
Another group of supplements and medicines for immunity are preparations based on probiotic bacteria (i.e. lactic acid bacteria), which are beneficial for our body. Probiotics are microorganisms which naturally inhabit the intestines and whose task is to maintain balance in the digestive tract, strengthen the immune system and protect it against harmful bacteria and fungi.
When there are not enough probiotic bacteria in the body, the immunity to pathogens may be disrupted and harmful microorganisms have a chance to expand and wreak havoc in our bodies. Medicines and dietary supplements with probiotics are a way to supplement deficiencies of beneficial strains of bacteria, and thus to improve the functioning of the immune system. Selected medications and dietary supplements for immunity with probiotics are: Probiosin Plus, Colonbiotic Olimp, CandiDie Forte, BactoFlor.
Lactoferrin for immunity
A considerable popularity among immunity-supporting specifics is recently enjoyed by preparations with lactoferrin. It is a kind of protein naturally occurring in body fluids and secretions of glands (it is present, among others, in mother's milk, tears, saliva, sweat, secretions of reproductive organs). For production of medicines and supplements lactoferrin is obtained from cow milk. Lactoferrin has a stimulating effect on the immune system, increases the protection against viruses, bacteria and fungi, helps to neutralize harmful microorganisms and prevents the development of disease processes. Lactoferrin is available as capsules, drops or powder for suspension.
Preparations with omega-3 fatty acids for immunity
omega-3 fatty acids have a multi-faceted effect on our body, including protecting cells and supporting their proper functioning, exerting beneficial influence on the brain, vision, heart, and the circulatory system, as well as improving the functioning of the immune system. They alleviate inflammatory conditions, reduce allergy symptoms and increase the body's resistance to harmful microorganisms. Preparations with omega-3 acids which support immunity include: Möller's Omega-3, Omega-3 Naturell, Omega Forte Nutropharma, Gold Omega 3 Olimp, Omega-3 OstroVit.
Herbal preparations for immunity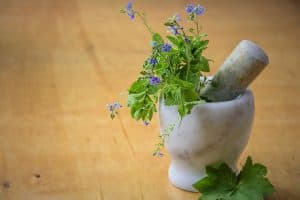 Herbs have long been a remedy for many ailments, including those related to immune disorders. Many herbs, both used in our native herbal medicine and in Asian natural medicine, show immunostimulating abilities contributing to strengthening of the organism and lowering susceptibility to diseases.
The immunity-boosting effect of herbs is due to the presence in their compositions of a wide spectrum of mineral salts, vitamins, polyphenols, phytosterols, proteins, antioxidants and other valuable substances. Effective herbs for immunity include elderberry, coltsfoot, purgative, linden, ginger, echinacea, curcuma or propolis. Herbal preparations are most often available in the form of capsules, syrups and teas.
Complex preparations with vitamins and plant extracts for immunity
Among numerous immunostimulating preparations, multicomponent compositions, containing plant extracts, vitamins, minerals, flavonoids, sometimes also probiotics, are very popular. The use of several substances simultaneously gives many times better and faster effects in building up immunity than restricting oneself to one or two components.
One such multi-ingredient formula, Cistus Plus, is based on purge extract, which is known for its powerful immune-boosting and detoxifying properties. Additionally, the formula contains pomegranate and orange extracts, bioflavonoids, zinc, vitamin D and vitamin C with rutin. All the components work in the service of building a strong immune system.
Check: How to cure sinuses