Although, due to its specific, tart taste, it may not be as popular as other citrus fruits, grapefruit has its permanent circle of fans who appreciate its nutritional values and realize its valuable health properties. Grapefruit is attributed with enormous power of prevention of many diseases, and it seems that there is little competition among fruit for slimming!
Properties and effects of grapefruit
Cultivated in subtropical zone, but available in Poland all year round, it comes in three varieties: the most valuable one, because it contains the most health promoting substances, the red one, the more sour yellow one and the sweeter, but slightly less juicy green one. The Latin name of grapefruit – Citrus paradisi, which means fruit of paradise, does not come as a surprise because it fully deserves this name. Although it consists 90% of water, it is also rich in beneficial substances: vitamins A, C, B, E and PP, folic acid, calcium, potassium, magnesium, iron, manganese, zinc and phosphorus, bioflavonoids and pectin.
Thanks to presence of vitamin C and beta-carotene grapefruits significantly support immunity of the body. By strengthening and sealing the walls of blood vessels and removing deposits they support the circulatory system, preventing atherosclerosis, heart attacks and strokes. Active substances contained in these citruses have the ability to lower the level of bad cholesterol and glucose, they also increase the production of urine, which has a positive effect on the functioning of the kidneys and the urinary system.
Grapefruit has not only strong antibacterial and antiviral properties, but also, thanks to numerous antioxidants, anticancer properties. At the same time, antioxidants slow down the ageing process, which has an impact on beauty.
Finally, consumption of grapefruits has a positive influence on intestine function, cleanses and regenerates the liver, increases bile secretion, accelerates metabolism and detoxification of the body, influences fat cell disintegration. And grapefruit essential oil soothes headaches and PMS symptoms, stress, anxiety and insomnia.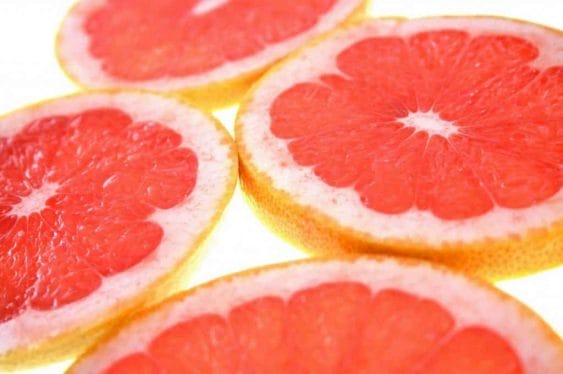 Grapefruit for weight loss
The beneficial effect of grapefruits on weight loss has long been known, which is why this fruit is an important component of many slimming diets. When eaten raw, grapefruit is also an important part of a healthy, well-balanced diet because it is rich in vitamins, dietary fiber and minerals.
As far as weight loss is concerned, the main advantage of this citrus fruit is its low calorific value, because it contains only 36 kcal per 100 g. Nevertheless, it is very filling thanks to dietary fibre which swells in the stomach and limits appetite. Grapefruit also has beneficial influence on blood sugar and cholesterol levels, which is also important for maintaining slim figure.
Citrus paradisi improves and accelerates metabolic processes, facilitates burning fat and prevents its accumulation and, finally, supports cleansing the body from toxins, which in case of slimming is of great importance. Eating half a fruit with each meal will not only significantly reduce the number of calories consumed, but also speed up metabolism and, as a result, in the long run it will help in the fight against excessive kilograms, even without resorting to a stricter diet. Thus, grapefruit for slimming may be a combination of pleasant and useful.
Read also: The cleansing diet
It should be remembered, however, that there are certain limitations in this case as well. Active substances found in grapefruits may interact with some medicines, causing health-threatening or even life-threatening effects. These are mainly medicines for high blood pressure, heart disease and cholesterol, but in general no medicines may be drunk with grapefruit juice.
Grapefruit diet – principles and variants
A slimming diet based on consumption of these citruses almost exclusively, possibly with a substitution of grapefruit juice, was very popular in the United States, mainly in Hollywood, in the 1930s and came back to favor in the 1970s. It supposedly allowed to lose 5 kg in two weeks. However, it was contested by doctors because it caused significant nutritional deficiencies.
At the beginning of this century, the beneficial effect of grapefruits on weight loss was confirmed, but the modern version of the diet also allows for the inclusion of other products – lean meat and dairy products, eggs, whole grain cereal products and, above all, other vegetables and fruits with low sugar content. This variation allows you to lose weight effectively without the risk of cachexia.
The grapefruit diet, on the other hand, requires total abstinence from fried foods, red meat, white bread, butter, fatty dairy, sweets, processed foods and salt. The diet assumes systematic, daily consumption of fresh grapefruits or grapefruit juice squeezed out of them, at the end of each of the five meals, in the total amount of 2-3 fruits or 2-3 glasses of juice a day.
breakfast – wholemeal bread with lean ham, black coffee or tea without sugar, half a grapefruit
second breakfast – natural yoghurt, apple, grapefruit juice
dinner – baked fish, brown rice, tomato and pepper salad, half a grapefruit
snack – grapefruit and avocado salad, herbal tea
supper – grapefruit with millet groats and nuts, carrot juice
Well-balanced meals should be eaten regularly, at intervals of 3-4 hours, the individual dishes should be eaten slowly, all in order to ensure a feeling of satiety throughout the day, despite the low calorie diet. Between meals it is allowed to drink only water or infusions of herbs. The treatment cannot last longer than two weeks, or it can be repeated after two months. Slimming with a grapefruit diet, as with other slimming treatments, should be accompanied by physical activity, which, in addition to a healthy diet, is an absolutely essential condition for maintaining a slim figure.
The easiest way to take advantage of the properties of citrus fruit is to squeeze its juice or eat it raw. However it is such a fruit, which is also perfect as an addition to many dishes – fruit salads, but also salads with chicken, salmon or vegetables, and finally as an ingredient of appetizing and healthy cocktails. Of course, it is best to consume it in a raw state and interfere as little as possible with its structure, because any processing, whether thermal or mechanical, deprives it of many valuable nutrients.
Grapefruit – dietetic recipes
Salad with grapefruit and avocado
Ingredients:
grapefruit
avocado halves
handful of rocket
Tbsp pine nuts or sunflower seeds
olive oil
lemon juice
Preparation:
Peel the grapefruit and cut into pieces, peel and slice the avocado, combine with rocket and pine nuts. Make dressing with olive and lemon juice, pour it over salad, mix. You can add other fruits, for example pomegranate seeds.
Beetroot and spinach salad with grapefruit
Ingredients:
2 cooked beets
glass of fresh spinach
half a grapefruit
spoonful of balsamic vinegar
a splash of olive oil
seeds
Preparation:
Grate beets on coarse grater, mix with vinegar. Remove membranes from grapefruit, cut into pieces, add to beetroot, add spinach, oil, salt and pepper to taste, mix well. Sprinkle with sesame seeds or pumpkin seeds.
Grapefruit and celery salad
Ingredients:
small celery root
Half of a red grapefruit
fresh thyme
lemon juice
Preparation:
Cook celery with a pinch of salt, let cool, cut into small cubes. Peel grapefruit and cut into small pieces. Add the lemon juice, salt and pepper to taste, mix it all up, put the thyme leaves on top.
Salmon salad with grapefruit
Ingredients:
several slices of smoked salmon
yellow and red grapefruit
a couple of tablespoons of olive oil
lemon juice
teaspoon of cane sugar
fresh coriander sprigs
Preparation:
Peel grapefruits and divide into pieces. Combine the resulting juice with lemon juice, add sugar and cook for a few minutes over low heat until syrupy. Mix it with olive oil. Cut the salmon into strips, place in a salad bowl, add the grapefruits, pour over the sauce, decorate with coriander.
Salad with chicken and grapefruit
Ingredients:
red grapefruit
chicken fillet
different types of lettuce
olive oil
fresh basil
salt and pepper to taste
lemon juice
Preparation:
Cut chicken into pieces and fry. After cooling combine with grapefruit segments and lettuce. Add dressing (lemon juice with olive oil), mix, combine with basil leaves. Additionally you can sprinkle with roasted almonds or seeds.
Buckwheat with grapefruit and nuts
Ingredients:
10 dkg millet groats
grapefruit
handful of walnuts, cashews and almonds
spoonful of honey
spoonful of sugar
oil
cardamom
Preparation:
Boil porridge. Peel the grapefruit, cut into pieces. Melt sugar and honey in a pan, add chopped nuts, fry for a few minutes, at the end add grapefruit segments. Mix with groats, add a pinch of cardamom.
Cocktail of strawberries and red grapefruit
Ingredients:
15 dkg strawberries
red grapefruit juice
vanilla extract
Preparation:
Wash strawberries, remove stalks, blend to a smooth paste. Combine with juice and a bit of vanilla extract, chill.
Green smoothie with kale
Ingredients:
red grapefruit
a few kale leaves
apple
banana
slice of fresh ginger
glass of mineral water
Preparation:
Peel grapefruit and divide into small pieces. Slice apple and banana the same way, remove thick stem from kale and cut into strips. Blend all ingredients, including water, in a blender.
Check:
The most effective pills for weight loss – ranking
Spirulin Plus – a patent for a thorough body detox