Last updated: 04.02.2022
Herbs for hair can be a very effective substitute or addition to strengthening and regenerating treatments with the use of ready cosmetic preparations. Well selected, used regularly and for long enough, herbs are an effective way to deal with many annoying and unsightly imperfections. Hair loss, brittleness and fragility of hair, excessive greasiness of hair, dandruff, slow hair growth, dull hair color and excessive fatty hairAll these and similar disadvantages can be effectively prevented thanks to the power of plant extracts.
Different reasons for the deterioration of hair condition, but the effect is the same – an unattractive hairstyle
When about 50 to 100 hairs a day fall out, there is no need to be alarmed. This is perfectly natural. However, when we pull handfuls of hairs off a comb or brush every day and find them in large amounts everywhere, including on our pillow and clothes, excessive hair loss is a sign. The causes of the phenomenon can be various:
a decrease in the body's immunity,
weakening of the hair with aggressive styling treatments,
nutritional deficiencies,
androgenetic alopecia in men,
stress,
changes in the seasons,
certain internal diseases,
scalp diseases including alopecia areata, psoriasis, dandruff or seborrheic dermatitis.
For other hair problems such as: lack of shine, elasticity and vitality of hair, roughness of hair, dryness, split ends, brittle hair, fadedThe cause is most often attributed to improper hair care as well as unhealthy lifestyle and poor diet (deficiency of vitamins, minerals, proteins).
Premature graying is also usually caused by too poor diet (e.g. deficiencies of such components as copper, iron, zinc, selenium, biotin). Other common causes of greying hair are chronic stress, long-term fatigue, lack of sleep, overwork, smoking, alcohol abuse, depression and some diseases.
In case of every problematic hair it is possible to partially or completely reduce unfavourable phenomena and improve its condition and appearance. Herbs are a valuable lifeline for hair that needs special care. Interestingly, we have a whole arsenal of them to choose from, so we can perfectly match herbal resources to our hair problem. We can also combine herbs in compositions and thus increase their effectiveness. Herbs for hair can be applied in different forms, as it suits us best.
How to conduct a herbal hair treatment?
Herbal raw materials are distinguished by their good effectiveness in the restoration of hair structures. To achieve maximum good results, it is necessary to use them according to certain rules:
use the herbal treatment for a long time, at least for a few weeks,
use herbal treatments systematically, preferably daily or at least 5 times a week,
use known and valued species of herbs that are appropriate for the problem our hair is suffering from
do not change recipes too often, do not use too many herbs and treatments at once, it is better to choose one herb or one set of herbs and one type of treatment (mask, rinse or rub) and stick to it
after completing the treatment, take a short break and then possibly start another one
use good quality materials, preferably bought in herbal stores – they are more active.
How to use herbs for hair?
Rinses – dip whole washed hair in water mixed with a strong herbal infusion and rinse for 2-3 minutes.
Hydrolats – pour water with a strong herbal infusion (half and half) into an atomizer bottle. Sprinkle it over dry or wet hair and rub gently into the scalp.
Masks – from selected herbs make a strong infusion or decoction, strain it, add yoghurt, flaxseed, honey or other ingredients, make a thick paste and apply it on your hair. You can also blend herbs, pour a small amount of boiling water, cool and apply to the hair.
infusions – we brew herbs in a small amount of water (it is best to grind them first), cool, strain and rub the slurry into the scalp.
Herbs for hair loss, hair growth and improving the condition of damaged, lifeless hair
Weak, slow-growing and falling hair requires, first of all, to strengthen the roots and rebuild the hair follicles and inhibit the process of their miniaturization. In a weakened, shrunken follicle, the hair is either unable to anchor at all or the anchoring is poor, and the phases of hair growth and development are disturbed and shorter than they should be. As a result, the new hair is thin and vulnerable, grows slower and falls out faster.
Which hair herbs to choose to reduce hair loss, accelerate growth and improve hair condition?
Common Nettle
Nettle contains very large amounts of substances valuable to hair health, such as: vitamins of B group, vitamin A, vitamin C, vitamin E, flavonoids, carotenoids, mineral compounds (silicon, iodine, iron, sulfur), organic acids, amino acids, essential oils, triterpenes.
Nettle herb, saturating hair structures with valuable elements, reduces their loss and provides a healthier look. It positively influences the condition of hair follicles, facilitates the anchoring of new hair. It improves blood supply to the scalp, nourishes hair bulbs, strengthens hair, makes it thicker and more resistant. It also stimulates hair growth, making new hairs appear more and grow faster. Nettle should be used for hair both internally (drinking infusions) and externally (e.g. making rinses, masks).
Birdsfoot trefoil
Birdsfoot trefoil, also known as sparrow's tongue, is a lesser-known but very effective herb in reducing hair loss and hair regeneration. It contains a rich array of valuable nutrients: flavonoids, mucilages, essential oils, tannins, silica, mineral salts, salicylic acid, vitamin K, vitamin A, vitamin C.
Birdsfoot trefoil supports the recovery of damaged tissues. It expands blood vessels, increasing the flow of nutrients to the scalp cells. It strengthens the hair structure, makes hair more vital and healthy, at the same time reduces hair loss.
Field horsetail
Horsetail contains a rich supply of well-absorbable silica, which has a very beneficial effect on both the hair and the scalp. Apart from silicon, field horsetail also contains phenolic acids, mineral salts, flavonoids, vitamin C.
Horsetail herb is a versatile remedy for hair problems. It helps not only with hair that falls out, is slow growing and weak, but also lifeless, brittle and damaged by aggressive styling. It strengthens hair and rebuilds its structure. Prevents split ends. Makes hair shine and highlights its natural color, restoring its radiant look. Prevents hair loss and stimulates hair growth. Moreover, it regulates the sebaceous glands, fighting excessive oiliness.
Fenugreek
Ground fenugreek seeds are ideally suited for home-made hair rubs which have a strengthening and hair-enhancing effect. Fenugreek contains vitamin A, C and B vitamins, choline, mucilage, lecithin, silicon, iron, potassium, magnesium, selenium. Regularly applied rubs or masks made from fenugreek seeds make hair stronger, thicker, denser and less likely to fall out. It is worth noting that fenugreek also has a beneficial effect on the scalp and normalizes the process of sebum secretion. The herb also adds volume, shine and elasticity to the hair, making it easier to style and look its best.
Ginseng
Ginseng It stimulates blood circulation in the scalp, which translates into a better supply of building and nutritional substances to hair structures. The raw material contains phytosterols, triterpen saponins, phenolic compounds, amino acids, mineral salts, essential oils, copper, vitamins A, E, B.
Ginseng root strengthens hair roots and reduces hair loss. By increasing the blood supply to the scalp, more baby hair appears on the scalp. Hair also grows faster than before. Ginseng also helps to regenerate damaged hair. It repairs defects, restores the hair's smooth structure and protects it from harmful factors. It makes the hair shine and look healthier
Black Turnip
Although it is not an herb but a vegetable, it is worth mentioning because it is among the most effective natural remedies for strengthening hair and stimulating its growth. Black turnip greens contain a rich array of minerals and vitamins with positive effects on hair. Importantly, it is abundant in sulfur compounds that fight inflammation, guard hair health and stimulate hair growth. Black turnip will make our hair resistant to loss and damage, make it thicker, denser, more disciplined and revitalized. It will also take care of a better condition of the scalp.
Check out advanced capsules for hair loss and hair growth: Locerin
Herbs for dandruff and seborrhea
Burdock
Burdock is considered to be one of the most effective herbs to help fight seborrhea and dandruff. It also works well in the care of falling, fine and brittle hair. Burdock root contains many vitamins and mineral salts important for hair, as well as saponins, sulfur, proteins, essential oils, flavonoids. Burdock root has anti-inflammatory, anti-fungal and anti-bacterial properties. It normalizes the work of the sebaceous glands, reducing sebum secretion, also soothes scalp irritation. It fights dandruff and seborrhea, strengthens and regenerates hair and comprehensively improves its appearance.
Yarrow
Yarrow is an example of a herb for seborrhea that is also an effective herb for hair loss. It can also accelerate the hair growth process. It strengthens hair structures, revitalizes hair and adds natural shine to hair. It reduces the rate of greasy hair, helps to get rid of dandruff and makes hair look fresh and attractive for longer.
Sage
Sage has anti-inflammatory and antibacterial properties. It also helps to deal with fungi attacking the scalp. It reduces the production of sebum, soothes irritation and prevents hair from becoming greasy. It nourishes hair bulbs and strengthens hair.
Other herbs helpful in fighting dandruff and excessive oiliness:
wrotycz,
marigold,
rosemary,
chamomile,
linden,
birch bark,
willow bark,
calamus rhizome,
mint.
Ready-made herbal preparations for hair
Due to lack of time we often resign from preparing herbal hair treatments on our own. Drugstores offer ready-made cosmetic preparations based on plant extracts, which will help us quickly and easily improve the condition of hair. Here they are.
Green Pharmacy Hair Herbal Elixir
Green Pharmacy Hair Elixir is a composition of four herbs enriched with soy proteins. The formula includes extracts from field horsetail, burdock root, horse chestnut and lupine.
Elixir Against Hair Loss Green Pharmacy helps weakened hair regain strength and vitality, reduces excessive hair loss, nourishes hair and improves its appearance. Its formula is based on ancient herbalists' recipes.
Active Hair Serum 7 Herbs Apteczka Agafii
Herbs for hair work best in the form of multi-ingredient, highly concentrated compositions. Active Serum from Pharmacy Agafii is one of them. The preparation is a compilation of seven medicinal plants: valerian, ginseng, Chinese citronella, burdock, nettle, lemon balm and birch sap.
Thanks to a rich palette of ingredients, it helps solve many different hair problems. It alleviates excessive hair loss, makes hair grow faster and thicker, helps in regeneration of damaged hair, reduces greasy scalp and hair.The treatment of excessive hair loss, reduces greasy hair, fights dandruff, improves the condition of the scalp and hair.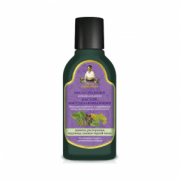 Regenerating Hair Tonic with Agafii Receptury
Regenerating Hair Tonic from Receptury Agafii series is a liquid formula containing 4 herbs to strengthen hair.
The preparation is distinguished by an interesting, complex composition, which unfortunately lacks the most well-known herbs for hair, such as horsetail or nettle. Instead, there are such medicinal plants as thistle, milk thistle, honeysuckle, alder cones.
Agafii Regenerating Tonic Recipe has a regenerating effect on hair and scalp, helps reduce hair loss and supports hair revitalization.
Farmona Herbal Care ampoule treatment
Farmona Herbal Care Ampoules contain a highly concentrated extract of field horsetail, which is considered to be one of the most effective herbs for hair loss. In the preparation you will also find other plant components – aloe vera juice and ginseng. One pack is sufficient for five regeneration treatments.
The treatment in Farmona Herbal Care ampoules will help in such hair problems as excessive hair loss, too thin hair, weakened, damaged, splitting and lifeless hair.
Capitavit Herbapol hair mask
Capitavit Herbapol is a product that strengthens, nourishes and improves the appearance of hair, designed to be rubbed into the scalp. It will certainly be of interest to people who want to grow their hair as fast as possible and those who complain about weak, thin, thinning, damaged and dull hair.
The product contains well-known and valued herbs for hair growth, such as nettle, calamus, burdock, field horsetail, calendula, and hops. It is additionally enriched with vitamin F.
Serum burdock against hair loss with growth activator Elfa Pharm
Serum burdock from Elfa Pharm is based on the known for its beneficial effects on hair greater burdock, which, for increased potency, has undergone the CO2 extraction process. The serum also contains a range of plant ingredients (e.g. sabal palm fruit extract, nettle, knotweed, thyme oil, rosemary oil) as well as proteins and vitamins.
Burdock root and other ingredients contained in the serum have a strengthening and regenerative effect on hair, stimulate hair growth and reduce hair loss The serum contains burdock root and other ingredients strengthen and regenerate hair, stimulate hair growth and reduce hair loss as well as make hair shiny and healthy, aesthetic look.
Ayurvedic hair loss treatment Orientana
The product is based on traditional ayurvedic formulas. The formula includes valued herbs for hair loss as well as oils and extracts with restorative properties.
The product strengthens hair, improves its appearance, improves the condition of the scalp and stimulates hair growth. Some of the ingredients of the cosmetic are coconut oil, sesame oil, almond, milk ferment, Centella Asiatica, lavsonia, cardamom oil.