During weight loss it is worth to take care not only of a proper diet and physical activity, but also the condition of the skin. In critical areas, including thighs, abdomen and buttocks, our skin is often far from ideal. It is not tight enough, does not show off its smoothness, and what is worse cellulite appears on it. Systematic peeling is one of the most effective ways to improve the condition of the skin. Here are a few patents for home peeling without using store bought cosmetics.
How to make homemade peeling?
If you scrub your body every few days, you can count on a significant improvement in the appearance of the skin. Due to the abrasive properties, scrubs make our skin better supplied with blood, which helps to improve its elasticity and flexibility and reduce cellulite. In addition, our skin also becomes more susceptible to the beneficial effects of moisturizing and nourishing cosmetics. Peelings also make us get rid of the horny layer of the epidermis, so we can enjoy smooth, soft, rejuvenated, radiant-looking skin.
Preparing homemade body scrub is easier than we think. Just use a few products that we certainly have in our kitchens. Here are some proven ways to make homemade body scrub with firming, slimming, smoothing, nourishing and orange peel properties.
Homemade coffee scrub
Coffee peeling has no equal among home remedies for body firming. This is due to the excellent properties of caffeine contained in coffee, which stimulates blood flow within the skin, firming it and helping to break down cellulite. In addition, homemade coffee scrub shows an exfoliating and smoothing effect and promotes the reduction of discoloration.
To prepare such a caffeine scrub you need to brew quite a large amount of coffee (at least a few teaspoons) and after cooling drain the grounds from the liquid. Then add olive oil to grounds (you can replace it with body oil or lotion) and optionally a little ginger, cinnamon or sugar. Mix the ingredients until you get a medium thick slurry, apply it to your skin, rub in circular motions, and then rinse.
Homemade sugar scrub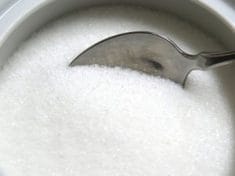 Sugar scrub has very high abrasive and circulation-stimulating properties. Applying such a scrub to problem areas of the body, we will easily get rid of keratinized epidermis and lead to smoothing, revitalization and increase of skin elasticity.
Homemade sugar scrub also has an anti-cellulite effect. To make it you can use brown or white sugar, which is mixed with a small amount of olive oil or cosmetic oil. Such a paste should be massaged into the skin, and then rinse.
Homemade scrub with oatmeal
Oatmeal is one of the most commonly used "culinary" ingredients in the preparation of homemade cosmetics. Peeling from oatmeal not only exfoliates and firms, but also equips our skin with a whole range of valuable vitamins and minerals. This promotes its comprehensive nutrition and renewal.
Oatmeal should first be slightly crushed (not into powder, but into slightly larger pieces) with a blender or grinder. Add some lemon juice (which additionally lightens the skin and reduces discoloration) and olive oil and mix. Rub the scrub into your skin and rinse it off. Instead of oatmeal for this scrub you can also use bran.
4. quick scrub with cinnamon and honey
Miód odżywia, wygładza, nawilża i regeneruje skórę, dlatego bardzo często pojawia się w kosmetykach domowej roboty. Cynamon zaś rozgrzewa i pobudza krążenie, dzięki czemu dobrze nada się do peelingu wyszczuplająco-ujędrniająco-antycellulitowego. Nie przesadzajmy jednak z ilością tej aromatycznej przyprawy, szczególnie jeśli mamy wrażliwą skórę lub często pojawiają się na niej pękające naczynka.
About 1-2 teaspoons of cinnamon mixed with a few tablespoons of honey and a little olive oil. Mix the ingredients and rub into your skin, rinse off.
5. home-made salt scrub
Perfectly cleanses the skin, makes it more flexible, smooth and firm, gives it a young, healthy look, removes discolorations, helps to fight cellulite – these are the advantages of homemade salt scrub, which can be prepared from sea salt or Himalayan salt available in every grocery store or supermarket.
A handful of salt mix with olive or cosmetic oil and create a uniform paste. After thoroughly massaging the scrub into your skin, rinse it off with warm water.
Are you looking for good slimming tablets or effective cellulite reducer? Green Barley Plus will help you. Recommended.