Last updated: 06.04.2022
Greasy hair is an annoying problem of aesthetic nature. It is caused by excessive sebum (sebum) secretion by sebaceous glands, which may be due to health or genetic reasons. In some cases, increased sebum secretion and excessive greasy hair is caused by lifestyle factors, the way of hair care or hormonal imbalance in the body (e.g. during puberty). Every person with oily hair knows that oily hair needs more attention and more frequent care than normal hair, especially shampooing. How do I take care of fatty hair to keep my hair looking nice and at the same time limit the amount of sebum and reduce the problem?
Fatty Hair – the Symptoms. How do I know if my hair is fatty?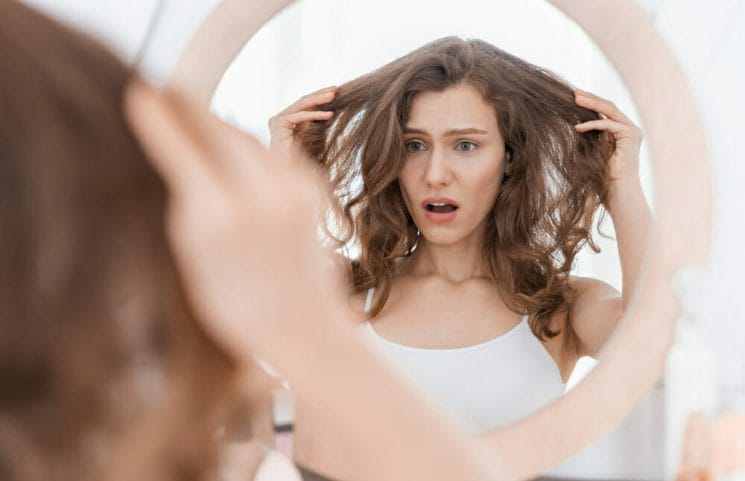 Fatty hair has a negative effect on our image and attractiveness if it is not taken care of properly. Hair that turns greasy quickly and easily can look unsightly practically as soon as it is shampooed. Fatty hair also means that you need to concentrate on your hair all the time and not only fix and style it but also look after it.
The typical symptoms of fatty hair are
The hair quickly loses its fresh and attractive appearance after shampooing,
The hair needs to be shampooed every day,
The hair almost always (even a few hours after washing or the next day after washing) has an oily texture, looks neglected, dirty, damp,
The hair is limp, excessively shiny, lacks vitality and volume,
hair is sticky, heavy, instead of bouncy, separated, loose,
Fatty dandruff appears on the scalp,
The scalp itches or burns,
The scalp itches or burns, excessive hair loss often occurs together with greasy hair,
The ends of the hair are weak, brittle and split.
Fatty Hair – the Causes
In the case of fatty hair, the sebaceous glands in the scalp produce excessive amounts of sebum and this phenomenon can be caused by many different factors.
The most frequent causes of excessive hair greasiness are:
genetic predisposition (hair greasiness is inherited),
hormonal disorders (e.g. excess of androgens or hormonal fluctuations during puberty or menopause)
scalp disorders (e.g., seborrheic dermatitis),
Thyroid problems (e.g., hyperthyroidism),
Frequent stress,
High nervous tension, strong emotions,
Incomplete washing of the hair and scalp,
Using too weak a hair cleanser (which does not thoroughly cleanse the scalp of sebum),
Using too strong hair cleansers (these wash away the entire protective layer of the epidermis and irritate the scalp, which in turn leads to an increased production of sebum)
Use of excessive amounts of styling cosmetics (e.g. hair sprays, gels, waxes),
Use of cosmetics with silicones for hair care,
Washing your hair too seldom or too irregularly,
Excessive use of a hair dryer (blow-drying your hair continuously with hot air may result in increased scalp sweating and a more intensive sebum secretion),
Constant touching of your hair,
Unhealthy diet (mainly an excess of highly processed food and products with a high content of unhealthy fats and simple carbohydrates),
vitamin and mineral deficiencies,
seasons (mainly hot weather, when we sweat harder, or the winter season, when we often walk around in headgear that interferes with ventilation and contributes to excessive greasy hair).
Read also: Oils for hair
How to Care for Fatty Hair
In the case of excessively oily hair, the sebaceous glands work improperly and produce too much sebum, a mixture of fatty substances such as glycerides, squalene, and waxes. The sebum accumulated on the scalp negatively affects the hair structure and makes the hair greasy faster. In order to reduce fatty hair, the immediate cause of the problem needs to be dealt with. The sebaceous glands need to be restrained and calmed down and the amount of sebum secreted needs to be regulated.
How do I make my hair greasy?
The best way to take care of fatty hair is by using the appropriate shampoo, cosmetics and styling products.The best way to take care of fatty hair is by using the proper cosmetics for your hair type, washing and styling your hair, using proven natural remedies for fatty hair such as herbal rinses, masks, and scrubs, and by limiting the habits, which lead to the fatty hair process. The change to a more natural diet rich in valuable nutrients for healthy hair also plays an important role. What is more, hormone-related causes for fatty hair may help you to balance the hormone levels.
The 14 Simple Tips to Reduce Fatty Hair
Avoid frequent touching, brushing and styling of your hair,
Wash your hair with lukewarm or slightly warm water (hot water stimulates the sebaceous glands and is therefore not recommended)
avoid using strong detergents, preparations containing silicones, parabens and large amounts of preservatives as they may disturb the water-lipid barrier of the scalp
use mild, natural hair cosmetics with cleansing, antiseptic and sebum-regulating plant extracts such as nettle, burdock, camomile, field horsetail, rosemary and mint
Avoid blow-drying your hair with hot air; if you do use a hair dryer, switch to a cool heat setting
when washing your hair avoid massaging your scalp (this may stimulate the sebaceous glands)
When washing your hair, mix the shampoo with a small amount of water before applying it,
Do not apply conditioner to your scalp or to your hair at the roots, limit yourself to the lower part of your hair,
avoid leave-in conditioners,
Do not use conditioner on your scalp or hair at the roots, limit it to the lower part of your hair, avoid leave-in conditioners, remember to clean your combs and brushes regularly,
air your pillows regularly, change your pillowcases frequently,
Make sure that your scalp is well moisturised. Make sure that your scalp is sufficiently moisturised, e.g. by applying hair masks based on lemon juice, aloe vera, natural yoghurt or apple cider vinegar (dry scalp leads to irritations and abnormal sebaceous glands)
Take care to regularly remove dead skin cells from your scalp e.g. by applying homemade sea salt scrubs or activated charcoal masks
Eat well and avoid fast food, sweets, salty snacks, ready meals and white flour products.Instead, enrich your diet with plenty of vegetables, whole grains, fruits and products rich in monounsaturated and polyunsaturated fatty acids (in large quantities you will find them in olive oil, rapeseed oil, fish, nuts, avocado, sunflower seeds, sesame, soybean, flaxseed).
Home Remedies for Fatty Hair
Scalp Peeling for Fatty Hair
The scalp peeling provides a thorough cleansing of the scalp, unblocks the sebaceous glands and gets rid of fatty hairThe result is a reduced oiliness and healthier hair. You can make a simple homemade scalp peel using coffee grounds, cane sugar, sea salt, oat flakes or baking soda. Here is one of the easy recipes:
Ingredients:
2 tbsp sea salt
2 Tbsp. melted coconut oil or olive oil
lemon juice
Preparation:
Squeeze the juice of one lemon, add coconut oil or olive oil and salt. Mix. Apply to the scalp and massage lightly for 2 minutes. Wash your head with a mild shampoo.
Herbal rinse for oily hair
Theherbal r inse is a quick and effective way to reduce sebum production, minimize oiliness and to clean, refresh and get rid of microorganisms. It is also a method for soft, smooth, free-flowing and shiny hair. It's best to use several different herbs for rinses. Here is one of the proven concoctions.
Ingredients:
1 tablespoon of nettle
1 tsp burdock
1 Tbsp. calamus
1 tsp chamomile
Preparation:
Brew all herbs in a large mug or saucepan. Pour into a large bowl, add a generous amount of water. Dip the hair and rinse it. Pour the liquid over the scalp as well. After a few minutes, drain your hair and wait for it to dry.
Yeast Mask for Greasy Hair
Yeast is a well-known patent for numerous skin ailments, including those related to impaired sebaceous glands, excessive sebum production, skin inflammations and bacterial and fungal infections. Yeast hair mask will help you cleanse your scalp thoroughly, soothe irritation and inflammation, remove microorganisms, nourish the skin andnourishes the skin and hair, normalizes the amount of sebum secretion, reduces dandruff and slows down the process of hair greasing. Moreover, if performed regularly, the yeast mask will help to strengthen hair roots and follicles and reduce hair loss.
Ingredients:
a quarter packet of fresh yeast
2 tablespoons of honey
Several tablespoons of milk
1 egg yolk
Preparation:
Crush the yeast with a fork. Pour milk and mix thoroughly. Add honey and egg yolk and mix again thoroughly. Apply the yeast mixture to the scalp and to the roots of the hair. If you wish, you can also apply the mixture to the entire length of your hair. Wash the mask out in about an hour.
Clay Mask for Greasy Hair
Cosmetic cl ay is a highly effective, multifunctional naturalcosmetic that can be used in home concoctions for the body, complexion and hair. Clay hair mask has many valuable properties: refreshes and cleanses hair and skin, absorbs sebum, disinfects, detoxifies, inhibits greasiness, tones, soothes irritation, improves hair volume, aids regeneration. How to make a quick clay hair mask?
Ingredients:
2 tablespoons of clay
1 tablespoon of cosmetic oil of your choice (such as argan, burdock, jojoba or other)
Preparation:
After mixing the ingredients, apply the slurry to the hair and scalp. Leave for half an hour, rinse. Wash your hair with a mild shampoo.
How to refresh hair without washing?
Fatty hair looks very unsightly. But what to do when you don't have time to wash your hair and you want a fresh haircut right away? The quick-fixes for greasy hair help put an end to this problem for a few hours.
Potato Flour: The Best Method of Our Grandmothers
The easiest way to refresh your hair without washing it is to apply potato flour to your head, which undoubtedly every one of us has in her kitchen. This method has been known for a very long time, already used by our great grandmothers and always proves to be effective in difficult situations.
As you know, potato is rich in starch, which absorbs fat very well. Applying potato flour to your hair and lightly rubbing it into your scalp will eliminate excess sebum and the effect of unsightly, greasy, sticky hair pods.
How do I apply potato flour to my hair? Sprinkle dry scalp with potato flour. Gently rub into the scalp and hair at the roots, then lightly comb through. After a few minutes from application, comb your hair vigorously. By combing out the flour, you will avoid white marks on your head and hair.
What else besides potato flour – other loose methods for greasy hair without washing
The same way as potato flour, corn flour works on oily hair, which is also rich in sebum-absorbing starch. For an express refreshment of the hairstyle we can also use baby powder, which, thanks to its talc content, will help us get rid of excess oil from the hair and scalp. Cosmetic clay is another product, which quickly cleanses the hair, eliminates sebum and additionally lifts the hair and improves its appearance.
Clay, corn flour and baby powder should be used in the same way as potato flour. Apply a small amount of the product to the scalp and hair at the roots, rub it in, leave for 3-4 minutes and then comb it out thoroughly.
How to Hide Fatty Hair – Head Cover
The quick fix for greasy hair without washing it? Cover it up! This can be done with a scarf or neckerchief, a headband, a hat, a beret, a fancy knit or woollen hat or a baseball cap. Large decorative combs and thick ribbons also work well.
Hairstyles for Greasy Hair
Circumstances are not always favorable for wearing a headdress or expressive hair ornaments. In this case, you may want to experiment with the hairstyle itself.
Teasing your hair a bit or using thick rollers and then spraying hairspray on top of it and pinning or tying it up will make your hair rise.This will lift the hair to the roots, hide excess oil and give your hair style more volume and a fresher appearance.
Partially hiding fatty hair can also be achieved by braiding it or changing the position of the parting. Chignons, updos, crowns of braids, ears, baskets, teased ponytails, ponytails, and waves also help to hide fatty hair.
The Shopper's Saviour – Dry Shampoo
For some time now, dry shampoos have become very popular because they quickly and effectively refresh greasy hair without washing it. Dry shampoos are available in spray or powder form. Depending on the type and color of hair, we can choose the right variant for us (e.g. dry shampoo for light hair, dry shampoo for uplifting hair etc.).
However, it is important to know that not everyone appreciates dry shampoos. If you have a sensitive scalp, such cosmetics may cause an allergic reaction such as rash, itching, dandruff. If our hair is weak, thin and fragile, dry shampoo may worsen its condition and increase hair loss.
Natural Dry Shampoo for Oily Hair
An alternative to store bought dry shampoos is homemade dry shampoo, which we will make without the use of chemical substances that adversely affect our hair. How to make homemade dry shampoo?
Pour some potato, corn or rice flour into a talcum powder container, a salt shaker or any other container equipped with a screw cap with holes. Add some cocoa or cinnamon (if you have darker hair) or 3-4 drops of lemon oil (if you have light hair). Mix the ingredients and homemade dry shampoo is ready.
Read also: Hair Care Panda – Innovative Vegan Gel for Beautiful Hair