Amaranth is another product, next to millet and quinoa, which can be used both for savoury and sweet dishes. It will be perfect in dietetic desserts, fit salads and light dinner dishes, examples of which are presented below.
Amaranth recipes
Healthy and versatile, amaranth offers a huge scope for culinary feats. Here are 4 simple recipes with amaranth in the lead role, which are only a small part of what you can really do with this unusual groat: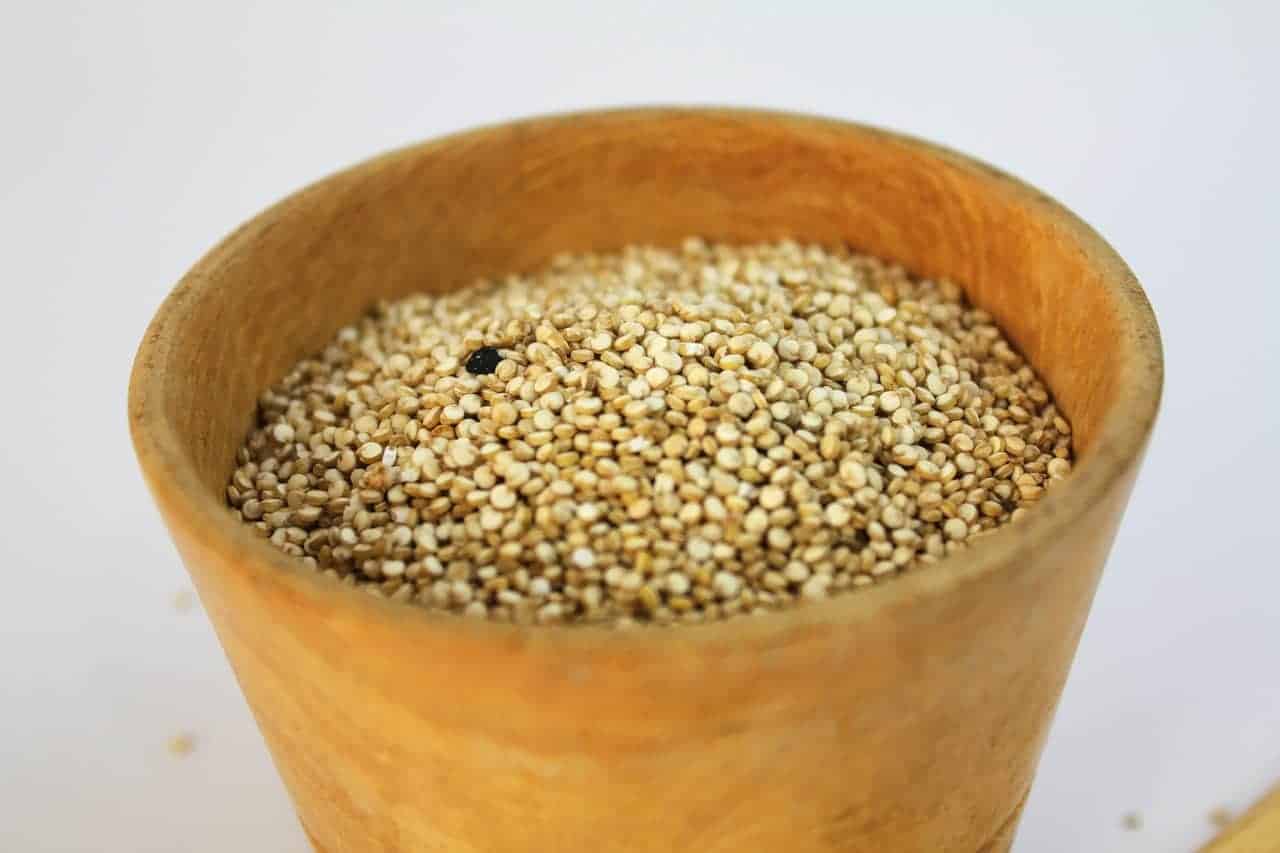 Amaranth sweet – recipe for a delicious mousse with chocolate, bananas and amaranth
Ingredients:
2-3 bananas
2 heaped teaspoons of cocoa
approx. 70 ml milk
expanded amaranth (popping) – about 2-3 tablespoons
Preparation:
Blend bananas together with milk, add cocoa, mix thoroughly. Finally, add the amaranth, mix again, put the mousse into the refrigerator to chill. After about 30 minutes, take the dessert out of the fridge, sprinkle with amaranth and a bit of grated chocolate and you are done.
Amaranth in a colourful spring salad
Ingredients:
2-3 tomatoes
bunch of radishes
green cucumber
a few leaves of iceberg lettuce
a handful of fresh spinach leaves
chives or parsley
red pepper
handful of black or green olives
half a can of corn
approx. 1 cup cooked amaranth
olive or oil, lemon juice, salt, hot pepper, oregano and basil
Preparation:
Cut the tomatoes into eighths, the radishes into quarters, the cucumbers into thick half slices and the peppers into cubes. Cut the olives in half. Chop chives or parsley, tear lettuce into smaller pieces. Mix the ingredients, add spinach, corn and cooked amaranth. Season with olive oil, lemon juice, salt, hot pepper, oregano and basil. Mix.
Dinner amaranth – recipe for a quick casserole with amaranth
Ingredients:
approx. 2 cups of cooked amaranth
a packet of mozzarella cheese in a ball
approx. 100 g yellow cheese
canned sliced tomatoes in brine plus 2-3 tbsp tomato paste
2 small courgettes
a few large mushrooms
1 leek
tinned peas
approx. 300 g chicken
salt, pepper, granulated garlic, herbes de Provence
Preparation:
Cut the chicken into cubes and fry. Chop the leek and fry it a little, then remove it from the pan. Next, lightly fry the diced courgettes and mushrooms. Cut the mozzarella into thin slices and grate the yellow cheese. Mix the amaranth with the tomatoes and slightly diluted tomato concentrate, add the peas, leek, chicken, courgettes, mushrooms, salt, pepper, garlic and herbes de Provence. Lightly mix the ingredients. In an ovenproof dish put a layer of amaranth with chicken and vegetables, then put slices of mozzarella, and then another layer of amaranth. Sprinkle with cheese and herbs and put into preheated at 180 degrees oven for about half an hour.
Amaranth for breakfast – recipe for a healthy, quick and filling morning dish a'la porridge
Ingredients:
approx. 3/4 cup of expanded amaranth (popping)
approx. 300 ml of hot milk
1 large banana
Large handful of your favourite toppings, e.g.: sunflower seeds, pumpkin seeds, raisins, dried cranberries, nuts
Preparation:
Slice the banana, put it in a bowl, add the amaranth and additives, pour over the hot milk and mix thoroughly. If you like sweeter flavours, you can add a little honey or sugar. In this type of breakfast with amaranth also works well fresh fruit, such as blueberries, raspberries, strawberries.
Read also: Not only wheat and buckwheat – invaluable amaranth as a component of everyday diet.