How to lose weight without a diet? This question is often asked by people who find it extremely difficult to implement dietary restrictions. If you do not manage to persevere on a heavily reduced calorie menu, know that there are many more people like you. It's natural that our body will rebel if suddenly, instead of standard meals, we start to treat it to miserable meals with lettuce, skim yogurt and the like. It is not worth to torture yourself with strict diets if your body clearly says no. Instead, try something different! Instead, try something different! Here's a plan of action that has helped many people lose weight without implementing orthodox diets.
How to lose weight without a diet? First of all, eat with your head!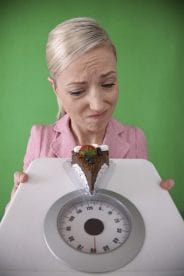 Restrictive diets rarely bring lasting results. They are a huge challenge for our body and often have such a negative impact on our well-being and health that we give them up before they end. Of course, there are also cases when we manage to do the whole treatment, but when we start eating normally afterwards (or in excess, because the body is trying to "catch up"), the pounds of weight unfortunately quickly return to us.
If you don't intend to follow a diet that carries heavy dietary restrictions, but at the same time you would like to slim down your body, we have a good way to do it. However, you need to know that even without a diet, you need to stick to certain rules regarding the quantity and quality of meals. You cannot lose weight if you have excess calories in your menu.
If our menu is based on various types of calorie bombs, products made of white flour, articles with high amounts of simple carbohydrates, processed food, if we eat irregularly and too much, and if we snack between meals, we have very little chance of losing weight. However, if we switch to a healthy, light eating mode (with a predominance of vegetables, lean dairy and whole grain products) and stick to the rule of eating 5 not too heavy meals a day (spaced about 3 hours apart), we will make a big step towards weight loss.
Read also: What to eat to lose weight?
We eat and lose weight – healthy, light and tasty!
Healthy, light food can be extremely tasty. Vegetables, fish, lean meat, herbs and spices, wholemeal flour, coarse groats, brown rice, fruit, eggs can be used to create a variety of attractive, yet simple and quick dishes.
Even if you are a fan of fast food, you do not have to give up your favourite dishes, just start preparing them yourself, using dietetic substitutes for calorific, fattening products.
If you browse the internet you will find lots of interesting recipes, for example for diet oven nuggets, diet pizza or diet kebab. The same goes for sweets. If you can't imagine your life without sweet tastes, replace the traditional and bought sweets with diet desserts.
Examples of slimmed down dishes using dietary substitutes for classic ingredients:
Diet pizza made with whole wheat flour, topped with mozzarella light cheese, chicken tenderloin, tomatoes, chopped chili peppers, oregano.
Diet kebab made from chicken breast meat, with lettuce (or chopped Chinese cabbage), tomato, cucumber, onion, paprika, with yoghurt and garlic dip, all served in whole wheat pita.
Diet pancakes made from wholemeal flour, skimmed milk and eggs, fried on a frying pan lightly greased with olive oil, with additions such as fresh fruit, yoghurt, cottage cheese or stewed apples with cinnamon.
Diet spaghetti from wholemeal pasta with a sauce made of minced turkey meat, tomatoes in brine, onion, garlic, basil and oregano.
Diet meatballs (made with the following ingredients: minced poultry meat, bran, grated carrots, salt, pepper, oregano, thyme) stewed in a sauce based on natural yogurt and dill.
Diet casserole with brown rice, chicken, peppers, carrots, broccoli, garlic, curry seasoning and cayenne pepper. Topped with a sauce based on yogurt, egg and grated skimmed mozzarella cheese.
Sample menu for people who want to lose weight without a diet:
Day 1
Breakfast: rye bread sandwiches with hard boiled egg, tomato and lettuce, half a grapefruit.
2nd breakfast: millet on skim milk with nuts, pear.
Dinner: tomato soup with yoghurt or cream cheese with brown rice, second course: 2 potatoes with water, salad with red cabbage and horseradish, roast chicken breast.
Afternoon snack: oat biscuits (preferably home-made), tea.
Dinner: 2 pieces of toast with smoked salmon, lettuce, cucumber and paprika.
Day 2
Breakfast: oatmeal with banana, handful of strawberries.
2nd breakfast: wholemeal tortilla pancake with hummus, chicken ham, cucumber, peppers and black olives.
Lunch: pearl barley mixed with stewed vegetables (e.g. carrots, peas, peppers, broccoli), baked fish in foil, salad.
Afternoon snack: 2 wholemeal toasts with jam.
Dinner: cottage cheese with tuna and cucumber.
Day 3
Breakfast: scrambled eggs with tomatoes and chives, wholemeal bread.
2 breakfast: natural yoghurt with additions (your choice: blueberries or chopped strawberries or other fruit, a handful of nuts, bran, oatmeal, chia seeds).
Lunch: turkey medallions with pineapple and curry sauce, jasmine or basmati rice, salad with peppers, red onion, cucumber and vinaigrette.
Afternoon snack: slices of wholemeal bread with kabanos, tomato.
Dinner: casserole on a baguette or a graham with mushrooms, mozzarella cheese and ketchup.
4th day
Breakfast: 2 sandwiches from wholemeal bread with cottage cheese and honey (or salty: with cottage cheese and radishes or cucumber), grapefruit or a handful of strawberries.
2nd breakfast: yoghurt, rice bread.
Dinner: beetroot soup, potato dumplings served with yoghurt and herb sauce.
Afternoon snack: rice dessert with fruit.
Dinner: half a graham, chicken jelly, lettuce, pepper.
5th day
Breakfast: millet with peanut butter and banana.
2nd breakfast: pumpernickel (2 slices) with lettuce, smoked mackerel and dill.
Lunch: wholemeal pasta with pesto sauce, light salad of diced peppers and tomato.
Afternoon: fruit jelly with fruit, yoghurt or kefir.
Dinner: 2-3 sandwiches from rye bread with ham, lettuce, tomato, pickled cucumber.
The implementation of the above menu sets (and similar to them) is a patent for losing weight without large dietary restrictions. The most important thing is that our meals are devoid of the most fattening foods, have a slightly reduced calorie content, and at the same time to be varied, colorful and tasty. By eating this way we have a good chance to lose weight, especially if we also bet on physical activity and supplementation.
How to lose weight without a diet – let's turn up the metabolic rate!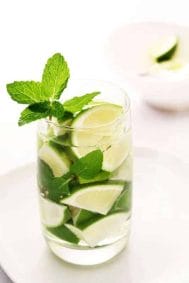 If you have problems with weight gain, if you have to watch your weight at every step so that it doesn't go up, you probably have a slow metabolism, so your daily menu should not lack products which speed up the metabolism. Here are some proven ways to naturally increase the metabolic rate:
Water with lemon – every morning, before breakfast, drink a large glass of lukewarmwater with the juice of half a lemon. Cleansing the body and improving metabolism guaranteed!
Water with ginger, mint, lemon and a bit of honey – this energizing drink to increase the speed of metabolism can be drunk both in the morning and during the day as an alternative to other drinks.
Grapefruits – this fruit has very beneficial influence on metabolism, so it is worth to reach for it as often as possible. Half of a grapefruit (or a whole fruit) should be eaten in the morning in order to stimulate metabolism for the whole day, the second half (or another whole fruit) should be eaten during the day, e.g. as a snack. We can also add grapefruit to smoothies, salads, yoghurts or squeeze juice from it.
Proteinproducts – protein increases the rate of metabolism, so it is worth reaching for such products as: fish, kefir, yoghurt, buttermilk, eggs and lean meat every day.
Spices – intensify thermogenesis, forcing the body to expend more energy, and thus to burn calories faster. Such spices as cayenne pepper, black pepper, ginger, turmeric, cinnamon, cardamom, curry considered to be some of the best foods that accelerate metabolism, so it is worth using them in the kitchen as often as possible.
Cocktails for slimming – frequent drinking of cocktails from a blender containing vegetables, fruits, herbs, spices and various types of grains (e.g. chia seeds, sunflower seeds, hemp seeds) is a proven way to speed up metabolism and detox your body.
Do you want to lose weight without a diet? No activity at all!
How to lose weight without a diet and is it even possible? An apt question, especially since most nutritionists, personal trainers and doctors, will tell us that the diet is 70% or 80% of success in reducing body weight. Weight loss begins when we supply our body with fewer calories than our individual needs. Then automatically the body begins to draw energy from reserves in the form of fat tissue.
If we want to lose weight without a diet, we need to find another way for the body to reach for fat reserves. Physical activity will serve this purpose perfectly. If we combine it with a diet free of fattening foods, containing lots of simple carbohydrates and fats, we can count on the effect of weight loss. But here comes the next question – how to exercise to lose weight?
The most accessible and universal form of training are the so-called aerobics, during which we exercise with moderate intensity at the level of about 70% of our maximum heart rate. We can train in any way we like, for example by exercising on an orbitrek, stepper, stationary bike, running, doing aerobics, swimming etc. The time of activity is much more important. Much more important is the time of activity. If we want to burn fat effectively, our aerobic training should not last less than half an hour, and it will be best if we extend it to 45-60 minutes.
Another method of exercise, preferred by people who want to reduce the fat tissue, is a combination of aerobic training with strength training. This set will not only help us get rid of unwanted folds, but also will make our muscles visible, which will undoubtedly improve the appearance of our figure. Aerobic training + strength training can be arranged in different ways, depending on our convenience, preferences and number of days and hours that we can devote to training.
For example, training can take place 4 times a week. During each session we spend about 45 minutes on aerobic training (e.g. orbiter or treadmill) and about 20 minutes on strength training (e.g. exercises with dumbbells or barbells). Another example – we train 5 times a week for about 40 minutes each, 3 times we do only aerobic training and 2 times we do only strength training.
If you are already somewhat experienced in training, you can also try the more demanding interval training, which involves performing exercises at different speeds (alternately very fast and moderately fast), with a relatively short duration of training (about 25 minutes). Properly conducted interval training is a very effective method for burning fat.
Invaluable support – dietary supplements supporting weight loss
Modern dietary supplements, designed for people who want to lose extra kilograms, can be a very valuable support of the whole process. This is because they help to eliminate the causes that usually have an impact on weight gain. The properties of particular active substances are particularly valuable, such as: suppressing appetite, regulating carbohydrate metabolism, giving energy, speeding up metabolism, intensifying lipolysis, improving mental condition, increasing concentration and motivation to act.
A well-chosen supplement should protect us from excessive calorie intake by blocking the feeling of hunger and appetite, and at the same time it should help us release our energy and enthusiasm for physical activity. On the other hand, a slimming supplement has to "work out the fat tissue from the inside", stimulating the metabolism of fats and sugars and preventing further fat gain and accelerating the reduction of the already stored fat.
Examples of high quality dietary supplements fulfilling these tasks, and thus showing high effectiveness in eliminating excess weight are:
Keto Actives
Fast Burn Extreme