Tapioca is a starch-rich groat with a wide range of culinary applications. Although it is not as rich in protein or minerals as amaranth, it has other advantages which make it worth using, especially if you follow a gluten-free diet, vegetarian diet, healthy diet for active people or if you struggle with persistent digestive problems. Learn about the properties, cooking method and sample recipes using tapioca.
What is tapioca?
Tapioca is obtained from the ground plant called cassava. It is most commonly found in stores as a white, fine or slightly thicker groat (pearl-like), as well as in the form of flakes and flour. Tapioca is especially popular among people who have to follow a light diet due to digestive disorders, food allergies or hypersensitivity of the stomach or intestines. Tapioca also has an important place in the diet of vegans and vegetarians and people on a low-protein diet.
Properties of tapioca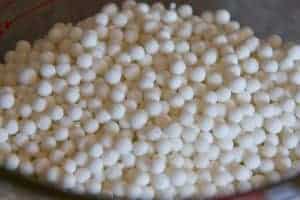 In fact, we find very little protein in tapioca, just like fats or fiber. Of the vitamins and minerals present in tapioca pearls can be mentioned: calcium, iron, phosphorus, potassium, magnesium, zinc, thiamine, folic acid, but these are small amounts. The vast majority of tapioca consists of carbohydrates, mainly starch, and a few percent of simple sugars.
When is it worth using tapioca?
Tapioca is extremely nutritious and well satisfies hunger, at the same time it is delicate and easily digestible, it does not contain gluten, is not allergic and does not cause any digestive disorders.
However, as it turns out, it is an excellent dietary solution not only for people suffering from digestive disorders. It is also increasingly popular among followers of a healthy and active lifestyle, who look for light, unprocessed, nutritious and a good source of natural carbohydrates in their culinary endeavours.
How to use tapioca in the kitchen?
It is versatile and neutral in taste, can be prepared both sweet and savoury, has a soft, delicate texture and gelling properties, provides the right density and adds nutrition to any dish – these qualities give tapioca a wide variety of uses in the kitchen. Here is what you can do with tapioca:
we can add it to soups and sauces (instead of pasta or rice and to thicken it);
tapioca flour can be used to make gluten-free pancakes, pancakes, crumpets and noodles;
It is a perfect ingredient for one-pot dishes;
is perfect in salads;
it can be ground, made into pastes, used for stuffing;
it will be a good addition to raw vegetable chops;
it can be added to fruit and vegetable blender cocktails;
It is ideal for making light puddings, diet cakes and desserts.
Tapioca – how to cook it?
Tapioca balls are cooked similarly to other groats. Sometimes tapioca needs to be soaked before cooking, but if you can't find this information on the package, you can skip this step.
To cook about 4 tablespoons of tapioca you will need 1.5 cups of water. Put the tapioca in boiling water and cook over low heat for about 20 minutes. In the meantime, check whether the groats have not absorbed all the liquid, if this happens, add a little water. It is also worth stirring the tapioca from time to time during cooking. When the pearls become transparent, it is a sign that the porridge is ready.
Tapioca recipes
Lightly digestible tapioca will help us to compose a nutritious, yet gentle on the digestive system menu. Here are some sample recipes with tapioca, but remember that you can also use it in many other ways.
1) Tapioca vanilla pudding
about 1/3 cup of tapioca balls
about 1,5 cups of milk
1/2 teaspoon vanilla sugar
2 tbsp honey or sugar
handful of berries
Tapioca pudding is a tasty, filling snack and a good alternative to bought pudding powder. Pour milk into a pot and bring to a boil. Pour in tapioca pearls and cook over low heat (stirring occasionally) for about 25 minutes. At the end of cooking add honey or sugar and vanilla sugar, stir. When the porridge becomes transparent, remove the pot from the heat. Put the pudding into salad bowls and place the berries on top.
2) Tapioca – dessert with a fruity note
Approximately 1/3 cup tapioca
about 1.5 cups of coconut milk or plain milk
fresh mango
about 100 ml of Greek yogurt
syrup or jam from strawberries or raspberries
spoonful of sugar
Pour the milk into a pot, sweeten to taste and boil. Add tapioca and cook on low heat until the liquid is absorbed and tapioca balls get a transparent color. Transfer to goblets and wait until cooled and set. On top of the cooled tapioca put a layer of finely chopped mango, then a layer of yoghurt and finally pour syrup or put a spoonful of jam.
3. tapioca – vegetable soup recipe otherwise
half a cauliflower
half a broccoli
1 leek
2 carrots
1 celery
2 parsley
can of green peas
bunch of dill
half a glass of tapioca
2 tbsp natural yoghurt
spices: bay leaf, allspice, salt, pepper, curry, turmeric, nutmeg, garlic, thyme
Clean the vegetables. Shred cauliflower and broccoli, dice leek, carrot, parsley and celery. Boil the vegetables with bay leaf and allspice in vegetable or meat broth. After about 20 minutes add peas and tapioca. Cook until the tapioca balls become transparent. Mash the soup with yoghurt, add spices and chopped dill.
Take care of your digestive health: read about probiotics.