Mass Extreme is a highly effective dietary supplement for muscle mass. It is distinguished by its rich, well thought out composition and powerful action. It's worth recommending to impatient gym-goers who want to enjoy a powerful physique as soon as possible, as well as to anyone who wants to improve the look of their muscles.
Mass Extreme – The composition of the supplement
If you're interested in a dietary supplement that will effectively support you in building pure muscle mass and sculpting, and not just make you a "pumped up coke" without a shadow of nicely defined muscles, Mass Extreme shouldn't escape your attention.
The formula contains everything that your muscles like the most. It provides them with extreme nourishment, thanks to which they grow much faster than without support.
Here is the composition of Mass Extreme:
Extract of Fenugreek – it allows you to store more glycogen in your muscles, which is then effectively used as an energy material during exercise. Fenugreek extract also promotes more intense testosterone production by the body and more efficient muscle protein synthesis, which translates into faster mass gain.
4-Amino Butanoic Acid (GABA) is an extremely useful ingredient for strength trainers. It helps you disconnect mentally from unfavourable environmental stimuli and maintain full concentration on exercise. It has a positive effect on muscle function, supports the production of growth hormone by the body, and increases training efficiency. It supports healthy sleep and night-time regeneration of the body.
D-Aspartic Acid (DAA) is an amino acid which supports testosterone production by the body. It improves strength and endurance, makes you exercise at a higher intensity, and thus accelerates muscle building.
Phosphatidic Acid (PA) – another important ingredient which stimulates protein synthesis and muscle tissue growth.
Maca Root Extract – causes a surge of energy and strength, increases resistance to high loads, and enhances training potential.
5-Deoxy-Adenosylcobalamin – an ingredient that improves muscle function during exercise.
Tribulus Terrestris Extract – stimulates testosterone production by the body, increases strength and endurance, accelerates muscle growth.
Additionally, the formula contains 3 elements important for correct muscle function: zinc, magnesium and vitamin B6.
Mass Extreme – Effects
As you can see, Mass Extreme contains a rich composition of ingredients, each of which plays a significant role in the muscle building process.
By combining Mass Extreme supplementation with intensive strength training you can achieve satisfying results in the form of large, well sculpted muscles much faster.
Mass Extreme has a multi-faceted effect, providing active people with comprehensive assistance in achieving further training and physique goals. The formula boosts energy and increases strength, allowing you to complete even the most demanding training cycles. It also regulates testosterone levels, enhances protein synthesis and accelerates muscle tissue growth.
Effects of action Mass Extreme are visible from the very beginning of supplementation. Already after the first doses you'll feel increased energy, better focus on exercise and a smoother transition through your training plans.
Muscles are getting stronger, harder and more resistant every day, and increasing the number of repetitions is much easier.
Another valuable effect of Mass Extreme for people training intensively is that it enhances the body's regeneration processes. This property reduces the risk of overtraining and soreness.
It is worth noting that regular training with Mass Extreme results in a dynamic increase in muscle mass (approximately 2.5 kg of dry muscle mass in a few weeks).
Mass Extreme – opinions
A rich, well-composed composition is the main advantage of the Mass Extreme mass gainer. The opinions about this product speak for themselves. Flattering comments about Mass Extreme come not only from exercisers, but also from trainers and professional bodybuilders.
The effective action of Mass Extreme is confirmed by many gym-goers who had the opportunity to do mass and bodybuilding cycles with its assistance. They repeat that the implementation of training programmes is much easier and less physically demanding. At the same time you can enjoy quick effects in the form of nicely developed and outlined muscles, and not, as in the past, wait for even small results for months.
Mass Extreme – dosage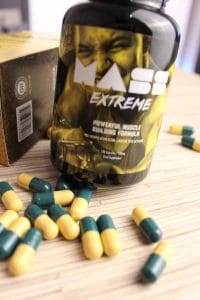 Mass Extreme Take 2 capsules 2 times daily with a large glass of water. The manufacturer recommends taking the product approximately 30 minutes before a meal. It is best to take one dose in the morning, e.g. before breakfast or before the second breakfast, and the second dose before a pre-workout meal.
Mass Extreme – price
If you care about effective and fast muscle mass gain and increasing your training capacity, the price of Mass Extreme should not be an obstacle for you. You certainly won't pay more for this supplement than for other leading mass products.
Please note that if you buy Mass Extreme, you will receive free training and diet advice to help you reach your goals!
It is also worth paying attention to promotions offered by the manufacturer of the supplement. When you buy Mass Extreme in packages, you get free packages!
By clicking here you will go directly to the manufacturer's website where you can easily order the supplement and receive all the bonuses you are entitled to.