Nettle is one of the most valuable medicinal plants. It works perfectly both as a home panacea for numerous health problems and as a natural prescription for improving beauty. Nettle for hair is a well-known, effective way to comprehensively improve a hairstyle. Although direct contact with fresh nettle can result in severe burns, it is a plant worth getting to know better and permanently introducing in various forms into your home. Fresh nettle will serve us as an ingredient in health-promoting juices, salads, macerates and blender cocktails, as well as in simple homemade cosmetics. Dried nettle can also be used as a raw material for homemade cosmetic concoctions, as well as a base for herbal teas with positive effects on the body. The numerous properties of nettle put it on the podium among herbal medicines. Read more about the properties of nettle and learn how to use it.
Nettle – a composition that speaks for itself
Nettle has a very rich tradition in folk medicine. Used by our great-grandmothers as a remedy for many ailments, today, in addition to its medicinal uses, nettle has a wide range of cosmetic applications. Nettle for hair is probably the most effective natural way to restore the lushness of hairstyle. For people suffering from excessive hair loss or slow-growing, lifeless, damaged hair, nettle should be a cosmetic essential.
Returning to the composition of nettle, however, we find in it a large supply of nutrients important for the proper functioning of our body. It also contains elements rarely found in food products and numerous compounds that act as antioxidants. Nettle also contains biogenic amines important to us, such as choline and histamine. They perform many functions in the body, including improving the functioning of the nervous and immune systems.
Valuable components contained in nettle
Vitamin K,
vitamin C,
B vitamins (e.g. pantothenic acid, riboflavin, niacin, B12)
Vitamin E,
Vitamin A,
silicon,
zinc,
calcium,
phosphorus,
potassium,
magnesium,
iron,
sulfur,
copper,
cobalt,
molybdenum,
titanium,
manganese,
chlorophyll,
xanthophyll,
anthocyanins,
organic acids (e.g. glycolic acid, formic acid, caffeic acid),
phenolic acids,
silicic acid,
flavonoids (e.g. quercetin, camferol, rutin),
phytosterols,
carotenoids,
tannins,
coumarins,
terpenes,
biogenic amines (acetylcholine, choline, serotonin, histamine),
essential oils,
lignans,
lecithin.
Nettle – health properties
Nettle has a beneficial effect on almost all organs and systems of our body. Nettle's influence on hair and skin is also considerable – it regenerates, nourishes, rejuvenates and improves their appearance. Versatility and versatility are assets of nettle, which should undoubtedly be used, especially considering the fact thatIt is extremely inexpensive, and even possible to obtain for free if we harvest it ourselves (preferably during the growth of young leaves).
Here are the most important health-promoting properties of nettle:
Detoxifies the body
Nettle, demonstrating diuretic action, stimulates the excretion of harmful substances from the system (they are removed with urine), while supporting digestive processes and improving liver function, which also promotes more efficient cleansing of the body of toxins and deposits. Due to its diuretic properties, nettle infusion should be regularly used by people struggling with Nettle has a diuretic effect on the blood and lymphatic system of the body, which is why it is recommended for people who suffer from water retention, body swelling, heaviness and water cellulite.
Beneficial effects on blood
Due to the high content of chlorophyll, as well as iron and vitamin K, nettle has a positive effect on the blood. It helps in its purification, improves clotting, has a blood-forming effect, prevents anemia. By improving blood flow and oxygen transport, it promotes better oxygenation of cells and better performance of the entire body.
Helps with joint problems
Due to its high content of easily absorbable silica and calcium, nettle strengthens both bones and joint structures. It supports the process of cartilage regeneration and participates in bone mineralization. It helps with rheumatism, arthritis and joint pain caused by strain and injury.
It is helpful in treating urinary tract infections
Nettle reduces inflammation of the urinary tract. By increasing urine production and exhibiting antiseptic properties, it helps to get rid faster of bacteria responsible for urinary tract infections. What is worth emphasizing, in fighting infections of the urinary tract nettle perfectly interacts with cranberry.
Beneficially influences the digestive system and liver
Nettle, by regulating metabolism and stimulating the secretion of pancreatic and gastric juice, bile and pancreatic enzymes, facilitates food digestion. It prevents indigestion, flatulence, retained food content, gas, diarrhea, feeling of heaviness and fullness in the stomach. It supports liver function and protects this organ against toxins. Reduces inflammation of liver and digestive system. With regular use, it may reduce elevated liver markers.
By supporting pancreatic function, it helps regulate blood sugar levels
By supporting the pancreas, nettle improves insulin secretion, thereby helping to stabilize blood sugar levels. Lowering blood sugar naturally will be most effective if we combine the use of nettle with other plant ingredients with similar properties, such as white mulberry, berberine, cinnamon, ginger, fenugreek.
A natural way to keep sugar levels stable: Redusugar
Improves immunity, strengthens the body
There is a reason why it is believed that drinking nettle gives you vigor and brings longevity. The herb nourishes, vitaminizes and mineralizes the entire body. It also has a beneficial effect on immune functions, improving the immune response to pathogens. It also reduces susceptibility to allergies and alleviates their symptoms, for example, it is very helpful in fighting hay fever. Thanks to strong antioxidant properties, it actively neutralizes free radicals, protects cells from damage and mutation, and reduces the risk of lifestyle diseases. It also prevents premature aging of the body.
Supports the functioning of the cardiovascular system
Thanks to flavonoids, nettle has a positive effect on blood vessels – it strengthens them, makes them more flexible and reduces permeability. It also helps normalize blood pressure and lower bad cholesterol levels. It improves blood flow through the lower limbs, eliminating the phenomenon of heavy, achy legs and reducing the appearance of spider veins and varicose veins. Thanks to a large number of antioxidants, it strengthens the heart, improves circulation and prevents diseases of the circulatory system such as atherosclerosis, hypertension and coronary artery disease.
It accelerates skin regeneration, helps in skin infections
Nettle has anti-inflammatory, antibacterial, cleansing, antiseptic and antioxidant properties. It strengthens and nourishes the skin, stimulates renewal processes and protects it from adverse effects. It soothes irritations, accelerates the cicatrization and healing of wounds, also supports the fight against many skin diseases, such as acne, eczema, boils, abscesses, seborrhea.
Nettle improves the condition of skin and nails
Nettle cares for and regenerates the skin. Thanks to the large amount of antioxidants, it revitalizes the skin, protects against free radicals and slows down the aging process. Stimulating microcirculation, it increases the level of oxygenation of the skin and has a firming effect. Applied to the face (e.g. in the form of masks, tonics, scrubs, creams), it smoothes, tones, reduces sebum secretion and improves skin tone. Nettle also improves the condition of our nails. It nourishes them, protects, strengthens the nail plate, prevents breakage and splitting. It helps regenerate damaged nails and stimulates their growth.
Improves condition of hair, normalizes and cares for scalp
Nettle inhibits excessive hair loss, at the same time it helps to stimulate hair growth (accelerates hair growth process and increases the amount of new baby hair). It strengthens and nourishes hair structures. Nettle's cleansing and antimicrobial properties are also extremely important for hair and scalp health. It alleviates inflammation of the scalp, actively fights fungal and bacterial diseases, regulates the work of the scalp glands, helpsNettle helps with excessive hair greasiness, dandruff, ringworm, psoriasis and other scalp disorders.
Nettle for hair – how does it work and how to use it?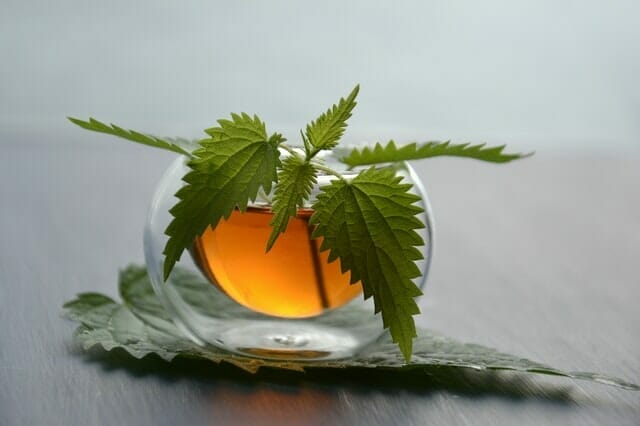 Nettle contains well absorbed nutrients needed by hair for proper development and growth. Thanks to the content of silicon, vitamin A, vitamin E, B vitamins, calcium, sulfur, copper, magnesium, iron, zinc and manganese, nettle is an effective tool both in the care and restoration of hair structures. The best results are obtained with a double treatment, consisting of drinking nettle infusions (or supplementation of preparations with nettle) and external use of this herb (such as applying masks with nettle).
Systematic and long-term use of nettle strengthens hair and prevents it from falling out in a very noticeable way. Revitalization of hair bulbs and hair follicles, faster hair growth and appearance of many new hairs on the scalp are other results of regular use of nettle for hair.
Nettle is particularly helpful for hair:
weakened,
thin,
thin,
fragile,
devoid of life and volume,
dull,
uncontrollable, difficult to arrange,
prone to falling out.
Nettle regenerates and nourishes hair, making it grow faster, healthy, strong, vital, thick, smooth, resilient, shiny and disciplined. That is why it is definitely worth betting on nettle therapy for hair! How to do it?
How do I apply nettle on my hair?
Nettle can be applied to the hair in many different ways, depending on our preferences and convenience. We can use it externally (e.g. homemade conditioners, masks, rubs, hydrolats, nettle rinses) or internally (nettle tea, nettle juice, nettle smoothies, nettle water). We can also combine these two variants of treatment.
For best results, nettle infusions, nettle juice or nettle cocktails should be drunk daily and for a long time (at least for 2 months). Nettle hair treatments should be performed 2-3 times a week.
Nettle for hair – home treatments with the help of the famous herb
Nettle hair mask (to reduce hair loss, strengthen hair and renew damaged hair)
Ingredients:
2 tablespoons of olive oil,
1 egg,
1 tablespoon of dried nettle
Preparation:
Brew the nettle in a small amount of water, then leave to cool. Combine the infusion with the olive oil and egg. Mix thoroughly. Apply to slightly damp hair. Leave for 20 minutes or half an hour. Rinse and wash the hair with a mild shampoo.
Nettle rinse (for healthy, strong, vital and shiny hair)
Ingredients:
2 tablespoons of dried nettle,
1 tsp. of dried calendula
1 Tbs. of dried field horsetail
2 tbsp apple cider vinegar
Preparation:
Brew herbs in a large mug. Cool, pour into a large plastic bowl. Add apple cider vinegar. Pour enough water to rinse hair. Rinse for about 5 minutes (max. 10 minutes), massaging the scalp gently. Do not rinse. Dry the hair with a towel and wait until it is dry. Use the rinse on clean hair (preferably immediately after washing).
Protective, strengthening, and growth-stimulating nettle hair wash
Ingredients:
1 tsp dried nettle,
1 tablespoon of lemon juice
Preparation:
Brew the nettle in 150 ml of water, cool and strain. Add the lemon juice. Pour the liquid into a bottle with an atomizer. Spray it on your hair and scalp and rub lightly. Rinse after about 30 minutes.
Where and when to pick nettle?
Fresh nettle leaves can be an ingredient in health-promoting, cleansing and hair-health supporting blender smoothies, diet salads, pastes, juices and even soups.
When to go for harvesting? Harvest nettle before the flowering season, preferably in April or May, tops in early June. Avoid areas of heavy traffic and choose locations that are free of pollution, away from roads and civilization. If you do not use all the fresh nettle, it is worth removing it and use it in the following months. To do this, spread it out on newspaper or paper towels and place it in a dry place.
If you want to treat yourself orally with nettle, instead of using the fresh or dried herb, you can reach for ready-made supplements containing nettle extracts.
Among the preparations with nettle for baldness and increased hair loss, the following deserve attention Profolan which, apart from this valuable medicinal plant, also contains a number of other elements strengthening hair follicles and roots. It is a supplement mainly for men. For women, we recommend Locerin – a multi-ingredient preparation with an advanced formula, which simultaneously inhibits hair lossThe product inhibits hair loss, activates the proliferation of new cells in the scalp, stimulating hair growth and comprehensively improves the appearance of hair.