Nutrigo Lab Strength is a pre-training supplement which will perfectly prepare your body for an intensive exercise session. The formula boosts energy, motivation and concentration, while supporting muscles and improving resistance to fatigue and stress. With Nutrigo Lab Strength you can exercise for a long time at high speed, and then devote yourself to other everyday activities without feeling physically and mentally exhausted. See how Nutrigo Lab Strength works.
Nutrigo Lab Strength – an invaluable aid for anyone who exercises intensively
The Nutrigo Lab Strength pre-trainer has been created for people who train intensively and with high frequency. It works well both for professionals and amateurs, among adepts of bodybuilding, running, combat sports, and other disciplines.
The formula's role is to help you get into optimal physical and mental shape during exercise sessions. At the same time the supplement is designed to improve muscle performance and support muscle building. Thanks to its special formula, Nutrigo Lab Strength is distinguished by high absorption of active substances, which makes the product extremely effective.
Read also about: Nutrigo Lab Mass
ORDER NUTRIGO LAB STRENGTH NOW
Nutrigo Lab Strength composition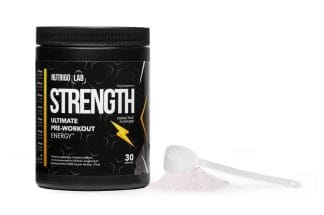 As many as 18 active substances supply the composition Nutrigo Lab Strength. Together they form a composition perfectly suited to the needs of the body faced with a demanding workout.
The Strong VASCULAR Booster complex contained in Nutrigo Lab Strength is responsible for the powerful effect of muscle pumps, strength and endurance during training.
The NEURO Stimulant & Adaptogenic Blend complex is responsible for good mental form, high concentration and motivation, uninterrupted adaptation of the body to existing conditions, and optimal energy levels.
The blend of two creatine variants, CREATINE Cellular Energy Complex, is responsible for maximum training efficiency and fast muscle growth.
What ingredients make up the contents of these complexes? Among others, we have here
citrulline malate – increases muscle pump, supports the body during intensive training cycles by increasing endurance and exercise capacity, reducing fatigue, reducing muscle complaints, increasing motivation to train;
L-arginine alpha-ketoglutarate (AAKG 2:1) – stimulates nitric oxide synthesis, leads to an increase in blood supply to tissues and enhances the muscle pump effect, accelerates the build of muscles, improves training efficiency, speeds up regeneration of the body after exercise;
beta-alanine – increases endurance, helps you train longer and more effectively, eliminates the feeling of fatigue, stimulates the growth of muscle tissue, helps with post-workout regeneration
piperine and capsaicin – increase the absorption of all Nutrigo Lab Strength pre-training ingredients, thus maximising its effectiveness
Rhodiola rosea root extract [3% rosavins] – has adaptogenic properties, promotes good mental condition, stabilises mood, contributes to lowering stress hormone levels, improves muscle performance and eliminates physical fatigue after intensive effort
cocoa bean extract [24% theobromine] – improves mood, adds energy, improves mood;
creatine malate and creatine hydrochloride – two highly effective forms of creatine which ensure faster muscle mass growth, greater physical strength and better regeneration after training.
Other ingredients in Nutrigo Lab Strength include: taurine, N-acetyl-L-tyrosine, alpine galgant rhizome extract – enXtra™, beet root extract – RedNite™, caffeine, synephrine, niacin, vitamin B6, pantothenic acid.
As you can see, the composition of Nutrigo Lab Strength is very diverse, which is a big advantage of this formula. As well as the usual ingredients that help build muscle, there are adaptogens, vitamins and natural stimulants, providing comprehensive support in the body building process.
Also check out the patent for post-workout regeneration: Nutrigo Lab Regeneration
Nutrigo Lab Strength – opinions
Nutrigo Lab Strength performs excellently as a pre-training formula, which is highlighted by gym-goers as well as supporters of other sports disciplines. As we read in the comments, the supplement provides the right level of stimulation, enables you to train for a long time without getting discouraged and tired, and accelerates muscle growth.
According to many opinions, Nutrigo Lab Strength is superior to competing supplements, because it adds energy and increases training capacity, but at the same time it doesn't cause unpleasant side effects such as sudden blood pressure jumps, heart palpitations or irritation. Instead, the formula improves mood, protects against symptoms of overtraining, reduces stress and helps maintain high motivation to train.
Nutrigo Lab Strength – dosage, purchase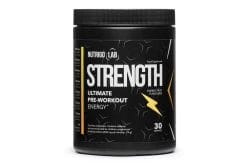 Pour 2 scoops of Nutrigo Lab Strength into 1 glass of water, mix thoroughly and drink. Use immediately before training, preferably several minutes before. Do not combine Nutrigo Lab Strength with other products containing caffeine.
When it comes to purchasing Nutrigo Lab Strength, it's best to go to directly to the manufacturer's website. When buying through the official site, we have a guarantee of the originality and high quality of the product, and what's more, we can take advantage of a special offer from free packs Nutrigo Lab Strength.