Nutrigo Lab – under this name stands a family of dietary supplements addressed to active people who want to achieve specific physique goals through training. Among the Nutrigo Lab line of products there's something for everyone – people planning to increase muscle mass, those aiming to reduce body fat, as well as those aiming for perfect muscular sculpting. There's also pre-workout and post-workout support for those who want to maintain optimal performance at all times. See what Nutrigo Lab has to offer!
Firstly, fat reduction – Nutrigo Lab Burner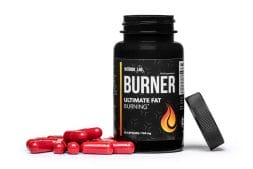 Nutrigo Lab Bur ner is a fat burner that will meet the needs of people wishing to reduce excess weight, as well as those interested in muscle sculpting. It ruthlessly "burns out" fat tissue, giving us the effect of a slim figure, which can be further modified in the direction of emphasising selected muscle parts.
Getting rid of all the unwanted fat is no mean task. Often, despite exercise and diet, weight loss is too slow. It also happens that we are not able to reduce a certain amount of resistant fat at all, despite new dietary restrictions or increasingly intensive workouts. Nutrigo Lab Bur ner has been created to accelerate and improve the fat burning process, so that we don't have to put up with orthodox diets or crude sets of exercises on our way to a perfect figure.
Nutrigo Lab Bur ner contains 6 high quality, essential ingredients in optimised doses, including innovative sinetrol and highly effective hydroxycitric acid.
The action of Nutrigo Lab Burner comes down to a few key tasks:
accelerating the breakdown of body fat,
blocking fat storage,
increase thermogenesis,
accelerating metabolism,
regulating carbohydrate and lipid metabolism,
suppressing appetite,
providing energy.
Find out more about Nutrigo Lab Burner here.
Secondly, increase muscle mass – Nutrigo Lab Mass
If you're aiming to increase muscle volume, you'll certainly be interested in another supplement from the Nutrigo Lab brand, Nutrigo Lab Mass. The formula is available in the form of a powder (with a choice of vanilla or chocolate flavours), which when mixed with water or milk transforms into a tasty, nutritious shake.
Nutrigo Lab Mass combines 3 types of protein with different rate of absorption: whey protein concentrate, whey protein isolate Isolac® and whey protein hydrolysate Optipep®. Thanks to this composition of proteins, our muscles are provided with "constant supply", which results in their efficient work, rapid growth and efficient regeneration after exercise.
The composition of Nutrigo Lab Mass could also include other elements helpful during mass gaining cycles. We have here: carbohydrates in 3 different forms, which give you a solid shot of energy for a long time, as well as a range of components accelerating muscle mass growth, helping you maintain an impeccable physical condition and improving post-workout regeneration – AAKG, creatine, amino acids BCAA , L-ornithine, L-lysine, L-glutamine, MCT oil.
Nutrigo Lab Mass will undoubtedly prove to be a useful supplement if you want to achieve significant gains in muscle tissue in a short period of time and you need solid support in the form of a single, well-composed product.
Click here to find out more about Nutrigo Lab Mass
Thirdly – pre-training support – Nutrigo Lab Strength
Not all of us have the energy and enthusiasm to approach each training session with full motivation and concentration, and in top physical condition. Nutrigo Lab X 1066X is an interesting pre-trainer which will help you get past any obstacles standing in the way of a good workout. The supplement is absorbed instantly, acts quickly and strongly, so it's best to use it right before your workout (no more than ten minutes before).
Dissolve 2 scoops of Nutrigo Lab Strength in a glass of water and drink it to feel ready for the planned exercise programme in just a few moments. The energising effect of the supplement is due to the NEURO Stimulant Adaptogenic Blend complex of components, which in addition to stimulating you will also have such positive effects as: improved mood and elimination of mental fatigue, increased motivation to exercise, and maximum concentration.
The energy boost and mental preparation for training are not the only effects you can expect when taking Nutrigo Lab Strength. The formula contains two more complexes of ingredients which take care of our physical potential and have a positive effect on our muscles. And these are: Strong VASCULAR Booster that increases strength and endurance and enhances the muscle pump phenomenon, and CREATINE Cellular Energy Complex that accelerates muscle growth and improves their work.
All of this in a single product, which will undoubtedly be a very valuable asset to students of strength training.
Find out more about Nutrigo Lab Strength here.
Fourthly – post-workout regeneration – Nutrigo Lab Regeneration
A good quality post-workout supplement is an invaluable support for anyone who exercises regularly. To prevent physical and mental fatigue from interfering with your training plans and delaying the shaping of your silhouette, it is worth ensuring that your body gets the right amount and quality of rest, eating a good diet, and supporting the regeneration processes with an appropriate product. Nutrigo Lab Regeneration will perform this task very well as it contains a rich set of ingredients known for their properties in the area of regeneration and revitalisation of the body exposed to physical effort.
How does Nutrigo Lab Regeneration work? Thanks to two fractions of quickly absorbed proteins (whey protein hydrolysate and casein hydrolysate) the supplement instantly nourishes muscles, enhances anabolic processes and leads to the building of muscle tissue. Through the use of amino acids BCAA, L-glutamine, AAKG and citrulline malate, the supplement stimulates regeneration processes, eliminates joint and muscle ailments, prevents catabolism, improves muscle performance, and enhances the muscle pump phenomenon.
The extensive formula means that Nutrigo Lab Regeneration protects you from the unpleasant effects of overtraining, while at the same time providing you with additional support for your muscles.
Read more about Nutrigo Lab Regeneration
Nutrigo Lab – opinions
All products from the Nutrigo Lab line are positively evaluated. Their market success is probably due to their high quality and accurate selection of ingredients. Each of the supplements in the line has a composition strictly adjusted to the needs of people in a given training cycle.
According to many opinions, Nutrigo Lab supp lements make it much easier to get through (sometimes very demanding) training plans and significantly shorten the path to your dream silhouette.