Radical Med is a wide range of dermocosmetics designed for people with "problematic" hair, including hair damaged by aggressive care, hypersensitive, slow-growing, dandruff-prone and falling out hair. There is also something for men struggling with baldness. Here are the Radical Med products, which will be useful for men wishing to counteract hair loss.
Radical Med Anti-Hair Loss Shampoo and Shampoo for Men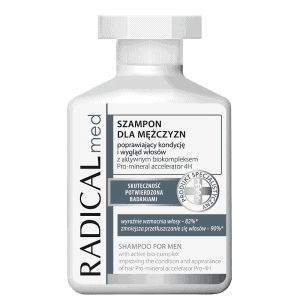 For men struggling with hair loss and looking for a good hair and scalp cleanser with a strengthening effect, Radical Med has two suggestions. These are Shampoo against hair loss and Shampoo for men. The first one is a product focused on supporting weakened hair and inhibiting further hair loss. It has a strengthening effect and also helps to keep the hair properly moisturized and improves its appearance. The composition of the preparation is based on a special bio-complex anchoring hair Pro-Hair Booster 4H and field horsetail extract.
Radical Med Shampoo for Men is a multi-task formula designed to counteract various hair problems most frequently encountered by men, i.e:
– weakened hair bulbs and follicles,
– hair loss and thinning,
– thin, lifeless hair,
– greasy hair,
– dandruff.
Men Shampoo Radical Med consists of: plant extracts, arginine, vitamins and so called active biocomplex improving condition and appearance of hair Pro-mineral accelerator 4H. The preparation helps in hair regeneration, strengthens it, cares for scalp, has anti-seborrhoea effect and restores healthy look of hair.
Radical Med Ampoules against hair loss for men
Radical Med Ampoulesfor men are a concentrated treatment to strengthen and inhibit hair loss. The treatment consists of fifteen doses. The product is applied daily for at least 14 days, rubbed into a dry scalp and not rinsed out. The contents of the amp oules consist of a selected vitamin set, field horsetail extract, trichogen and ProHair Booster 4H complex.
The Radical Med ampoule treatment for men contributes to the oxygenation of the scalp cells. The hair roots are better nourished and stronger. The hair falls out less, is healthier, thicker in structure, more manageable and grows faster.
Radical Med Hair Loss Prevention Concentrate
Radical Med Hair Loss Concentrate is not a typical preparation intended for men struggling with androgenic alopecia, but for all people having problems with weak and falling hair. However, this preparation is distinguished by a good composition and to some extent may be helpful in inhibiting male pattern baldness, especially if at the same time we reach for other cosmetics from this line such as Radical Med shampoo or a strong dietary supplement for baldness. The advantage of Radical Med concentrate is that it is easy and quick to apply – just spray it on the hair roots and rub lightly into the scalp (no rinsing).
Another advantage of the Radical Med Hair Loss Concentrate is its complex composition. The preparation is a combination of: vitamin peptides, apigenin, oleanolic acid, arginine, ginseng, field horsetail extract, vitamin PP and provitamin B5. Thanks to these elements, it helps to supply hair bulbs with nutrients, contributes to hair reconstruction, inhibits hair loss, stimulates hair growth and increases its volume.
Radical Med Spray Conditioner, care and regeneration in one
Another useful dermocosmetic for men suffering from hair loss is Radical Med Hair Loss Treatment Spray. However, it should be treated as an additional aid and not as the main treatment for this stubborn condition. The main purpose of hair conditioners is to improve the condition and appearance of hair.
Nevertheless, Radical Med Conditioner Spray has a number of interesting ingredients with regenerating, strengthening, nourishing and protective properties. The product comprehensively cares for hair, helping in its renewal and improving its appearance.
Radical Med – opinions
There is no doubt that dermocosmetics under the Radical Med logo largely meet the needs of a wide range of customers. They have a complex composition and multi-directional action, help treat various hair problems, are available in various forms (conditioners, shampoos, ampoules, serums, concentrates) and are inexpensive. It's no surprise, then, that most reviews of Radical Med are positive. Most of them come from people with moderate hair problems.
Radical Med Cosmetics has received many favorable comments from people who complained about damaged, brittle, dull, lifeless and thin hair. The preparation also gained a group of supporters in the form of people who struggled with hair loss caused by a poor diet, unhealthy lifestyle, weakening of the entire body, seasonal loss of immunity, etc.
Slightly worse are the opinions about Radical Med coming from men fighting baldness. Unfortunately, Radical Med products alone are not able to create an effective barrier against this process. In order to achieve the expected results, you should combine their use with a treatment with a good dietary supplement for baldness.
Click here and go to the ranking of the most effective preparations for baldness.