If you are wondering how to beautify the frame of your eyes and give your look a new dimension, pay attention to Revamin Lash, which is an advanced serum for eyelashes with high efficiency and strength of action. The cosmetic is a mine of nutrients and strengthening substances. Undoubtedly, owners of weak, thinning eyelashes will also be interested in the fact that Revamin Lash contains a special ingredient supporting hair cell reproduction, thanks to which it dynamically stimulates the growth of new eyelashes.
Revamin Lash – invaluable aid for tired, lack of expression eyelashes
Eyelashesare an important element of the eye frame, adding depth to the look and highlighting our attractiveness. Unfortunately, most women are not satisfied with the appearance of their eyelashes, whether because of their weakened condition and loss, or lack of clarity. Too short, too thin in structure, too much thinning, too light, too meagre, too little character…
Wanting to give our lashes a more beautiful look we try to mask their shortcomings, applying mascaras, sticking on false lashes, going for lengthening treatments to a beautician or using home remedies or bought conditioners. Each of these methods has its pros and cons. Meanwhile, Revamin Lash has practically only pros, because in a natural, non-invasive, yet deep and highly effective way, it comprehensively revitalises our lashes and leads to the appearance of dozens of new hairs.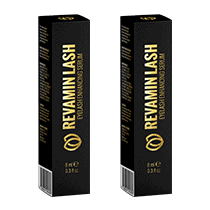 Read also: Diet for hair and eyelashes
Eyelashes – a beauty asset and at the same time an extremely useful biological element of the skin
Eyelashes are a so-called appendage of the skin, which has a protective function for the eye. There are usually 150-250 eyelashes on the upper eyelid and 50-150 on the lower eyelid. Eyelash length varies, but most often it fluctuates around 8-10 mm at the top and 6-8 mm at the bottom.
In terms of structure, eyelashes do not differ from the hair on the head – they are formed from epidermal cells keratinized fibers with high elasticity. They are embedded in hair follicles, equipped with a bulb, root and stem. They are connected to the skin by a papilla, which is responsible for providing the lash with nutrients. About 90% of an eyelash is made of proteins – keratin and melanin, the remaining 10% is water. Melanin determines the colour of our lashes – the more melanin there is, the darker they are.
Why were we provided with eyelashes by nature? Their task is to protect our eyes against dirt, dust, sand, insects and other unfavourable factors. The function of eyelashes is also to remove dirt and unnecessary particles that somehow got into the eye.
In modern civilization the role of eyelashes is not limited to protecting the eye and catching dirt. They also fulfil decorative functions today, especially in ladies. They are the element of our face that we emphasize and style most often. Unfortunately many women are not able to give their lashes such an expression as they would like. They are hindered by poor condition of lashes – it is hard to create XXL size eyelashes from fragile, delicate hairs.
Although there are mascaras on the market that can give great results, both in terms of lengthening and thickening of eyelashes, but make-up effects are always only temporary. After removing the cosmetic our lashes again become thin, sparse and not very expressive. Moreover, such constant use of heavy mascaras weakens the natural lashes, further deteriorating their overall condition.
So how to beautify your lashes? It is best to look for such a method, which will allow us to deeply regenerate our lashes and stimulate their growth. Thanks to this our lashes will always be spectacular, even without additional application of mascara. Such a method is Revamin Lash.
What distinguishes Revamin Lash?
Convenience of use – we use the product at home, application takes a moment, we do not have to spend time in beauty parlours.
Safe application – the product consists only of natural, tested ingredients with no negative side effects. It is completely safe for our eyelashes, what cannot be said about extending and thickening treatments that weaken and destroy eyelashes.
One hundred percent meeting women's expectations – the product perfectly hits the taste of women who do not like artificial, exaggerated effects provided by stick-on eyelashes, but appreciate the natural, and at the same time clearly emphasized, thick and long lashes.
Complex action, care from A to Z – a preparation is a rich mixture of active ingredients that provide advanced care to eyelashes – from stimulating the multiplication of new hair cells, through strengthening and nourishing, to correcting their structure and improving their appearance.
Revamin Lash – composition of the product. A complex of 9 active substances is a solution to problems with eyelashes
There are many factors that weaken eyelashes and adversely affect their structure and appearance, the most common ones being
improper care (no make-up, using too aggressive facial cleansers and outdated cosmetics),
eyelash extensions and thickening treatments or self-treatment to apply eyelashes,
improper use of an eyelash curler,
continuous, intensive use of mascara, pencils, eyeliners,
unhealthy, nutrient-poor diet,
frequent rubbing of the eyes,
frequent stay in smoky, dusty places, in smog.
Sometimes also sparse, thin, devoid of strong color eyelashes are our innate feature. However, regardless of whether our eyelashes have been weakened and lost their condition due to external factors, diet, treatments or diseases, or whether they are just delicate and not very visible by nature, with the help of Revamin Lash we will give them a new quality and definitely increase their volume.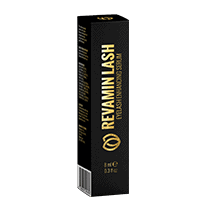 The active ingredients of Revamin Lash are:
Biotinoyl Tripeptide-1 – an ingredient with a research-proven strengthening effect and stimulating new hair growth. Through regular use it leads to visible thickening and lengthening of eyelashes. In case of severely weakened eyelashes it also inhibits their loss and improves their structure. Tripeptide molecules actively support the growth of new eyelashes – they stimulate microcirculation within the follicles, increase the multiplication of new hair cells and facilitate the anchoring of the hair in the skin.
Zinc PCA – shows very high activity in fighting defects of both hair and skin. Restores strength and vitality to weakened hair, stimulates eyelash growth, improves the structure of eyelashes from roots to tips. Zinc also prevents premature loss of eyelashes, extends their life. It makes eyelashes prettier, thicker and healthier looking.
Biotin – makes eyelashes stronger and less prone to damage and falling out. Improves the structure and appearance of lashes. It accelerates the growth of new hairs, helping us grow thicker lashes faster.
Caffeine – shows antioxidant properties, stimulates regeneration processes and protects skin and hair against aging and damage. Moreover, caffeine stimulates skin microcirculation within the eye, which makes the bulbs better supplied with nutrients, and thus lashes grow faster, become stronger, thicker, have smoother, shinier structure and nicer color.
Arginine – provides lashes and skin with optimal level of hydration, strengthens lipid barrier, protects lashes from damage, soothes irritation of eyelids and lash line, stimulates the process of restoration of weak and damaged lashes.
Panthenol – helps brittle and fragile eyelashes to regain a healthy, strong structure, makes them more flexible and provides a high level of hydration. Soothes irritations, smoothes the surface of lashes, adds them vitality and shine.
Glycerine – regenerates and nourishes lashes, increases their resistance to harmful factors. Provides lashes with proper level of lubrication and moisture. Comprehensively improves the appearance of lashes – adds flexibility, shines, makes them gain volume.
Sodium hyaluronate – strongly moisturizes eyelashes, makes them more flexible, prevents breakage, adds vitality and clarity. It strengthens the bulbs and supports the regeneration of weakened and sparse eyelashes.
Urea – strengthens the natural defence barrier of eyelashes, moisturizes, stimulates regeneration processes. Smoothes and shines lashes.
Revamin Lash – mass of benefits for lashes in one small flacon
Revamin Lash is a leading serum for eyelashes on the market. High concentration of active ingredients, multi-task action, advanced production technology, perfect absorption of active substances and immediate integration with hair structures – thanks to these features the product meets the expectations of users.
When it is worth reaching for Revamin Lash:
If by nature we are the owners of short, sparse, thin eyelashes and we would like to increase their volume and emphasize this element of the eye, but without the need for continuous intensive eyelash painting or sticking artificial ones.
If for some reason our eyelashes have been destroyed, thinned and we are looking for a good quality product to rescue and rebuild them.
If we use a lot of eye make-up cosmetics on a daily basis or if we are often in conditions harmful for the eyelashes (e.g. in highly sunlit, polluted or smoky places) and we want to strengthen the protective barrier of the eyelashes prophylactically.
If we have extended eyelashes at a beautician so far, but we do not want to weaken and destroy our lashes any longer, so we prefer to switch to serum for home use.
If we think that our eyelashes could be fuller and longer and therefore we are looking for a really good eyelash conditioner.
The 10 benefits we will get by using Revamin Lash regularly:
lengthening,
thickening,
shine,
hydration and lubrication,
protection,
inhibition of hair loss,
improving colour,
improving hair structure – smoothing, making it more flexible, lifting, thickening,
deep regeneration and nourishment,
faster, more intensive growth of new hair.
Revamin Lash – opinions
In many comments and opinions about Revamin Lash you can read that the product provides a significant improvement of eyelash volume and combats all shortcomings of eyelashes, such as: loss, brittleness, dullness, excessive dryness, lack of shine, light, grey and not very distinct colour of eyelashes. The product is praised by women who wanted to regenerate and strengthen their lashes, as well as by those who wanted them longer, thicker and thicker.
According to numerous opinions, Revamin Lash fulfils both care and beautifying functions in 100%. What is more, it is very pleasant to use, quickly absorbed, does not irritate, is efficient and lasts a long time. Users emphasize that they finally got naturally thick, beautiful eyelashes, previously they were bland and almost unnoticeable.
For some women, Revamin Lash serum has become a lifeline for damaged lashes, for others it is a way to increase their attractiveness and enhance the beauty of their eyes.
Revamin Lash – how to use the serum?
Every morning and evening apply a small amount of serum to the entire lower and upper lash line. Remember to shake the bottle before use.
When will I see the effects? We must remember that eyelashes never regenerate or grow back overnight, it takes some time. However, Revamin Lash shows high speed of action and high effectiveness – the first results can be observed already after 2-3 weeks. Maximum results can be achieved with a 3-month treatment.
Click here and go to the official Revamin Lash websitewhere you can safely order the product. If you decide to buy more than one package, you will receive attractive discount!
Sources: