Seboradin Forte hair loss ampoules differ from most of such preparations available on the market. They are mainly targeted at men struggling with baldness. Learn more about this modern serum, which can effectively support the treatment of androgenic alopecia.
Seboradin hair cosmetics – diversity and advanced technology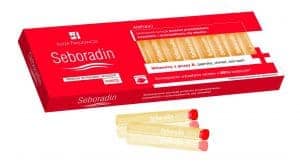 Seboradinampoules" width="300″ height="166″ />Seboradin is a manufacturer of several lines of advanced hair cosmetics, designed to improve the condition of hair and enhance its care. These include preparations for hair loss, anti-dandruff, strengthening, regenerating, as well as shampoos and lotions dedicated to holders of light and dark hair. A large part of the Seboradin brand offer are preparations designed for men dealing with the problem of baldness, including shampoos, lotions, balms, as well as concentrated scalp rubs in the form of ampoules.
Seboradin – ampoules for androgenetic alopecia in two variants

The Seboradin brand provides two types of ampoules to inhibit androgenic alopecia and to support active hair growth. These are:
Seboradin Men Forte ampoules – is a highly concentrated serum for baldness, dedicated only to men. One treatment consists of 14 vials, costs $10 and lasts for two weeks, as the manufacturer recommends using the rubs daily. In the composition of ampoules Seboradin Men Forte you can find caffeine and guarana, which improve blood circulation in the scalp, give energy to the hair, stimulate hair bulbs and hair follicles. Other active substances are Muira Puama tree bark extract, hops and green pea germ extract which inhibit male pattern baldness, strengthen and nourish the hair and promote hair growth.
Ampoules Seboradin Forte – a preparation with a rich composition for increased, chronic hair loss in men and women. The cost of a two-week treatment (14 ampoules) is $10, however, for satisfactory results, the treatment should last several months. Seboradin Forte hair ampoules contain in their composition: B group vitamins, extracts from ginseng, hops, paprika, citrus tree and olive tree. These substances have a beneficial effect on microcirculation of the scalp, strengthen and activate hair bulbs and hair follicles, stop androgenic alopecia, nourish hair and support the process of growing new, healthy hair.
For satisfactory results, treatment with Seboradin ampoules should last about 3 months. However, as nothing gives better results than a topical treatment in combination with an oral treatment, we recommend a simultaneous use of Seboradin ampoules and a dietary supplement for hair loss. Learn more about the modern hair loss capsules Profolan. Read also about the effectiveness of home remedies for hair loss.