Soup diet is an eating plan for people who want to quickly get rid of excess weight, but in a not too restrictive way. There are no calorie limits that we have to stick to, nor is the menu limited to 2-3 products. There is a certain limitation, yes, namely we eat only soups. However, we have so many foodstuffs at our disposal, from which we can prepare them, that we can easily avoid culinary monotony.
If you are on a soup diet, you eat to your heart's content and you do not go hungry – this is very important news for people who are losing weight, especially those who have problems with excessive appetite and often recurring feeling of an empty stomach. The entire menu of the soup diet is based on vegetable soups, which are not only filling, but also have a high nutritional value and promote dynamic detoxification of the body.
A varied and healthy soup diet
Why is it so difficult to persevere on a weight loss diet? The answer is simple, generally diets involve significant dietary sacrifices and involve a radical change in habits in the field of both the type of food and its quantity. Many diets impose very high calorie limits, many of them reduce the entire menu to just 2-3 dishes or a few products from which you can compose meals. What is more, in some diets we have only 2 or 3 meals a day. All this leads to a constant feeling of hunger, notorious lack of energy and a clear deterioration of physical and mental form.
The soup diet is much more slimming-friendly than strict mono-diet and very low calorie diets. There is no set amount of calories or meal size, and there is no question of building a whole menu on the basis of just a few products. That is why this diet is a great solution for people who are used to eating several times a day and who are not familiar with attacks of ravenous hunger.
Soup diet – rules, stages. What to eat and what not to eat on a soup diet?
Following a soup diet you can eat 5 or 6 meals a day and they do not have to be modest portions. You can reach for a delicious, filling soup every time you have an appetite and feel empty in your stomach, without remorse or counting calories. You can make yourself a few different soups for 2-3 days (they can easily be kept in the fridge or freezer) and eat them interchangeably. This is better than eating only one type of soup all day or for two days. It is not difficult to get bored and discouraged, and then to abandon the diet.
A soup diet is one of those diets that give you quick results and at the same time are not very hard on you. Practically all dishes in this diet are semi-liquid or liquid, and their basis are low-calorie, fiber-rich vegetables, which translates into faster metabolism, dynamic removal of toxins and excess water from the body and easy, efficient shedding of further pounds.
What is the soup diet all about? The menu of this diet plan is based on soups prepared from various vegetables, such as: cabbage, beetroot, tomatoes, zucchini, peppers, chickpeas, lentils, pumpkin, green beans, spinach, carrots, cucumbers, celery etc. There is a lot of them to choose from, so you can create a variety of compositions without falling into culinary monotony.
The menu of a soup diet may include both traditional soups and cream soups. The base of the soups are of course vegetables, but some of them can also be added in small amounts: groats, brown rice, wholemeal pasta, cereals, bran, grains, lean meat, fish, seafood.
In the first phase of the soup diet, lasting 7 days, you eat only soups. In order to supplement the protein, it is also worth every day to drink a cup of lean natural yogurt, kefir or buttermilk or a glass of vegetable cocktail with algae, such as chlorella and spirulina, which, in addition to complete protein, contain many other valuable substances for our health (vitamins, minerals, omega 3 acids, chlorophyll).
In the second phase of the soup diet, which lasts 2-4 weeks, you gradually introduce other low-calorie, valuable foods, no longer in liquid or semi-liquid form, but solid, such as cottage cheese, eggs, lean poultry ham, sirloin, fish, chicken and turkey fillet, fruit, whole grain products.
An important issue is also the way of preparing dishes in a soup diet. We avoid fattening additives, which are often used in traditional cuisine to thicken the soup and make it more substantial, such as the sticky white flour soup, fried crackling, roux.
In the first phase we try to cook soups with only vegetables or with a small addition of lean meat, brown rice, groats, grains. In the second phase we can slightly increase the proportion of lean meat or whole grain cereal products.
Additions to soups not allowed on the soup diet:
cream,
flour,
roux,
fried onions,
lard,
bacon and sausage,
ready-made spice mixes,
stock cubes.
Allowed in the soup diet additives to soups:
skim natural yogurt,
fresh herbs,
dried herbs,
spices (e.g. turmeric, nutmeg, ginger, curry, cinnamon, cumin, aniseed)
Sweet paprika and smoked paprika,
hot spices (cayenne pepper, hot paprika, black pepper, white pepper),
soy sauce, salt in small amounts,
oil, vegetable oils in small amounts, coconut oil.
Read also: Herbs for weight loss
Soup diet – effects and main advantages. How much weight can be lost on a soup diet?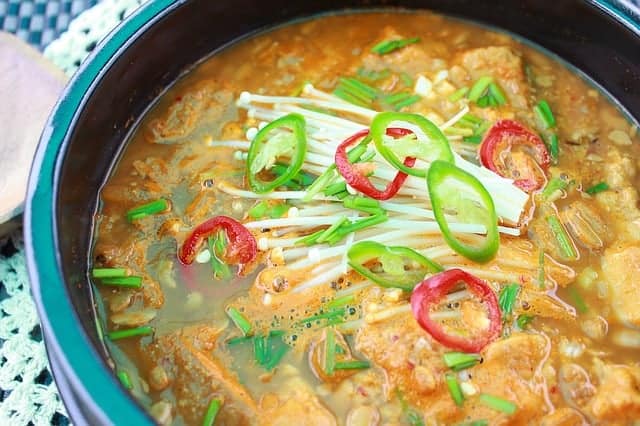 The soup diet is low in calories, easy to digest, and stomach-friendly. Since all dishes contain a high percentage of liquids, it keeps the body well hydrated.
All meals on the soup diet are based on vegetables, which due to their high content of dietary fiber provide a feeling of satiety for a longer period of time. We can reach for soups as often as we want, so we are protected from hunger attacks, energy drops and deterioration of well-being associated with too low a supply of important nutrients.
When we eat only soups, our metabolism speeds up, the body is gradually cleansed, subcutaneous water causing edema is removed, and digestive processes are regulated. Since vegetable soups provide very few calories (even if we eat them often and in large portions), the body begins to draw energy from the stored fat.
The effect of the soup diet is an increase in the metabolic rate and increased fat burning, leading to a loss of about 2-3 kg in a week (if you are overweight, weight loss may be even faster). However it is worth remembering that the first phase of this diet should not last longer than 7 days. Being on a low-calorie diet for too long and losing weight too rapidly, it's easy to treat yourself to the yo-yo effect and lead to nutritional deficiencies and deterioration of health.
Read also: How to reduce appetite?
In the first phase we eat only soups, mostly consisting of only vegetables, herbs and spices, but in some of them we can allow ourselves a small addition of lean meat or whole grain cereal products. Once a day we drink a cocktail or yogurt. The menu in the first stage of the soup diet can look like this:
Breakfast: carrot soup with brown rice
2nd breakfast: cream of pumpkin soup
Dinner: broccoli soup with potatoes
Tea time: a large glass of buttermilk
Dinner: tomato soup with wholemeal pasta
Breakfast: cream soup from roasted zucchini and peppers with roasted pumpkin seeds
Breakfast 2: lentil and tomato soup
Dinner: Ukrainian borscht on chicken breast with natural yoghurt
Afternoon snack: cocktail with yogurt and spirulina
Dinner: mushroom soup with yam
Breakfast: zucchini and chickpea soup
2nd breakfast: cream soup from celery and parsley with roasted sunflower seeds
Dinner: cauliflower soup with buckwheat
Tea time: yogurt and avocado cocktail
Dinner: Mexican soup with peppers, tomatoes, corn and turkey breast
In the second phase of the soup diet, we gradually replace soups with other diet meals. Sample menu in the second phase:
Breakfast: oatmeal on yogurt with pear, apple and nuts
2nd breakfast: cream of green pea soup with two spoonfuls of wholemeal bread toast
Lunch: cabbage soup
Tea time: wholemeal roll with cottage cheese, tuna and olive paste
Dinner: dietetic goulash soup with chicken or turkey breast, peppers, tomato and mushrooms
Breakfast: omelette with oatmeal, tomato and mozzarella cheese
2nd breakfast: cream of spinach soup served with hard-boiled egg
Dinner: cucumber soup with pearl barley
Tea time: kefir and fruit cocktail, handful of nuts
Dinner: pepper soup with fish balls
Breakfast: 2 wholemeal bread sandwiches with lean ham, hard-boiled egg and tomato
Breakfast 2: cream soup with yams and nuts
Lunch: minestrone soup
Afternoon: fruit salad
Dinner: cooler with radishes, cucumbers and chives, toast from wholemeal bread
Read also a review of a multi-ingredient weight loss drink that will help you persevere on a soup diet and accelerate weight loss: Cappucino MCT
Soup diet – reviews
Opinions about the soup diet vary, but the positive ones prevail. It is a weight loss diet that provides few calories, so it is easy to lose weight on it efficiently. However, this is not an eating plan for everyone.
For people who are not fond of vegetables and vegetable soups, eating them all the time for a long period of time may be a difficult undertaking. However, if you are a lover of vegetables, you should have no problem persevering on this diet.
They suppress your appetite, give you energy, and speed up fat burning – Check out Ranking of Weight Loss Pills
Sources:
https://www.healthline.com/nutrition/soup-diet-review
https://www.healthline.com/nutrition/liquid-diets-for-weight-loss
https://www.medicalnewstoday.com/articles/324130