Asparagus is not one of the most popular vegetables because of the relatively high price and seasonality. However, if possible, asparagus should be introduced to the menu as often as possible – it is very healthy, and if cooked well, will thank us with a great taste.
Asparagus – health promoting properties
They are low in calories, but at the same time abound in many valuable nutrients, so it is worth taking advantage of their wealth, whenever the season is right. In asparagus we can find vitamins: C, A, B, K, folic acid, as well as iron, potassium, zinc, selenium, phosphorus, manganese. There is a lot of valuable dietary fiber, a lot of proteins and phytosterols and asparagine, inulin and glutathione.
Asparagus has a beneficial effect on the body in many aspects, and among its most important properties it is worth mentioning: anti-constipation, support of digestive processes and metabolism, a gentle diuretic and cleansing effect, influence on maintaining proper blood clotting. In addition, asparagus helps regulate blood pressure, it also shows anti-inflammatory and anti-tumor activity.
How to cook asparagus?
Asparagus comes in three edible varieties – green, white and purple, the first two being the most common. Many people find cooking asparagus difficult, let alone preparing it.
The first step before throwing the asparagus into the boiling water is to process it properly, more specifically peel it. White asparagus should be peeled roughly, pulling the fibres from all the way below the head. Green asparagus should be peeled only to 1/3 of its height, starting with the thicker end. Also remember to cut off any woody parts.
To cook asparagus, use a tall pot in which the vegetable will rest upright. Tie the asparagus in bundles and place in boiling salted water, and cook for about 10 minutes for the green variety and about 15 minutes for the white variety.
How do I prepare asparagus?
Asparaguswith ham and tomatoes" width="300″ height="200″ />Dinner asparagus can be served in tarts, omelettes, and casseroles, or as a side dish.
What to serve asparagus with? It goes best with aromatically marinated meats and roasted or grilled potatoes, as well as other vegetables, such as peppers or tomatoes. A popular way to serve asparagus is to wrap it in slices of ham or bacon. It is also worth remembering to prepare essentious sauces for them.
Asparagus recipes
Asparagus in Hollandaise Sauce Recipe
An interesting idea for asparagus is to boil it in water with a pinch of salt, a spoonful of sugar and some butter and serve it accompanied by one or more different sauces that will perfectly complement its delicate flavour. The most characteristic sauce that appears in combination with asparagus is Hollandaise sauce. Traditional recipes call for a sauce based on egg yolks, butter and lemon juice, but it's worth giving it a little more variety and citrus flavour.
To make such a sauce you will need: a cube of butter, 3 egg yolks, half a glass of orange juice, a large pinch of saffron, half a glass of white wine, salt and pepper to taste. Melt the butter. Break the egg yolks into a metal bowl and put it in a hot water bath. Add saffron, wine and orange juice, whisking vigorously. Then, still whisking, slowly add the butter. Finally, season with salt and pepper.
Asparagus recipe with pepper and herb sauce
Another example of a perfect sauce for asparagus is pepper and herb sauce. The ingredients needed are: 2 red peppers, fresh herbs such as thyme, tarragon, parsley, oregano, half a cup of 18% cream, 4 tablespoons of sweet cream, 2 cloves of garlic, salt and pepper.
Roast hollowed and halved peppers for 20 minutes, then cool and cut into small pieces. Chop garlic and herbs. Mix the cream together, add the peppers, garlic and herbs, season with salt and pepper.
Recipe for asparagus in balsamic sauce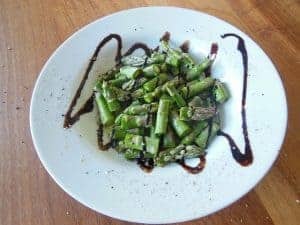 Asparaguswith balsamic vinegar" width="300″ height="225″ />The sauce for asparagus can also be prepared on the basis of balsamic vinegar – it will give them a very distinct character. Prepare: tomato, onion, a handful of chives, 3 large spoons of balsamic vinegar, 4 spoons of soy sauce, half a glass of olive oil, sugar, salt, pepper.
Cut peeled tomato and onion into small cubes, chop chives. Mix the vinegar with the oil, soy sauce, salt, pepper and sugar, then add the previously chopped vegetables.