Horsetail is the best herbal remedy for weak hair. To take advantage of the power of this remarkable plant, it must be used long enough and in high enough doses. Here are the most popular and effective field horsetail pills.
Field horsetail for hair – when and how does it help?
There is a good reason why most products for weak, thin, thin or losing hair are based on field horsetail. Field horsetail is equipped by nature with a large amount of silicon, which is a very important link in the process of building hair structures. This element is responsible for proper hair growth, its strength and condition. In case of deficiencies in the body (which occur very often), our hair is weak, grows slowly, becomes thin and delicate and less resistant to various harmful factors. Their susceptibility to falling out also increases. Using horsetail for hair provides them with easily absorbable silica, which leads to a deep regeneration.
Theadvantage of field h orsetail is its ability to provide complex help to our hair, regardless of the problem we have to deal with. When is it worth reaching for horsetail tablets? They will undoubtedly prove to be a great help when our hair is plagued by beauty treatments (including dyeing, straightening, curling with a curling iron, as well as strong tying, pinning, attaching artificial hair etc.). For stressed, damaged and "tired" hair, horsetail will be an excellent remedy – it will strengthen it, make it more resistant and support its renewal.
Dietary supplements with this plant will also be helpful for people who have thin and sparse hair. Regularly taken horsetail tablets make hair thicker and thicker.
Horsetail strengthens hair bulbs and follicles, supports their regeneration, stimulates hair growth and prevents shortening of the hair's life cycle. Therefore, field horsetail tablets are also an effective remedy against hair loss. They will help in androgenic al opecia and other types of baldness as well as in excessive hair loss caused by seasonal body weakness, pregnancy, hormonal disorders, poor immunity, poor diet, use of aggressive cosmetics and styling procedures.
Here is a selection of horsetail hair pills:
1. Bio-silica Olimp
This product is produced by Olimp, a renowned brand in the market of dietary supplements. Bio-silica, apart from field horsetail, contains other ingredients that support hair, including: nettle extract, zinc, copper, vitamins A, C, E, D and B vitamins, as well as amino acids and collagen proteins. For 30 capsules you will pay about 5 €.
2. Skrzyp Plus Olimp
Another tablet with horsetail from Olympus. Just like Bio-silica, they contain a horsetail extract enriched with a considerable set of vitamins (B vitamins, vitamin A, D, E and C). However, there is no zinc, copper, amino acids or collagen in it. The price for one package (30 capsules) is about € 3.
3 Horsetail & Nettle Humavit
If you buy Horsetail and Nettle Humavit hair tablets, you will get a sizeable package of 250 units and you will pay only about € 4. However, one capsule contains smaller doses of active ingredients, which is why they should be taken in larger quantities (approximately 4 tablets per day). We can also not count on too extensive composition of the preparation – in Humavit capsules we can find field horsetail, nettle and yeast. However, the price seems to be attractive anyway.
4. Belissa Intense
Belissa Intense is a multi-ingredient dietary supplement with horsetail, which is designed not only to improve the condition of hair, but also to improve the condition of skin and nails. The main active substance is an extract from field horsetail, but Belissa Intense is also a complex supplement of many bioelements (iron, zinc, iodine) and vitamins (from the group B, C, E, A), whose deficiencies often cause hair loss and deterioration. The product has been enriched with a valuable amino acid for hair – L-cysteine. The cost of 50 tablets of Belissa Intense is about € 4.
5. Skrzypovita
Similarly to Belissa Intense, Skrzypovita table ts are characterized by a strong composition and three-directional action – they support revitalization of hair, skin and nails. They contain extracts from field horsetail and nettle, a high dose of biotin and several other vitamins, as well as zinc and L-methionine. You can buy 42 Skrzypovita tablets for around € 4.
6. Doppelherz Activ Hair & Nails + Horsetail
Doppelherz Activ Horsetail tablets have a rich composition designed to restore the strength and condition of hair and nails. The composition is based on field horsetail extract, wheat germ oil and millet protein extract. In addition to these elements we have amino acids: methionine, cysteine and PABA, B group vitamins, vitamin C, zinc and copper. 30 capsules cost about 5 €.
7. Profolan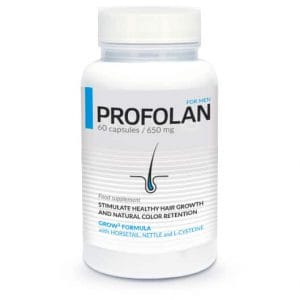 Profolan is a product from a slightly different price range (costs about 23 €), but its advanced composition and the highest doses of active ingredients on the market make it the most effective dietary supplement for hair loss. Profolan contains very large doses of field horsetail, biotin, thiamine, zinc and vitamin B6.
In its composition you can also find two sulphur amino acids which are very important for hair regeneration – taurine and L-cysteine – in high doses. It is also equipped with copper and vitamins essential for vitality and colour of hair. Profolan is the most frequently chosen dietary supplement against various types of baldness.