One of the healthiest spices in the world, turmeric comes from the Far East, where it has been widely used not only in cooking, but also in ancient Chinese medicine and Ayurveda. Its value is determined mainly by the main active substance, curcumin, which has antioxidant, anti-inflammatory, antiseptic, antifungal properties, as well as, which is of great importance nowadays, significantly supports weight loss.
Turmeric – composition, health promoting and medicinal properties
Turmeric is Indian saffron, a spice with a characteristic yellow-orange color, available in our country mostly in powdered form, but for some time also in the form of fresh rhizomes. It is from the rhizomes of the plant called long spurge, an Asian perennial of the ginger family, which grows in the areas of South-East Asia with subtropical climate, that this well-known spice is obtained.
What is in turmeric? Oyster rhizomes contain 70% starch, volatile oils and resins, fructose, glucose and minerals, and about 5% are curcuminoids, compounds which include curcumin. It is the most important active ingredient, which also acts as a natural dye. Since turmeric does not have an intense taste or smell, it can be successfully added to various dishes.
However, it is not the cooking attributes that determine the invaluable health value of turmeric. Despite the fact that curcumin constitutes only a few percent of the content of the spice, it shows great strength and a powerful spectrum of influence. It is one of the most powerful antioxidants fighting excess of the so-called free radicals responsible for aging and cancerous changes.
Antioxidant properties of turmeric are not all. Research confirms anti-inflammatory, anti-fungal, anti-bacterial and anti-viral activities, which has a significant impact on improving the functioning of the immune system. Curcumin cleanses the liver, is helpful for diabetes and joint disease, and even improves brain function. Importantly, curcumin is active not only at the whole body level, but also selectively affects the somatic cells of the body.
Turmeric for weight loss, or how the exotic spice supports weight loss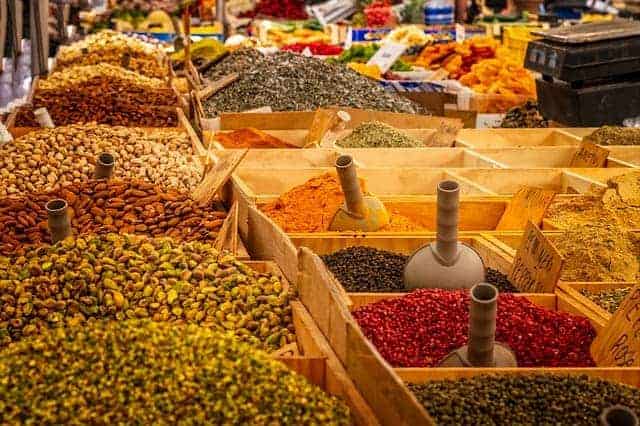 First of all, turmeric significantly stimulates the digestive system. It supports the secretion of digestive juices and bile, necessary in the process of burning fats and proteins, thus fueling the metabolism. By supporting and regulating digestion and exhibiting anti-inflammatory, antibacterial and antifungal properties, it prevents constipation, flatulence and other disorders of the digestive and digestive systems. Faster metabolism, easier digestion and better liver function are important factors in preventing fat accumulation and, as a result, promoting a slim figure.
Water with turmeric for weight loss
When deciding on a weight loss treatment involving turmeric, it is worth using a certain proven method. Water with tur meric drunk every day on an empty stomach is a great way to cleanse the body, stimulate the digestive system to greater activity and accelerated metabolism.
It should be emphasized that the combination of turmeric with other components with a known thermogenic and metabolism-stimulating effect supports weight loss even more effectively. A prominent example is the use of turmeric together with pepper. The piperine contained in black pepper is the substance thanks to which curcumin is absorbed much better! Turmeric and pepper are a duo with enhanced properties when it comes to better metabolism, better and faster digestion and, consequently, a great ally in weight loss.
How to use turmeric? A few non-standard hints
Indian saffron can be used in the kitchen for a great many dishes – soups, sauces, dips, salads, rice and pasta, cakes, smoothies, even scrambled eggs. A pinch of spice is enough to give a dish a beautiful, golden color and enhance its flavor. And if we are also aware that long spurge has undeniable health benefits, its presence in our kitchen should become a matter of course. And here are the recipes for drinks that promote weight loss.
1. turmeric and lemon drink
It is well known that drinking water with lemon on an empty stomach has a positive effect on your health. It cleanses the body, provides vitamin C, fights free radicals, and consequently affects both health and beauty. If you add turmeric to water with lemon, you will gain twice – you will cleanse the liver, speed up metabolism and body cleansing from toxins, avoid problems with digestion and bowel movement.
The drink can be enriched with a pinch of cinnamon and a bit of honey, then in addition to a better taste, we can expect additional benefits. Such a drink regulates sugar levels and blood pressure, provides the body with energy for the whole day, increases immunity, helps to fight rheumatoid ailments and joint pain.
Ingredients:
half a teaspoon of turmeric
a glass of warm water
juice of one lemon
half a teaspoon of honey
pinch of cinnamon
Preparation:
Add all ingredients to water and mix thoroughly (turmeric may settle at the bottom of the glass). Drink immediately. 2.
2. turmeric and ginger infusion
Ginger has an equally beneficial effect on digestion, and because of the shogaol and gingerol contained in it, it stimulates the production of bile, accelerating the burning of fats, cleanses the body of toxins and excess water. An infusion of both ingredients with the addition of honey will fuel your metabolism for the whole day and also curb your appetite.
The infusion is prepared as follows:
Ingredients:
half a liter of water
30 g of fresh ginger
Half a teaspoon of turmeric
spoonful of honey
Preparation:
Peel the ginger, preferably by scraping it off with a spoon, grate on small meshes. Pour water into a pot, add grated ginger, bring to a boil. Remove from heat, strain through a sieve, add honey and turmeric to the cooled drink, mix thoroughly. Pour the drink into a bottle and store in the refrigerator. Drink every morning before meals, in the amount of about a glass. Shake the bottle well before use.
3 – Cream cocktail with turmeric
Ingredients:
1 glass of milk (preferably plant-based)
1 banana
1 teaspoon honey
half a teaspoon of turmeric
1 teaspoon fresh grated ginger
Preparation:
Blend sliced banana and remaining ingredients until smooth and chill heavily.
Everyday consumption of this kind of drinks with addition of turmeric brings measurable benefits to our health. Not only does it have a positive effect on digestion, liver and pancreas function, immunity, sugar and cholesterol levels, but it also aids in weight loss, reduces inflammation, minimizes joint problems and helps maintain a youthful appearance.
An effective fat burner with turmeric: Nutrigo Lab Burner