Not everyone who is struggling with greying hair wants to dye it. Luckily, there are a variety of greying shampoos on the market that will help you camouflage those unsightly silver strands on your head without having to reach for the dye. Here are the most popular and effective ones.
1. DX2 Anti-Grey Shampoo
Probably the most popular anti-grey shampoo for people with darker hair tones. DX2 has 3 key tasks: gradual masking of grey hair, enhancing and protecting the natural dark hair colour and conditioning. DX 2 Shampoo against grey hair contains plant extracts rich in phytopigments, substances derived from algae and yeast extract. The price of the shampoo fluctuates around 6 €.
2. Marion Men Style 100% Shampoo against grey hair
Marion Men Style is recommended for men with brown or black hair. This product gradually covers gray hair, protects the natural hair color and slightly darkens the whole hairstyle. Men Style 100% shampoo is free from SLS and SLES ingredients, it is suitable for frequent use, also for sensitive and delicate hair. The active ingredients of this shampoo are: walnut extract, guarana, brown algae. The cosmetic is also enriched with biotin. The price is approx. 5 €.
3. Pharmaceris H Stimutone Special shampoo to slow down the graying process and stimulate hair growth
Pharmaceris H Stimutone is a cosmetic which both covers gray hair and accelerates hair growth. Its double formula makes it a popular choice for people who struggle with both graying and hair loss. With one cosmetic we counteract hair thinning, improve its volume and restore natural, strong color of your hair. The Pharmaceris H Stimutone shampoo is based on an advanced formula which includes: naringenin, phytopigments from nuts, natural growth factor FGF, panthenol, caffeine. The price of the cosmetic is about 10 €.
4. Tołpa Dermo Men Hair Regenerating Shampoo for grey hair
A proposition from Tołpa for men who would like to cover the signs of graying, and at the same time strengthen hair and improve its appearance. The henna extract contained in the regenerating shampoo for grey hair Dermo Men Hair makes grey hair darker, while the quinine extract slows down the ageing process and helps revitalise hair. The product is enriched with soothing betaine. The price is around € 8.
5. Joanna Power Hair Men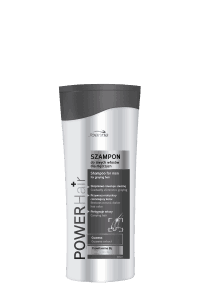 The Joanna Power Hair Men men's shampoo for grey hair boasts one of the lowest prices among related products. It costs around € 3. When used regularly, it gradually masks gray hair and gently darkens the entire hairstyle. In addition, it nourishes and moisturises the hair and improves the appearance of lighter hair strands in men. The shampoo contains pigments, guarana and vitamin B5.
6. Delia Cameleo Men Shampoo for Men Reducing Grey Hair
Delia Cameleo Men is a gray shampoo dedicated to men with dark hair who notice the first signs of gray hair. The cosmetic is equipped with a unique ingredient – Melscreen Black EX BG (rich in phytopigments) which makes grey hair darker and the hairstyle regains its natural look. Delia Cameleo Men shampoo also nourishes, protects and strengthens hair. You can buy this shampoo for about € 6.
7. TianDe Anti-Grey Hair Shampoo
TianDe Anti-Grey Hair Shampoo is a dermo-cosmetic containing concentrated plant extracts which help to inhibit the greying process. Among the active substances you will find: ginseng extract, Shou-Wu extract, angelica extract, sesame extract and other herbs. The shampoo stimulates circulation in the scalp, promotes hair regeneration, improves its pigmentation and prevents graying. The cosmetic is also designed to strengthen hair, improve its structure and appearance. The price of TianDe Shampoo (420 ml) is about € 18.
You will get rid of greying hair faster if you use both an anti-grey shampoo and a good hair supplement such as Profolan.
Profolan for

men
There are many universal products on the dietary supplement market, but it's worth paying special attention to those that are dedicated to a specific gender.
Profolan is a product for men, which:
inhibits androgenic alopecia, i.e. male pattern baldness by blocking DHT;
promotes hair growth;
restores hair to its natural color, eliminating gray hair;
eliminates deficiencies responsible for baldness;
has a 100% natural composition;
does not cause side effects.
Locerin for

women
Women who want to stop graying and take care of their hair in a comprehensive way should reach for Locerin.
The Locerin dietary supplement:
inhibits hair loss;
accelerates hair growth;
Eliminates gray hair;
makes hair stronger and more flexible;
strengthens hair and nails.
It has a natural composition and does not cause side effects.