The shelves of sports shops are overflowing with various types of dumbbells. Among them there are dumbbells of constant weight, which do not give the possibility of changing the load. I am not an advocate of them. In this post I will try to convince you to buy adjustable dumbbells, also known as barbells or folding dumbbells. If you are serious about strength training, you will quickly appreciate the advantages of this type of equipment.
The eternal

dilemma

of a beginner

– –

which

dumbbells

buy?
In one of my articles I wrote in general terms about how to build your own home gym. I suggested that along with the barbell you should buy a whole set of plates with different weights, so that you can freely modify the load. It is similar in the case of dumbbells. Deciding to buy two short grips and a set of plates, you gain the ability to freely adjust the lifted weights, along with the progress of training.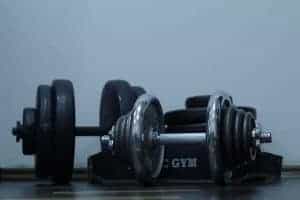 Weight and bodybuilding cycles involve exercises with increasing loads. With versatile folding dumbbells you'll be able to vary the intensity of your workout without having to change equipment, just add one or more plates to the bar and you're done. In contrast, non-adjustable dumbbells (e.g. 5 kg), can do the job, but only in the initial stages of training. However, when you reach a higher level of advancement, they will prove to be insufficient.
Serious, intensive training for mass and training for sculpting means constant modification of the load level. Two exercise weights with a fixed weight is not enough in the long run. Of course the final choice is up to you.
Barbells

– –

price
Adjustable dumbbells are available both in cast iron and bituminous form. I wrote about the pros and cons of both types of weights in this article. Regardless of which type of plates you choose, their purchase should not affect the content of your wallet too negatively. On average, a set of adjustable cast iron dumbbells consisting of two short grips, clamps and plates (all with a total weight of about 20 kg) costs about 60 €. For bituminous dumbbells in a similar configuration you will pay even half less.
To sum up, when you decide to buy adjustable dumbbells, you gain a practical tool for versatile strength training both at the initial and advanced stage. In addition, buying dumbbells in a set, you get a handy, compact case or stand for their storage. Such a set will not take up too much space in your home gym.
Have you already chosen dumbbells for yourself? Are you looking for effective supplements for mass and sculpting? I encourage you to visit the supplements ranking.