The Dx2 brand is mainly associated with shampoos for men. Some time ago, the manufacturer of these cosmetics has also released an oral preparation. Dx2 hair strengthening tablets for men are designed to restore strength and health to weak, frail, lacking vitality and prone to hair loss. What is the composition of this product, what reviews does it get and can it help with androgenetic alopecia?
Dx2 tablets – composition
It can not be said that the manufacturer of Dx2 tablets did not take care to compose a rich composition. The content of the capsules forms as many as 17 active substances, among which we find: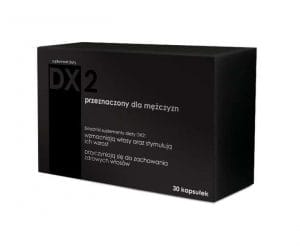 – Horsetail extract (100 mg);
– Set of B vitamins (including biotin);
– Vitamins E and A;
– Vitamin C;
– L-cysteine;
– zinc and selenium;
– iodine;
– iron.
The composition of Dx2 tablets is very diverse and this can be considered a plus. All the substances present in them have an impact on the health, strength and nice appearance of hair. L-cysteine plays a significant role in the formation of hair structures, field horsetail makes hair thicker and grow faster, and the bulbs become stronger (thus, hair falls out less). Vitamins and minerals promote nourishment, strengthening, faster regeneration and growth of hair and affect its condition.
Dx2 tablets – opinions
If the hair suddenly loses its healthy appearance and begins to fall out excessively, very often this is a sign of deficiency of vitamins and other important nutrients. In this field quite well do Dx2 tablets. Reviews, which can be found on forums and portals, often say that Dx2 tablets coped with the inhibition of hair loss, also helped to regain a healthy and nice-looking hairstyle. It is worth noting, however, that such opinions come from men who do not deal with androgenic alopecia, but only with weakening of hair caused by unhealthy lifestyle (poor diet, chronic stress, fatigue, etc.).
Opinions about Dx2 capsules from men who tried to counteract male pattern baldness with their help are not so favorable anymore. And no wonder. The preparation is not able to deal with androgenic alopecia, because its composition is not strictly oriented towards it. To inhibit male pattern baldness a stronger preparation is needed. For comparison, an example of such a stronger preparation is Profolanwhich contains much higher doses of field horsetail extract, biotin, thiamine, l-cysteine. It does not lack several other important ingredients, which contribute to strengthening of hair follicles and hair regeneration (nettle, taurine, copper).
Summarizing the opinions about Dx2 tablets: gentlemen who are struggling with the problem of thin, losing hair (caused by unhealthy lifestyle) and gentlemen who noticed their first small bends are satisfied with the product. On the other hand, gentlemen who have been observing signs of androgenetic alopecia for some time (e.g. thinning of hair on the top of the head and on the sides, progressive hair turns, thin and weak hair), in majority claim that the preparation did not bring any improvement.
Dx2 tablets – price
For Dx2 capsules you will not pay much, about 7 €. A pack is enough for a month of treatment. However, before you reach for this preparation, you should consider the actual extent of your hair problem and whether the tablets are strong enough to block the hair loss process effectively.
If you have noticed signs of baldness in yourself, take a look at our review of the best hair loss products.