Oatmeal cookies are one of the top sweet snacks "allowed" during weight loss. However, there are actually many more ways to make diet desserts and baked goods. Products such as oatmeal, seeds, nuts, nuts, but also fruit, yoghurt or skimmed cream cheese are perfect as raw material for creating delicious fit sweets. Here are some successful recipes for oatmeal cookies and diet desserts!
How to make diet desserts?
For many people who want to lose weight, the biggest problem is not to reduce the calorie content of meals, not to change the way but breaking the habit of snacking on sweets. They are the main enemy on the way to a slim figure and they slow down, and sometimes even completely stop, weight loss. Fortunately, for people who like sweets and want to lose weight at the same time, there is a way out of the situation without the need to take a radical step in the form of complete giving up beloved snacks. It is enough to replace bought sweets and traditionally prepared baked goods for oat cakes and other diet and other dietetic desserts whose components are products with a low amount of simple sugars and fats. amount of simple sugars and fats.
Dietary substitutes for traditional ingredients in cakes, cookies and desserts include:
substitutes forwhite flour – wholemeal flour (wheat or rye), wholemeal spelt flour, ground oatmeal, bran, ground nuts, coconut flour, soy flour, ground groats (e.g. millet, barley, buckwheat), bean flour
sugar substitutes – xylitol, erythrol, stevia, honey, inulin, agave syrup, maple syrup, coconut sugar, dried fruit
Substitutes forbutter, margarine – bananas, avocado, Greek yogurt, coconut oil, thick fruit mousse (e.g. apples, prunes), olive oil, peanut butter
substitutes for cream – natural yogurt, Greek yogurt, cream cheese
substitutesfor traditional cake and dessert creams – skim milk and pudding cream, millet cream, avocado and cocoa cream, natural cheese and coconut cream
Diet Oatcakes – a sweet snack to help with weight loss
Although in stores you can find ready-made oatmeal cookies, it is better not take advantage of their benefits, if we aim to lose unnecessary kilograms. Bought oatmeal cookies usually contain only 30-50% oatmeal. The rest of the ingredients are raw materials, which can be found in practically every cookie and which we should The rest of the ingredients are raw materials which can be found in practically every cookie and which should be avoided during weight loss, i.e.: glucose syrup, sugar, palm fat, flour, raising agents.
Meanwhile, homemade oatmeal cookies can be significantly "slimmed down" basing on flakes and resigning from sugar, white flour and other additives unfriendly to slim figure. Homemade oatmeal cookies will be not only a dietetic, but also a healthy sweet snack – do not forget that oatmeal is a rich treasury of vitamins and minerals and dietary fiber.
Cookies recipes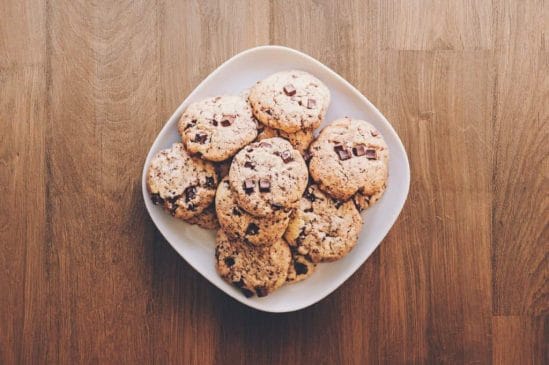 Prepare: 1.5 cups of mountain oatmeal, two large bananas, 1 1/4 cup of coconut shavings, 2 Tbs. raisins, 1 Tbs. Tbsp honey, 1 tbsp olive oil.
Peel bananas and mash with a fork, add olive oil, honey, raisins and oatmeal. Mix. From the mixture form small cakes, which then place on a baking tray lined with baking paper. Cookies bake for about 15 minutes (at 170 degrees).
Cookies Fit oatcakes with apple and cinnamon
Ingredients needed to prepare cookies are: 2 small apples, 1,5 cup oatmeal, 1 egg, 2 spoonfuls of honey, 1 teaspoonful of cinnamon. cinnamon.
Grate apples on a grater on large meshes. Add egg, mix. Add the flakes, honey and cinnamon, mix thoroughly. Set aside the dough for a few minutes. Preheat the oven to 180 degrees. Line a baking tray with baking paper. On a spoon scoop small portions of dough and put on the paper. Bake for 15 minutes.
Cookies oatcakes with sunflower seeds
You will need we will: 2 cups oatmeal, 1 cup shelled sunflower seeds, 3 tablespoons melted coconut oil, 3 tablespoons xylitol, 2 eggs.
Blend oatmeal for a while. Add eggs, oil, xylitol and sunflower seeds. Mix thoroughly. From the mixture form cookies, which we put on a baking tray lined with baking paper. Bake for about 25 minutes at 180 degrees.
Cookies oatcakes with nuts
We prepare: 2 cups of mountain oatmeal, 1 egg, 150 ml of Greek yoghurt Greek yoghurt, 3 tablespoons of honey, 1.5 cups of nuts (e.g. raisins, cranberries, nuts, walnuts, etc.), cranberries, nuts, pumpkin seeds, sunflower seeds, etc.), 1 tbsp. oil.
All the ingredients combine together and mix thoroughly. Wait a few minutes until the flakes swell. If the mixture is too thin, add some flakes, and if too thick, a little yogurt or oil. Form into small cakes. Bake in a preheated oven at 170 degrees for about 30 minutes.
Cookies oatcakes without baking fit
Ingredients of this quick and easy recipe for no-bake oatmeal cookies baking are: 2 cups oatmeal, 3 tablespoons cocoa, 0.5 cup xylitol, 0.5 cup milk, 100 g coconut oil.
We start making cookies by heating coconut oil. Then, keeping the saucepan on a tiny fire, add milk, cocoa, xylitol. Stir until a homogeneous consistency is formed. Add flakes, stir thoroughly. Turn off the heat. Wait until the mixture cools a little. On the tray lined with baking paper or cling film put portions of oat mass with a spoon. Form circles and smooth the top of the cookies. Put the tray in the fridge and wait for the mixture to set.
Check: How to lose 10 pounds fast
Diet desserts – recipes
Diet dessert with millet groats and blueberries
To to prepare the dessert we will need: 1 cup cooked 1 glass of cooked millet groats, 1 glass of blueberries, 1 banana, vanilla cheese, a handful of walnuts.
Blend cooked groats with vanilla cheese (you can add a tablespoon of honey for sweetness). Blend banana with blueberries. In a goblet, put alternately a layer of the mixture and a layer of berry mousse. Sprinkle the dessert with crushed nuts.
Diet dessert with Greek yoghurt, chia seeds and fruit
You will need about 200 ml of Greek yoghurt (can be light), 2 tablespoons of chia chia seeds, 1 orange, 1 kiwi, 1 peach, 1 tbsp honey, a piece of dark chocolate, a handful of almond flakes.
Squeeze juice from oranges and pour it into yogurt. Also add honey and seeds chia, mix. Put into a salad bowl, on top arrange sliced kiwi fruit and peach. Sprinkle with grated chocolate and almond flakes.
Diet dessert from coconut milk, rice and mango
This unusual pudding from rice and coconut milk, enriched with mango mousse, will appeal to every enthusiast of tropical flavours. And it is made from the following ingredients: 100 g of rice, half a can of coconut milk, 1 tablespoon of xylitol or coconut sugar, 150 ml of water, 1 mango fruit.
We cook rice until soft on coconut milk mixed with water. While cooking add xylitol or coconut sugar. Ready rice pudding put into a bowl. Peel, slice and blend the mango until smooth. Pour mango mousse over pudding. Optionally sprinkle the dessert with sunflower seeds, nuts or sesame seeds.
Also read:
Ranking of slimming pills