Pineapple is one of the best natural weight loss boosters. It contains valuable enzymes which facilitate fat burning and dietary fibre, which is invaluable in the process of losing weight. Check out how pineapple works for weight loss and learn about interesting recipes with its participation!
Pineapple – nutritional and health promoting properties
This exotic fruit from South America is valued not only for its great, refreshing taste, but also, and above all, for its unique nutritional values and beneficial effects on the body. It contains numerous vitamins and minerals, among which bromelain is of particular importance. It is an enzyme consisting of substances with antispasmodic, anti-inflammatory and analgesic effects.
Bromelain is used in medicine and cosmetics. It alleviates inflammation of the joints and injuries, and above all, which is of paramount importance for people losing weight, participating in the breakdown of protein, aids digestion, and also inhibits the formation of fat cells.
This is not the end of the benefits of eating pineapples. We can find in them large amounts of vitamin C, vitamin A and beta-carotene, B vitamins, folic acid and thiamine, manganese, potassium, iron, copper, calcium, dietary fiber. The abundance of valuable nutrients causes that pineapple has a high antioxidant potential, fighting free radicals, acts anticancer, supports the immune system, delays the aging process.
The abundance of vitamin C and the presence of other substances makes this fruit have a preventive effect, for example, on the possibility of osteoporosis, as well as a therapeutic effect on diseases such as viral and bacterial infections, respiratory diseases, nervous disorders and heart rhythm.
Check: 7 ways to have a low-calorie dinner
Pineapple for weight loss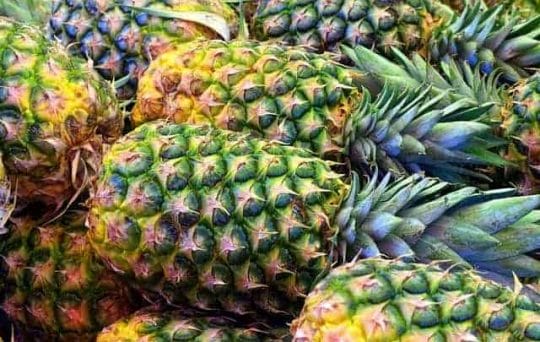 It is worth noting that with its numerous taste and health benefits, pineapple has a low energy value at the same time. It consists mainly of water, has no fat, but has a lot of sugar, so people with diabetes must limit its consumption. A slice of fresh pineapple is only about 40 kcal, but that is not the only reason for its attractiveness. If recently there has been a lot of talk about the effect of pineapple on weight loss, it is mainly because, indeed, due to its unique composition, it shows properties conducive to weight reduction.
Namely, bromelain, facilitating the breakdown of proteins, fats and starches, accelerates metabolism and prevents the accumulation of fat tissue. In addition, this enzyme plays an important role when it comes to cleansing the body. It improves microcirculation and helps remove excess fluid from the body.
The dietary fiber contained in the fruit is also important for weight loss:
Firstly, it has a soothing effect on the intestines by normalizing their work and preventing disorders of excretion, i.e. constipation or diarrhea.
Secondly, it is low in calories, swelling the stomach, giving a feeling of satiety, and thus limiting appetite.
Thirdly, it is a food for beneficial and necessary bacteria forming the intestinal microflora, and in turn absorbs harmful substances, which is also important for cleansing and better functioning of the body.
Nutritionists indicate that the consumption of pineapples will be particularly effective for people who have completed a weight loss treatment and want to avoid the yo-yo effect. However, it should be borne in mind that all the valuable properties apply primarily to fresh fruit. Canned pineapples, although considered tastier by some, are, like all thermally processed fruit and vegetables, less valuable but more calorific due to the sugar marinade in which they are preserved.
Read also: Grapefruit for slimming
Contraindications to the use of preparations with pineapple
Since bromelain actively affects bronchial secretions, consumption of pineapples, especially pineapple supplements, should be consulted with a doctor if you have lung diseases such as asthma, chronic obstructive pulmonary disease or cystic fibrosis.
You should also be careful when taking antibiotics, as bromelain potentiates their effects, which can lead to serious complications.
Finally, dietary fiber can interfere with the absorption of other medications, so a break of at least two hours between intake and pineapple is recommended.
See: What to eat to lose weight
Pineapple – diet recipes
Diet salad with chicken, celery, peppers and corn
Ingredients:
whole pineapple
double chicken breast fillet
natural yoghurt
celery (two sprigs)
red pepper
corn (about half a can)
clove of garlic
two spoonfuls of oil for frying
salt, a bit of sugar to taste, or a spoonful of spicy ketchup
Preparation:
Dice chicken fillet, season with salt and spices as desired, then fry until tender in oil. Dice the edible part of pineapple, bell pepper and celery. Put everything into a salad bowl, add corn. Mix the pressed garlic with yoghurt, pour it over the salad and mix gently. You can season it with ketchup or lemon juice and a bit of sugar.
Aromatic grilled pineapple
Ingredients:
whole pineapple
teaspoon of fresh grated ginger
juice from half a lime
tablespoon of butter
teaspoon of brown sugar
pinch of cinnamon
Preparation:
Cut peeled pineapple into slices. Combine lime juice, ginger, cinnamon and sugar to a paste of smooth consistency. Coat pineapple slices in the paste, place each separately on a piece of baking foil, top with a little butter, wrap tightly. Grill for about 10 minutes.
Quick diet dessert with pineapple and yoghurt
Ingredients:
half of a fresh pineapple
natural yoghurt
teaspoon of cocoa
almond flakes
Method:
Dice the pineapple and put it into a glass dish. Pour with yogurt, sprinkle with cocoa and almond flakes. Cool slightly.
Oat groats with pineapple and coconut milk
Ingredients:
4 tbsp oat groats
3 slices of fresh pineapple
half a glass of coconut milk
half a glass of water
cactus syrup
Additional handful of nuts, pistachios or roasted almonds
Preparation:
Boil water, add semolina and a pinch of salt, cook stirring over low heat for about 15 minutes. Then pour coconut milk and cook for a while. Put chopped pineapple into porridge, pour the syrup over the top and sprinkle with nuts.
Pineapple sorbet, a diet alternative to traditional ice cream
Ingredients:
1 large, ripe pineapple
2 tbsp honey
half a lemon
¼ cup boiled water
Preparation:
Peel pineapple, separate edible part, cut into small pieces, mix with cooled water and lemon juice. Then add honey and mix thoroughly. Cover and put in the freezer for a few hours, but every hour you need to take the sorbet out and mix it carefully so that no ice lumps form.
The slimming power of fruit and probiotics in one capsule: Probiosin Plus